Streamline Farms' Red Sweet Crisp lettuce lasts on its root ball for days and days in your refrigerator, so keep one or two on hand for when the craving hits for a big, beautiful salad. In the photo, we feature lemon beans, Montana Roots red cabbage sprouts, sliced radishes, pickled red onions, and Garden Ranch Dressing on the side. To up the satisfaction factor, add some good-quality tuna and/or a hard-boiled egg.
When deciding on a dressing, think about texture in addition to flavor. Do you want a creamy ranch to dress crisp greens (and perhaps dunk pizza crust)? Or a barely there vinaigrette to unify chopped cucumber, tomato, and perhaps some feta? Keep in mind that you can change a thicker dressing into a drizzle by adding water, a tablespoon or two at a time, until you reach the consistency you're looking for. When choosing oils for home cooking, I recommend those high in monounsaturated fats, such as olive oil and the Oil Barn's high-oleic safflower oil.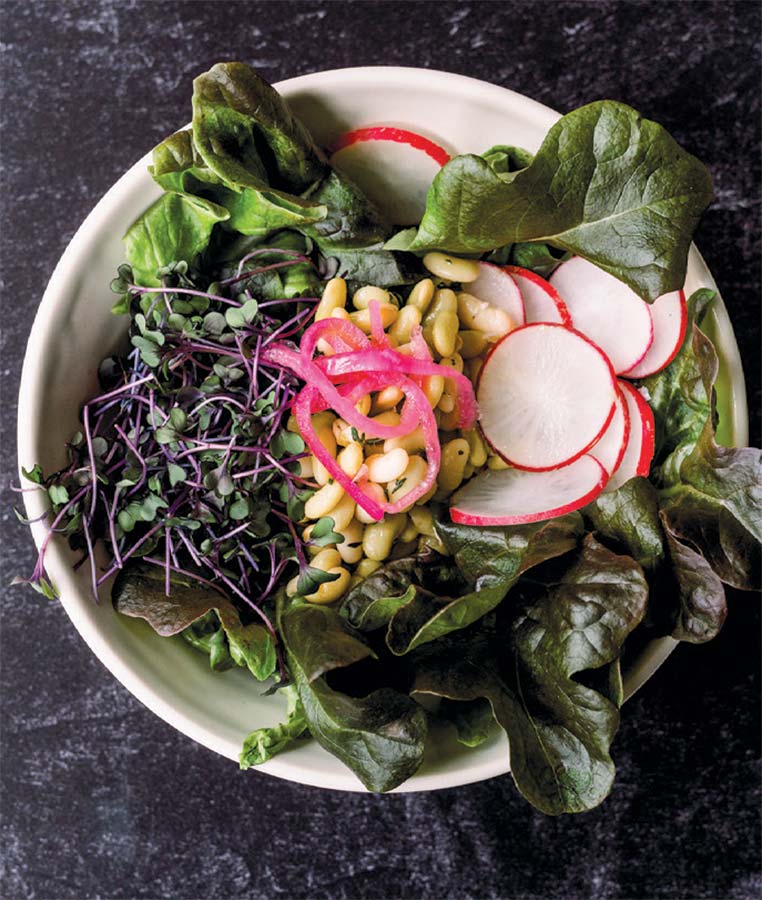 FRENCH VINAIGRETTE
Makes ¾ cup
Before you know it, you'll be whisking up just the right amount of vinaigrette right in your salad bowl. Even so, there are times when it's nice to have a bigger jar of it ready to use. Enjoy on leafy salads (drizzle a tablespoon at a time so you don't drown your greens), French lentils, bean salads, and my favorite for summer, bread salad with fresh tomatoes—see my blog, ripefoodandwine.com, and search "Panzanella."
To make honey mustard dressing, simply add a teaspoon of honey to this vinaigrette. If you want shallot dressing, add some minced shallots. For citrus, swap out some (or all) of the vinegar for freshly squeezed lemon, orange, or tangerine.
1 teaspoon Dijon mustard (Edmond Fallot brand)
½ teaspoon fleur de sel, flake salt, or kosher
salt
Several grinds of fresh black pepper
4 tablespoons wine vinegar (red or white; Banyuls and Champagne are especially nice)
8 tablespoons olive oil
Whisk together the Dijon, salt, pepper, andvinegar. While continuing to whisk, add the olive oil in a thin stream. If the dressing is too tart for your liking, add 1–2 additional tablespoons of olive oil.
GARDEN RANCH DRESSING
Makes 2 cups
A fresh green salad with ranch dressing is a great partner for anything off the grill as well as for takeout favorites like ribs, fried chicken, and pizza. The key is a base of chives or green onions, but after that, use whatever fresh herbs you have available:parsley, mint, basil, tarragon, dill, or a small amount of thyme.
½ cup buttermilk
½ cup mayonnaise (Best Foods or Just Mayo plant-based brand)
½ cup sour cream
2 tablespoons chives or green onions, finely chopped
2 tablespoons Italian parsley
2 tablespoons basil, mint, or tarragon
1 tablespoon freshly squeezed lemon juice or white wine vinegar
½ teaspoon salt
Several grinds of fresh black pepper
Whisk together all dressing ingredients. For best flavor, refrigerate for at least 30 minutes to marry the flavors. Store in the refrigerator for up to a week.
AVOCADO LIME DRESSING
Makes ¾ cup
Serve this dressing with a green salad or sticks of jicama on taco night or drizzle over a black bean bowl with shredded cabbage and some crunchies like sliced radishes and snap peas. The high proportion of lime keeps this dressing bright and green for several days. In fact, this dressing is a great life-extender for avocado on the verge of its "mature stage."
1 small avocado (or ½ large)
12 sprigs cilantro
Juice from 1 lime, should yield 2–3 tablespoons
4 tablespoons water
4 tablespoons olive oil or high-oleic safflower oil (Oil Barn)
1 clove garlic, sliced
¼ teaspoon kosher salt
Whir all ingredients in a high-powered blender until smooth and creamy. Refrigerate.
CASHEW TAMARI DRESSING
Makes ¾ cup
This cashew dressing is just what you need for your "Buddha bowls." Start with some cooked rice, add a quick sauté of pea shoots or braising greens, then top with roasted sweet potato, shredded carrots, nuts or seeds, whatever you like! Keep the following in your cold storage to add some variety: Hodo Thai Curry Nuggets (I add them to the sautéed greens to heat them through) and Annie Chun mini wontons (cook according to package directions).
½ cup raw cashews
4 tablespoons water
2 tablespoons apple cider vinegar (Bragg)
2 tablespoons tamari or soy sauce
2 tablespoons olive oil or high-oleic
safflower oil (Oil Barn)
1 clove garlic, sliced
Lots of freshly ground black pepper Whir all ingredients in a high-powered blender until smooth and creamy. Refrigerate.