Entube Harissa Paste

Harissa paste adds smokiness and spicy heat to vegetables, meats, seafood, eggs, tofu—just about everything! The products from Entube are beautiful to behold and their taste is exceptional. Use as a finishing condiment for meats and cheeses, stir into hummus, mix with olive oil, and brush delectables headed for the grill (shrimp, calamari, wings, beef, bison, lamb, pork, chicken, vegetables, tofu). Harissa is also great on eggs— consider it on huevos rancheros, fried eggs, or add a dab to liven up a boiled egg. Available at FoodWorks in Livingston.
Cornichons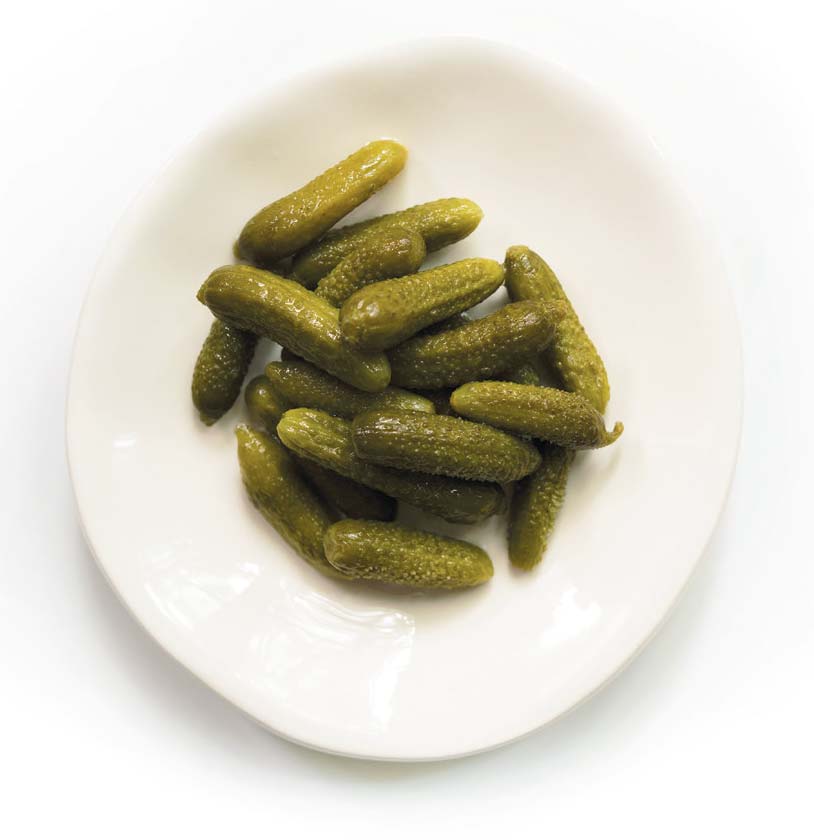 Think of these little gherkin pickles as palate refreshers for when you're enjoying charcuterie, pâté, and other rich foods like raclette, grilled cheese, tuna salad, and deviled eggs. Cornichons are zippy and tart. Find your favorite after tasting through the many brands like Maille, Trois Petits Cochons, and Napoleon. Available at The Gourmet Cellar, Joe's Parkway, Town & Country Foods, and in bulk at the Maven's Market cheese counter.
Anchovies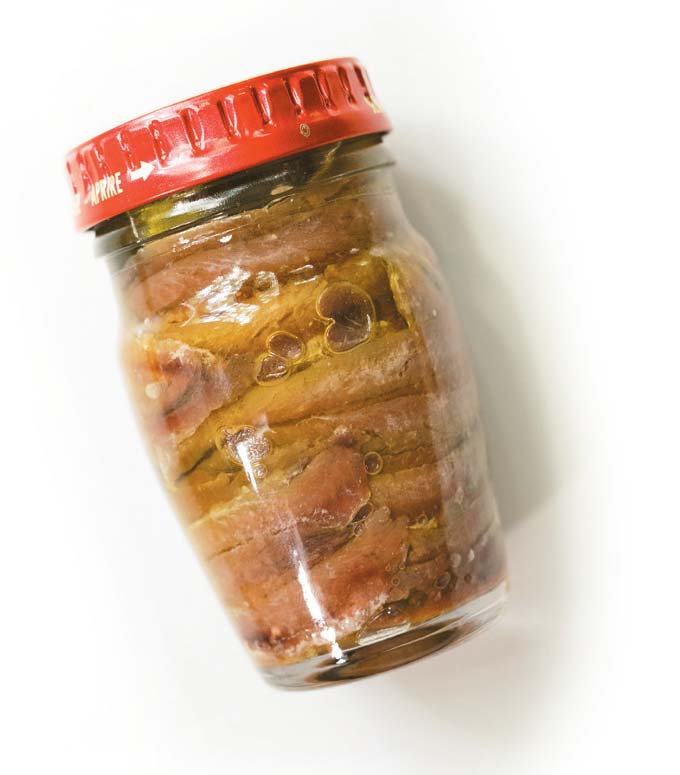 The best way to buy anchovies is in a little jar packed with olive oil. Remove one or two and mash with garlic and olive oil to add a salty, savory umaminess to pasta sauces, salsa verde, and salad dressings. Once you open the jar, keep it in the refrigerator (next to your tomato paste tube) where it will be happy for a long time. Available at The Gourmet Cellar and Joe's Parkway.
Shallots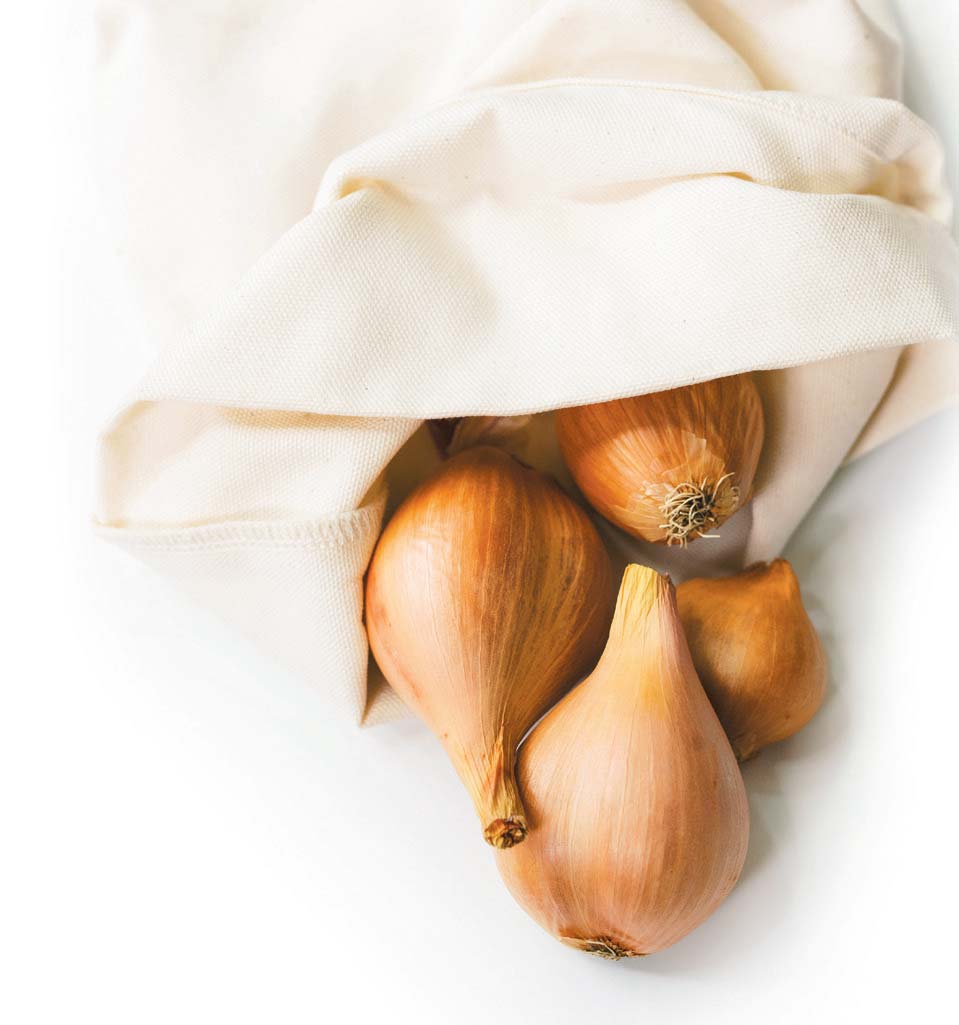 No kitchen should be without a stash of shallots. Pungent when raw, they soften and sweeten with cooking. Shallots contain quite a lot of pectin, which is one of the reasons why the French sauce beurre blanc has such a sensuous nappe. To use them in everyday cooking, cut the shallots in half through the pole, peel off the dry skin, then add to pot roasts and braises, or thinly slice and heat with olive oil for a pan of sautéed winter greens. The next time you're roasting a sheet pan of vegetables, thinly slice several shallots, coat them in olive oil with the vegetables, and enjoy the crispy goodies. Chance Farm grows lots of shallots, so keep your eyes out for them during the fall and winter farmers markets. Store them like onions, ideally in a dark, well-ventilated place where you will remember to use them. Available from Chance Farm and other local growers.
Herb Salt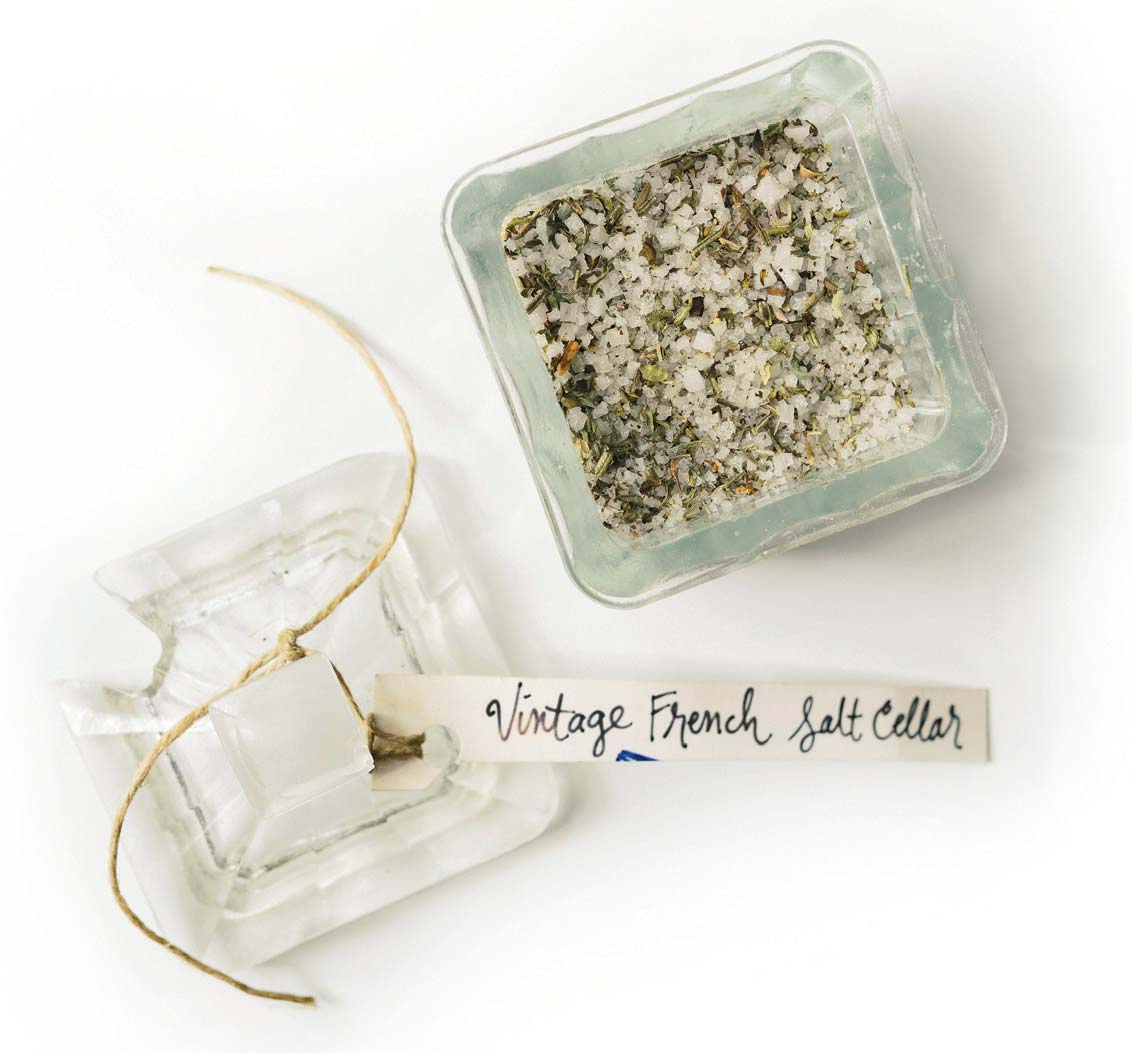 This antique salt cellar is one of a kind, found in France and brought to Montana by Shannon Hughes Grochowski who runs La Châtelaine Chocolate Company in Bozeman. Shannon keeps a small selection of French antiques on sale in the chocolate shop, so visit regularly and treat yourself to something special.
To make her herb salt, Shannon uses a base of Camargue fleur de sel and kosher salt, then adds dried lemon zest and herbs she gathers in Provence at her cooking retreats. This includes nettle leaf, thyme with flowers, rosemary, and fennel. You can make your own salt blend with herbs you dry from your garden or window box. We sprinkled Shannon's salt on the Grissini in this issue— the aroma while baking was lovely!
Banyuls Vinegar

Made in Banyuls-sur-Mer near the French Pyrenees, this is one of the world's fine vinegars. It is a red wine vinegar made from mostly Grenache grapes and is aged several years in oak barrels. As such, it is wonderful in vinaigrettes, sprinkled on sautéed winter greens, and you can even use it to deglaze a pan where you would typically use a splash of wine—it's that good. Available at Fink's Delicatessen.
Dashfire Vintage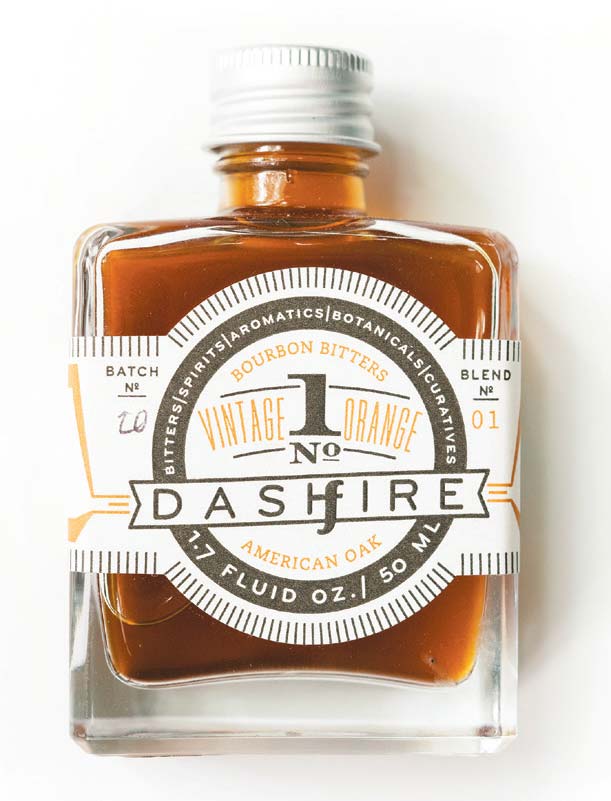 Orange Bitters This is Dashfire's signature bitter, a barrel-aged, bourbon-based, concoction flavored with fresh orange rind and spices. Try it in your cocktail, of course, but think about bitters for your desserts too, where they work best in creams and things that are very gently heated rather than baked. We added several drops to the lightly sweetened whipped cream we dolloped atop the Stout Gingerbread in this issue and were very happy with the results (see page 42 for the recipe). Available at themeadow.com, which also has a very browse-worthy collection of chocolate and salt.
Mini Tins of Flaky Salt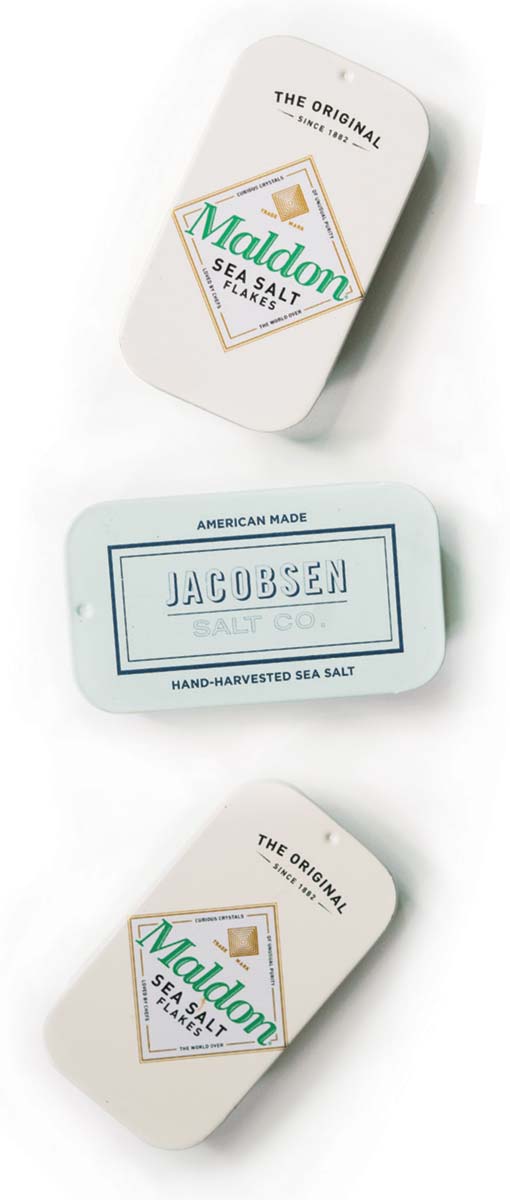 Tuck one of these handy tins in your lunch kit and always have the perfect pinch for your hardboiled egg. Maldon and Jacobsen both sell a mini tin—both salts are excellent. Purchase a couple extras to have on hand for a little friend gift. Available at Joe's Parkway.
Mutti Tomato Paste Tube

Keep a tube of this concentrated tomato paste standing up in a small jar in the door of your refrigerator and always have a little dab at the ready to boost the start of a soup, braise, or pasta sauce. Mutti is a family-owned brand from the Emilia-Romagna region of Italy and they make their products with tomatoes grown within 100 kilometers of their processing facility. Sometimes supporting local means supporting local brands from different regions. Available at The Gourmet Cellar in Livingston and World Market in Bozeman.
Big Hunk of Parm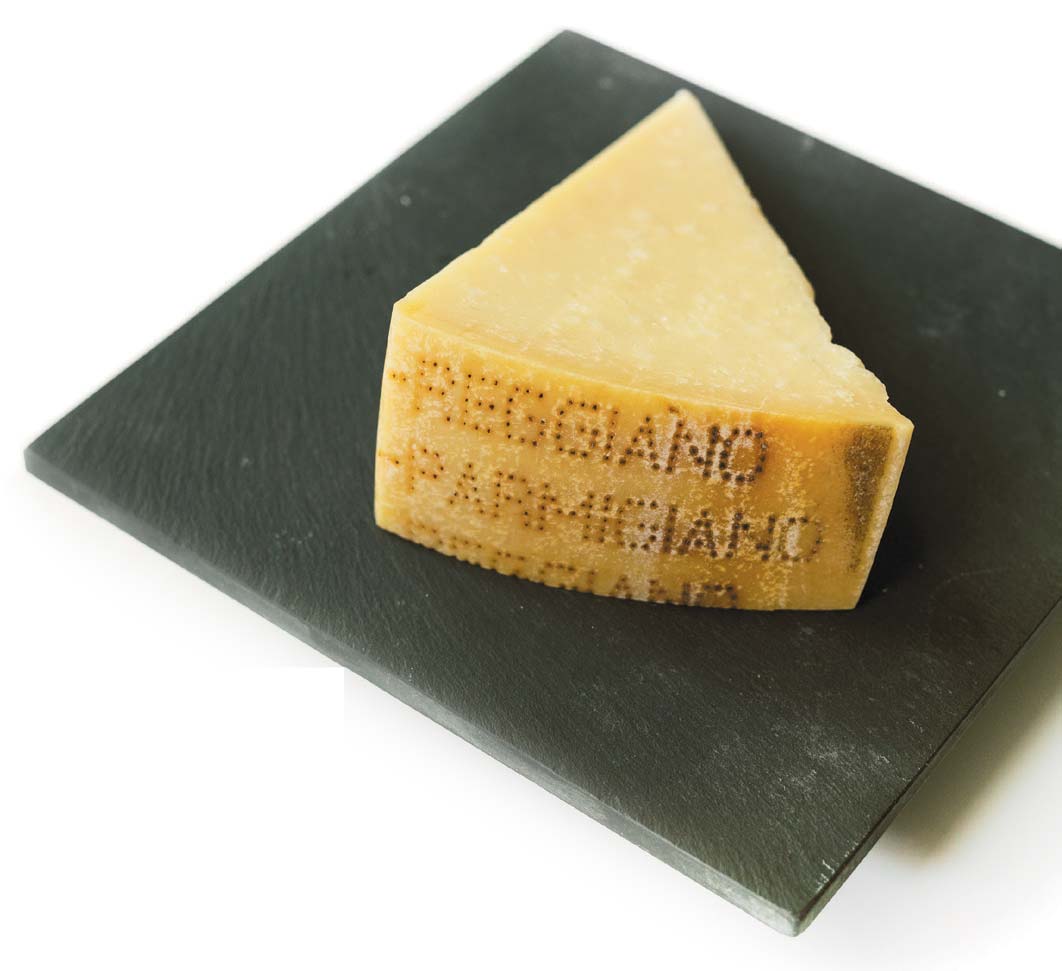 Parmigiano-Reggiano is the real stuff from Italy— the King of Cheese—and it comes to us from many producers, all governed by the Parmigiano Reggiano Consortium that requires the cheese be produced by hand, made with milk from cows fed a specific diet, and then aged for at least twelve months. Even with this standardization, the flavors and textures vary, so keep tasting! The older the parm, the more expensive it will be but in cheese, you usually get what you pay for. There is good domestic parmesan as well, like that available from Sartori, a family-owned, fourth-generation artisan cheesemaker in Wisconsin. Find Parmigiano Reggiano at Fink's, The Gourmet Cellar, Maven's Market, and Smith's, and Sartori shredded parmesan at Smith's and Town & Country Foods.