It's entirely possible that everyone who reads Edible Bozeman has eaten a huckleberry, fresh asparagus, or a delectable morel. These are all foods indigenous to Bozeman and Montana regions—foods that also were cherished by the First Peoples of this place. Other lesser-known but equally tasty, useful, and healthful foods native to this area include wild roses—both flowers and rose hips— chokecherries, and cactus, which you may know as nopales. Montana is, in fact, a very edible landscape in its native state, and many foods are accessible via the internet.
Of course, foraging for these foods is also easy and doable, but foraging impacts ecosystems and other people's livelihoods. If these plants are not on your property or in your yard, it's important to harvest ethically by not infringing on food sources used by people who forage for a living or for survival. It's also important to recognize that from Indigenous perspectives, these plants may be considered older brothers and sisters of today's people—relatives who have stood for and supported Native peoples for millennia.
Consider harvesting with this perspective in mind, and always obtain permission to forage on private land belonging to others, including reservation lands. In addition, foraging is not legal on all public lands, and permits are often required to harvest on U.S. Forest Service and other lands.
If foraging isn't your gig, one way to help rebuild landscapes and ecosystems while helping others reclaim their food systems and food sovereignty is to source from Native suppliers.
FINDING TRIBALLY SOURCED FOODS
Last year, the Intertribal Agriculture Council (IAC) headquartered in Billings expanded the scope of its American Indian Foods (AIF) initiative, which it started in 1998 through a partnership with USDA's Foreign Agriculture Service. Its scope has moved from a strict focus on increasing Indigenous producers' access to international export markets to also helping these producers reach domestic markets through the IAC's Native Food Connection. This expanded focus became important following changes to America's trading partnerships and the onslaught of COVID-19.
Consumers are guaranteed that they are purchasing tribally sourced foods, rather than foods sourced from tribal lands by others, by looking for IAC's "Made/Produced by American Indians" trademark. The U.S. Patent and Trademark Office approved the trademark in 1993 following the completion of the trademarking process begun by the council in 1991. As an added bonus, many of the foods marketed with the trademark are organic or all natural.
"American Indian foods were organic before organic was cool," says Courtney Fischer, AIF assistant program director. Native Food Connection not only helps consumers source foods from Native suppliers, it adds a domestic market link that was missing for Native suppliers who didn't want to, or who were not large enough to, sell internationally, or who needed to pivot to the domestic market after COVID-19 hit, explains AIF Director Latashia Redhouse.
"We have our IAC Technical Assistance Program staff, found in regions across the U.S., who play a pivotal role in increasing access and use of USDA programs by Native American producers. They are our boots-on-the-ground staff working hand-in-hand with Native producers to assist in building marketing strategies, conservation, and natural resource plans, business development, and other infrastructure needed by producers who want to reach a domestic market," Redhouse says.
Decreasing the number of non-native lake trout in Flathead Lake helps promote the survival of native bull trout and westslope cutthroat trout, the lake's original occupants. The great food products emanating from Native Fish Keepers' work are just a tasty by-product.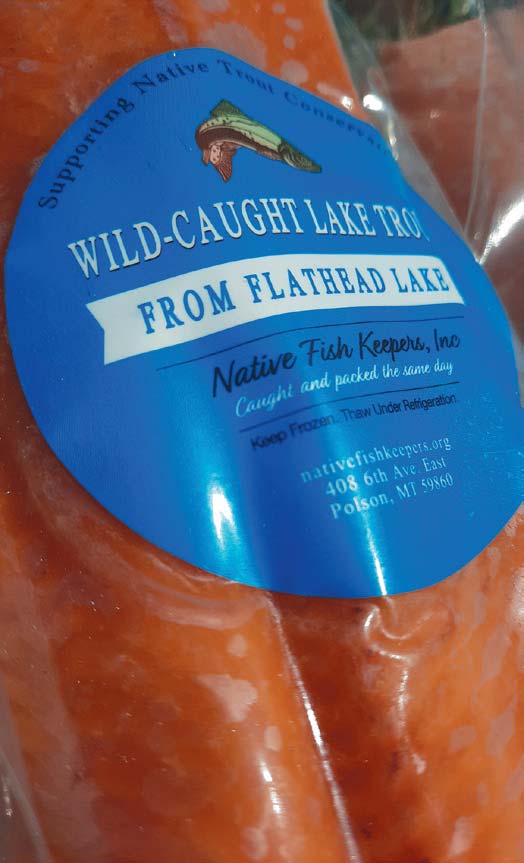 The Confederated Salish and Kootenai Tribes' wild-caught lake trout and whitefish is available at most Bozeman grocery stores, as well as select restaurants like Blackbird Kitchen, Tanglewood, and Nova Café.
Indigenous foods vary by region, but include salmon, asparagus, and wild rice, as well as Champagne grapes, pecans, and tomatoes.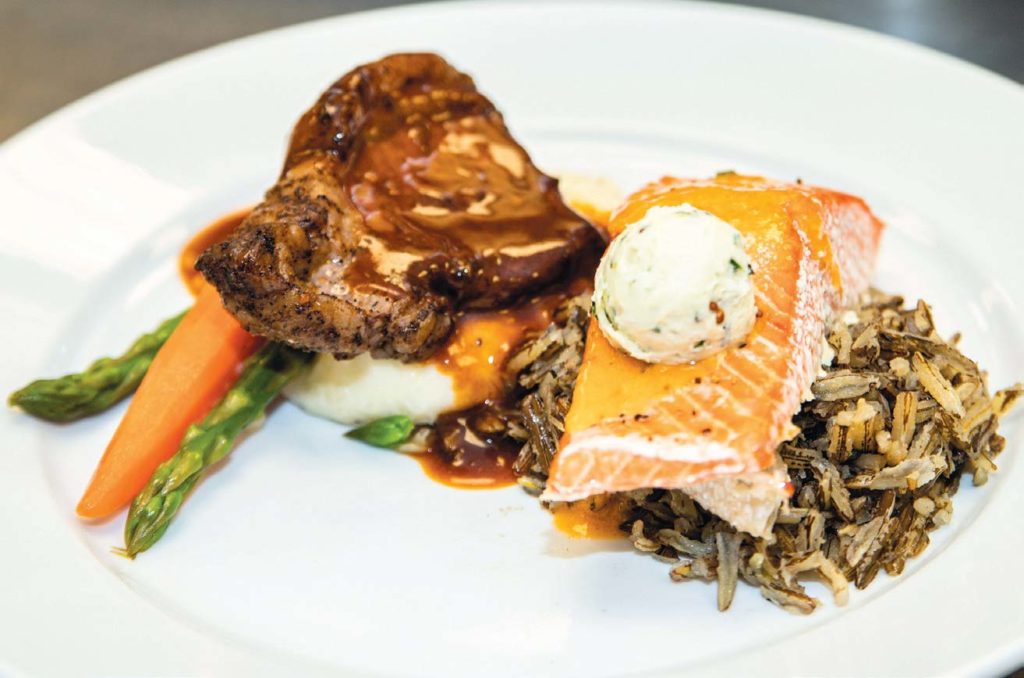 A GROWING INTEREST
Native Food Connection is essentially a broker connecting Indigenous foods producers and interested buyers. "A lot of people are coming to us to look for a way to increase Indigenous foods in their diet and on their menus," Redhouse says. Native Food Connection's services include the opportunity for any consumer to email a menu to aif@indianag.org, and have Redhouse or Fischer provide them with connections to Native producers who can supply the needed products. In part because of this and other services, during the past few months Native Food Connection has grown from working with around thirty Native producers to more than fifty.
"Recently, there has been a huge increase in the number of U.S. consumers interested in American Indian foods," says Fischer. She and Redhouse attribute that increase in part to the expanding popularity of Native American chefs, from Sean Sherman, a member of the Oglala Lakota tribe and author of the James Beard Award–winning cookbook The Sioux Chef 's Indigenous Kitchen; to Nephi Craig, a chef from the White Mountain Apache Nation in Arizona featured in the new documentary Gather, who is opening an Indigenous café as a nutritional recovery clinic; to Freddie Bitsoie, an executive chef at Mitsitam Native Foods Café, the acclaimed restaurant at the Smithsonian's National Museum of the American Indian, who won the museum's Living Earth Festival Native Chef Cooking Competition in 2013. The other executive chef at the restaurant, Richard Hetzler, co-authored The Mitsitam Café Cookbook: Recipes from the Smithsonian National Museum of the American Indian, one of dozens of Native American cookbooks released over the last couple of decades.
"We're also being contacted by more Native community members interested in feeding and healing their communities and restoring traditional food systems," Redhouse notes. She points out that not all communities have funding or economic development as a goal, as there are many traditional and community uses for Indigenous plants and animals that don't stem from an economic interest.
Much of the interest from U.S. and local consumers is driven by a growing understanding of the healthfulness and quality of Native foods from Native producers, Redhouse adds, and also by a growing but still limited understanding of what Indigenous foods are. "Of course, Indigenous foods change from region to region and by industry," she explains. "We represent everything from chocolate, to pecans, to bison, to wines." Readers may not know that slip-skin grapes—consider the familiar Champagne grape—are native to North America.
"The nutritional value and quality of these foods are priceless, honestly," Fischer says. "And because Indian Country is small, the size and impact of a non-local purchase from an Indigenous producer is similar to the impact made by even a small investment in local markets." Plus, Fischer continues, Native communities are highly networked. Supporting one producer helps that producer share with others how traditional landscapes can be meaningfully restored with the help of consumer purchases.
MONTANA'S OWN NATIVE FISH KEEPERS
The need for conservation and landscape restoration animate many Native food enterprises and initiatives. Take, for example, Native Fish Keepers, Inc., owned by the Confederated Salish and Kootenai Tribes of the Flathead Indian Reservation. Conservation of native Montana trout is the main purpose of the venture. Decreasing the number of non-native lake trout in Flathead Lake helps promote the survival of native bull trout and westslope cutthroat trout, the lake's original occupants. The great food products emanating from Native Fish Keepers' work are just a tasty by-product.
The company started distributing its lake trout and whitefish fillets through one grocery store in Polson in 2017, and through donations to local food banks. Today, the company has three distributors; is available in more than fifty-five locations throughout Montana including in Bozeman's Town & Country, Albertsons, and Safeway stores; and has donated close to 100 tons of food to food banks.
The money from sales to consumers helps pay the tab for ongoing native trout conservation efforts, which are starting to pay off. Lake trout populations are finally beginning to decline and are closer to sustainable numbers than ever before, CSKT's fisheries biologist Barry Hansen told a group of visiting MSU students last winter.
The students, all part of a food lab program run by MSU's Dr. Wan-Yuan Kou, are collaborating with the tribes to determine potential value-added products, such as smoked fish, that could potentially join the company's product lineup in the future.
Native communities are highly networked. Supporting one producer helps that producer share with others how traditional landscapes can be meaningfully restored with the help of consumer purchases.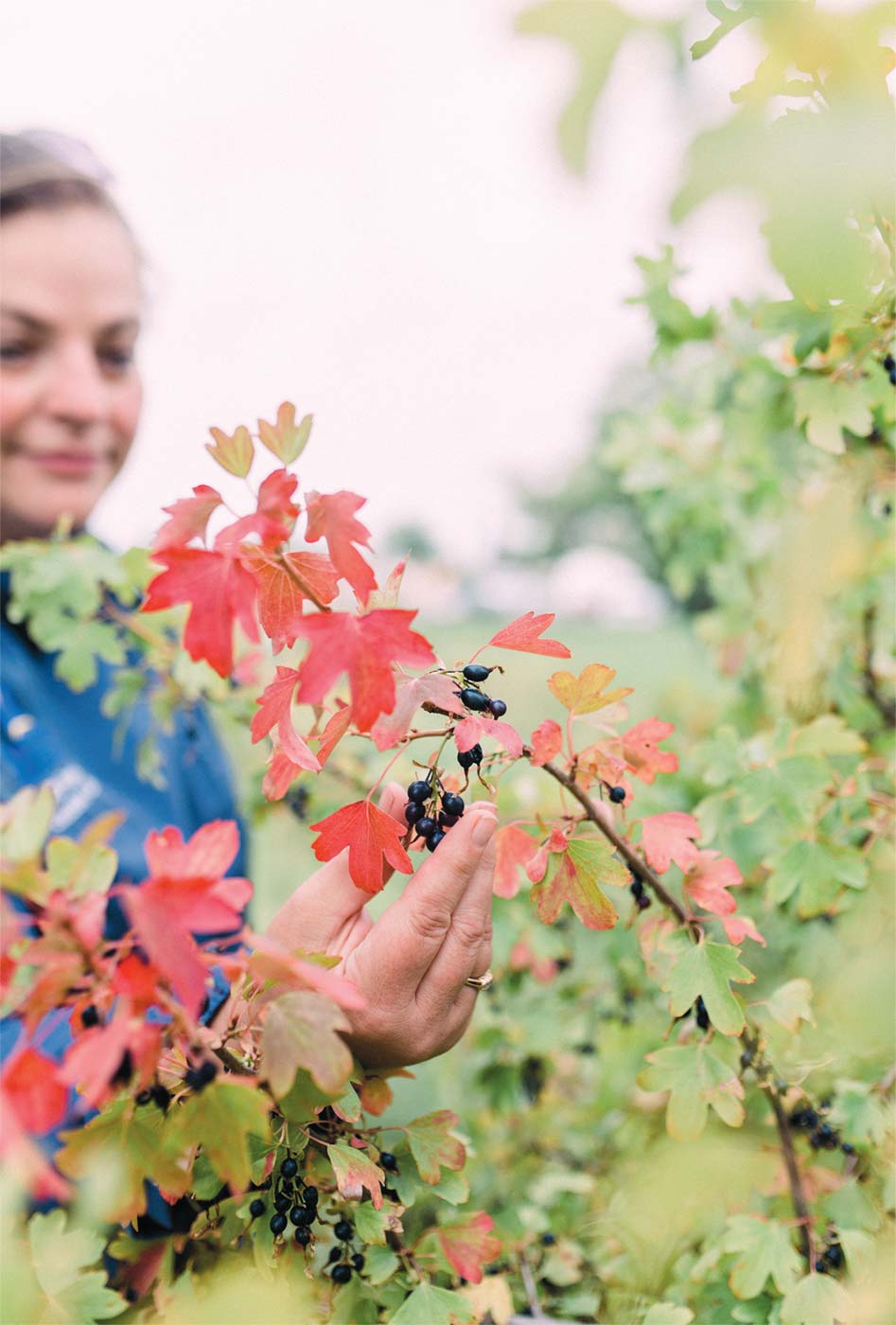 PARTNERING WITH NATIVE SUPPLIERS
For the past several years, MSU grounds keepers have added plants indigenous to Montana and the Bozeman area to the university landscape. Today, many locally Indigenous plants are available for foraging by students, community members, and MSU's Culinary Services.
"Right now, we're harvesting currants, cedar, spruce tips, rose hips, and crab apples for use in our dining halls," says Jill Flores, executive chef for MSU Culinary Services. Flores says she's excited about the work and potential of Native Food Connection. "Right now, we're sourcing some Indigenous foods from local growers and local distributors like Quality Foods Distributing, which provides us with Native Fish Keepers' products. If the opportunity becomes available, we could be a great partner for small Native-owned companies that want to get a foothold in the local distribution chain. It would be so nice to be able to do that and to be able to work with more Native producers and communities in ways that they think are beneficial."
One of the best parts about Native Food Connection is the ability to email them a menu and have the organization find Native suppliers for all of the products on the menu, Flores says. "We're excited to try this benefit so that we can work with more Native producers. The students are eager to try foods like these that are new to them, and we think working more with Native suppliers would be welcomed by Indigenous people on campus."
Menu assistance isn't just for big consumers like MSU. "Anybody can send us a menu, even individual consumers, and we'll help them source the foods they need for their menu from Native producers," Redhouse says. "No event or menu is too small. And for large events like the ones the university might hold, we can always work with several producers who can cooperatively meet those needs."
Just think of it. Email. The easiest way to eat like a Native. Who knew?
BACKGROUND AND DEFINITIONS FOR DECOLONIZING YOUR FOOD SYSTEM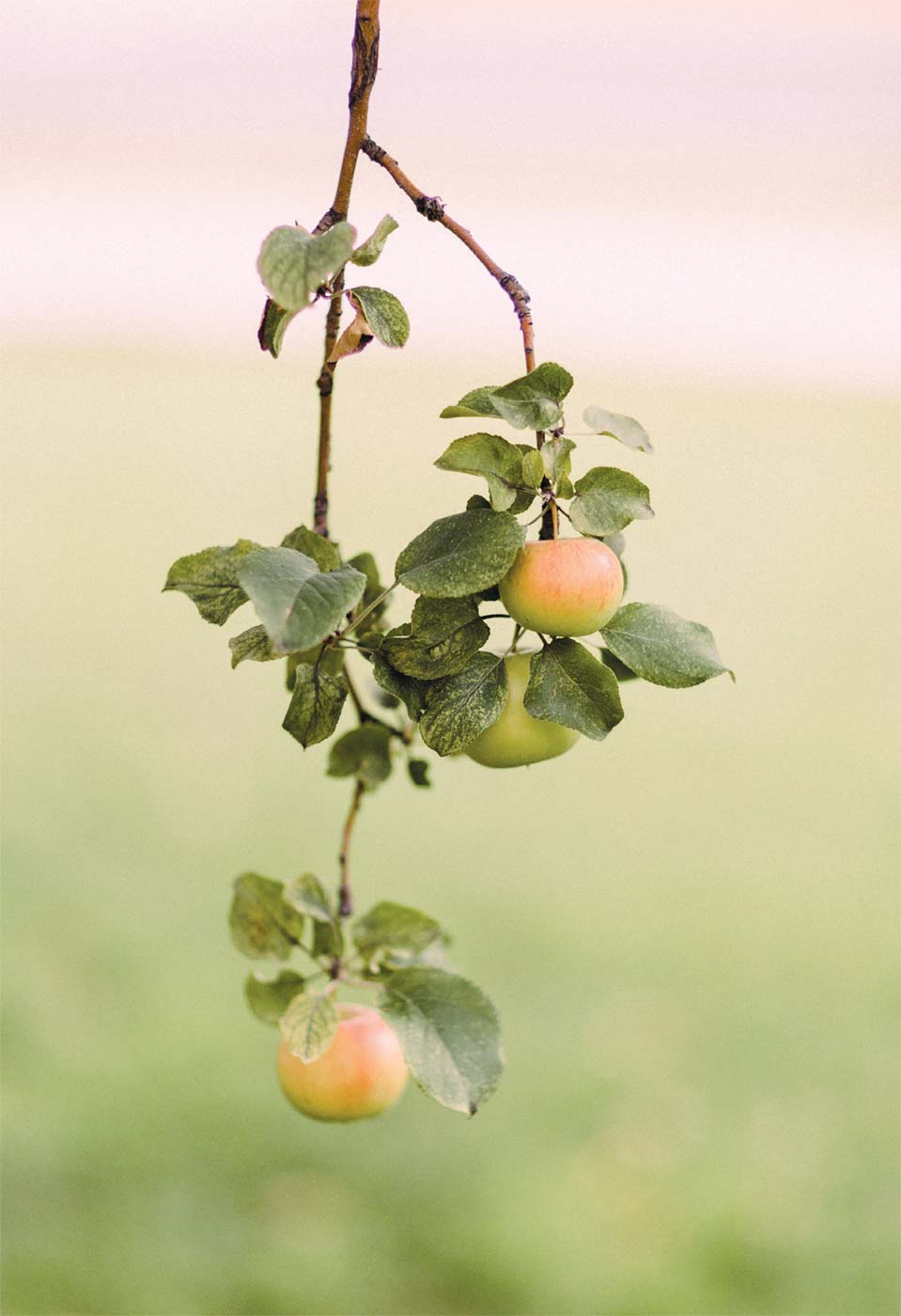 When Christopher Columbus bumped into the Americas in 1492, what became known as North and South America housed a rich, diverse, thriving food scene, complete with complex trading systems similar to those of the Old World's Silk Road.
Colonizers from the Old World were struck by the health of the people of the New World— before the Euro-Americans spread smallpox and other diseases that decimated local peoples and economies. Now that we know more about the foods of the New World, we know the nutritive value of the foods indigenous to this land was an important component of the health of Native peoples. Foods native to the Americas are generally low in fat and high in the amino acids, vitamins, minerals, and micronutrients the western world now understands to be the building blocks of nutritional health.
The process of building back local Indigenous food systems, which are focused on local, native plants, often is referred to as "decolonizing the food system." Part of that decolonization process is about removing the layers of foods that covered up—and in some cases forcibly removed—the plants and animals native to every local, micro-, and macro-landscape. A second, even more important, part of decolonizing the food system includes recognizing that the removal of these older foods from peoples' diets often occurred for less than ethical reasons. The third critical part of decolonizing a local food system is about recognizing that the continual commodification of Indigenous foods, without the ethical land and social practices that are part of Native lifeways, leads to the same dire results created by the commodification of corn, beans, and wheat, two of which are native to the Americas.
In this writer's opinion, the most important part of decolonizing the food system is doing the hard work needed to personally learn about and respect the food sources native to the local landscape, along with the food systems and peoples supported by these plants and animals, all of whom were parts of thriving, sophisticated food economies and food systems long before Queen Isabella agreed to give Columbus three boats.
Foods of the New World revolutionized the world's food scene in the fifteenth, sixteenth, and seventeenth centuries. In fact, foods we now think of as traditional components of Old-World cuisines didn't even exist in the Old World prior to 1492. Think about Italian polenta with a rich tomato-based Bolognese sauce. Call to mind Swiss chocolate, French vanilla, and the hot pepper dishes of Africa. All of these plants and dishes—and many, many others—arrived in Europe and other parts of the Old World after being "discovered" by explorers and colonists in the Americas.
The First Peoples of the Americas were already making smooth, creamy polentas (by another name), along with unctuous tomato sauces, luscious chocolate products, and spicy-hot pepper dishes. Let's give credit where credit is due. Decolonizing the food system means we learn where our food and favorite recipes originated, and attribute those foods, dishes, and ancient recipes to the people who created them, and the sciences—like the nixtamalization process of preparing maize—behind them.