Bison graze at North Bridger Bison, a ranch nestled in the Shields Valley near the Crazy Mountains.
Pandemic highlights need for a more resilient local supply chain
Just outside of Big Timber the roads are quiet. A dusting of snow highlights the Crazy Mountains to the northwest. A packed parking lot leads to the front door of Pioneer Meats with a sign that reads "Full. We are not accepting carcasses unless prior arrangements have been made."
Inside, Brian Engle has one ear to the phone as he helps a customer at the front desk. The second he puts the phone down, it rings again.
Brian and Kary Engle built their meat processing facility in 2004. Originally a mere 10 by 100 feet, it has now expanded to 13,000 square feet. There are several meat processors in the Southwest Montana area, but Pioneer Meats is one of only a handful in the state that are USDA-inspected. This distinction allows Brian and Kary to ship meat out of state, but since the pandemic hit they've been too busy with instate demand to do that.
"We've seen a huge increase in demand for local food from all corners," Brian says in mid-November. "I just got off the phone with a gentleman who's trying to get local beef into Montana schools. From what we've seen, the pandemic increased demand for local meat tenfold. During a normal year we would be scheduling for March right now, and I just finished the schedule through December 2021."
Disruptions in the livestock supply chain during the pandemic have highlighted the importance of local food supply chains—in particular, meat processing facilities. A more resilient local supply chain would protect rural places like Montana during crises, and communities around the state have been advocating for years for more processing options.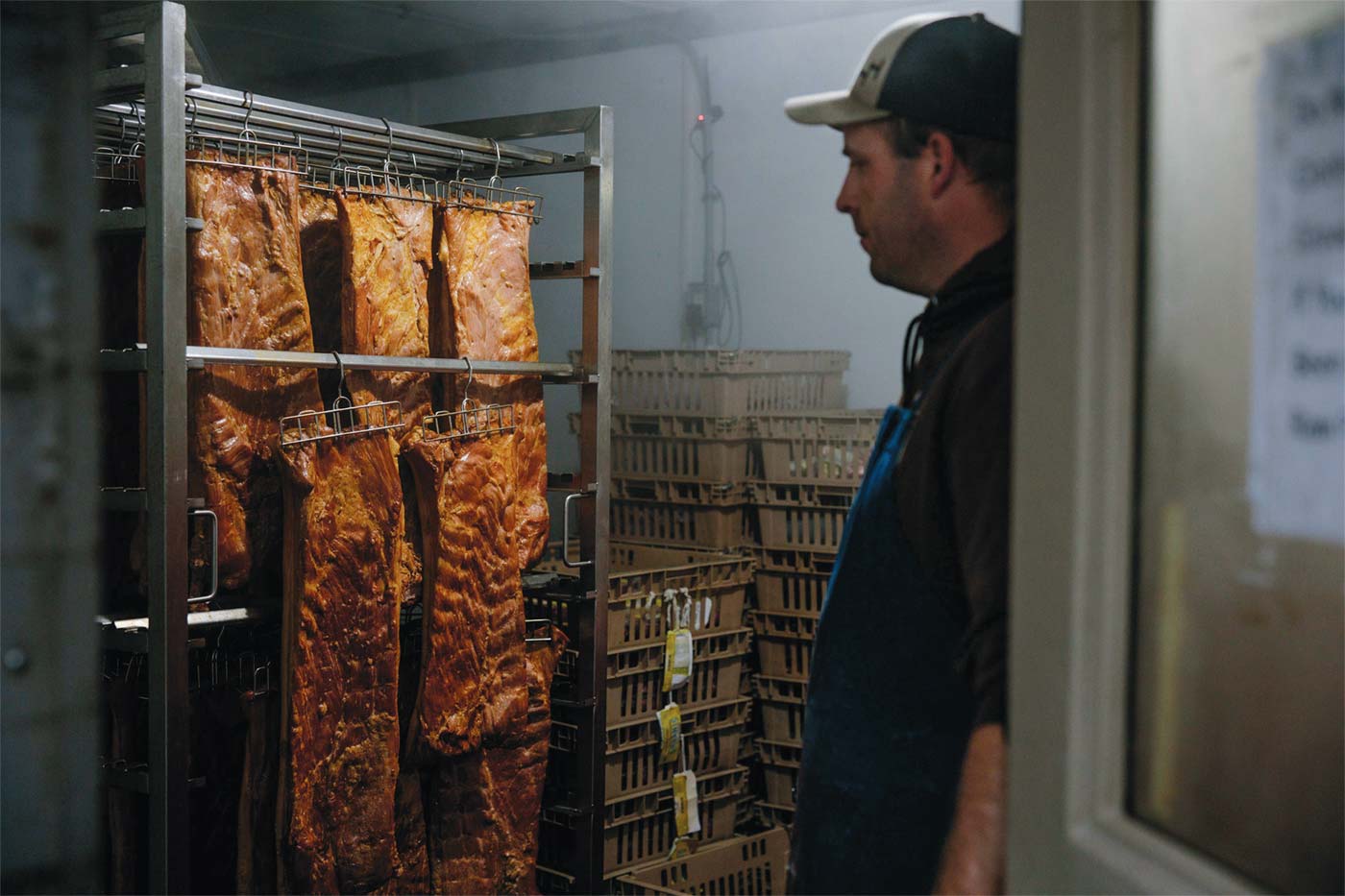 Barriers
Prospera Business Network, a Bozeman nonprofit advancing and supporting community-centric economic development, recently received funding from the City of Bozeman and a grant from the Montana Department of Commerce's Big Sky Economic Development Trust Fund to do a feasibility study on a shared commercial space for food processing. This is not the first feasibility study initiated in the region, and there have been several attempts over the last few years to meet the demands of local processing, but none has come to fruition. Prospera hopes to release the findings of their study sometime in 2021.
In Montana, the $4- to $5-billion agricultural economy is largely built on exports to out-of-state processing plants. In the 1950s Montana imported only 15 percent of its meat, with 85 percent of meat resources being produced locally. Today those numbers are reversed, with Montana exporting 85 percent of meat resources out of state.
Matt and Sarah Skoglund started North Bridger Bison in 2018, raising and harvesting bison using regenerative agriculture principles and field-harvesting the bison on their ranch. They sell their meat direct-to-consumer and keep the entire process as local as they can.
"When it comes time to harvest an animal, I go out into the pasture [where] the herd is currently grazing and harvest each one myself," Matt says.
Because field-harvesting each bison is so foundational to their ranch and business, the Skoglunds invested in a mobile slaughter unit this past spring, but because it has been so difficult to get meat processed locally, they haven't been able to utilize it to its full potential.
"If we were, for example, to field-harvest six bison over the course of a day—and have them skinned, cleaned, halved, and hanging in the cooler on our mobile slaughter truck—and I then called a processor, they would tell me to turn around, as they don't have room for a rabbit," Matt says. Without availability in processing facilities, they would have too many slaughtered animals and no way to butcher them.
"This processing situation really limits the ability of the regenerative agriculture movement to expand. The reality is that if you have someone who wants to change the way their ranch operates, wants to start processing and selling their beef locally, expand their business—or a new person that wants to get started in regenerative ranching—it's going to be very, very difficult right now."
Tommy Bass, MSU Extension livestock environment associate specialist, says COVID-19 has made consumers more interested in supporting local supply chains, like purchasing from local farmers, ranchers, and processors.
"We're seeing a big uptick in demand for local meat products in particular, both from consumers and producers. I've been getting multiple calls a week from ranchers seeking help in understanding the supply chain better, and local processors, who report that they're full or backlogged, are looking to increase their capacity. My phone has been ringing off the hook beginning this past June."
Bass says one of the biggest barriers to more local processing facilities is finding and retaining labor—being able to pay a livable wage that will make somebody want to do this difficult job. He says the strong seasonal influences on meat production also make it challenging to hire long-term workers.
"I've started to see cow–calf operators who want to dip their feet in the local, regional supply chain. Some of them have started holding out around twenty animals and finishing them locally so they can move them into the local market."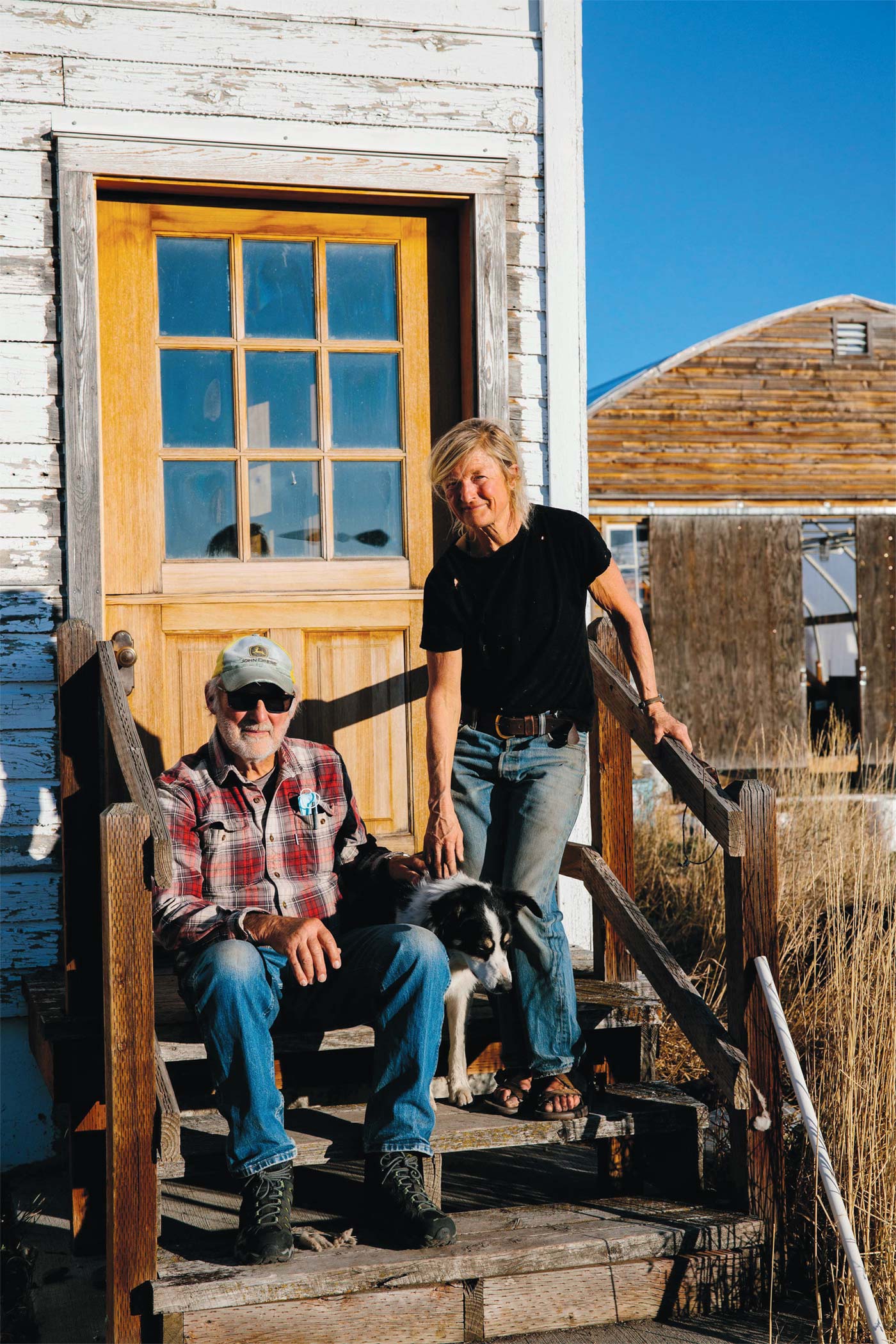 Resilience
Becky Weed moved to the Gallatin Valley from the East Coast in 1986 and a year later started Thirteen Mile Farm, selling certified-organic lamb and wool. "We are all about getting regular, healthy food to regular people," Weed says. The pandemic, she explains, has triggered a lot of discussion about the resilience of Montana's food system and our farming lifestyles.
"It's really about rejuvenating the meat packing system," she says. "In the long run, yes, we need to bring the meat processing part of the chain back to the local level. In the short term, it's more complicated than that. It will take years to get to the point where Montana is exporting beef and not cattle, but it's not an unreasonable goal. It's imperative that we don't continue what we've been doing for the last forty years. The system is not going to look the same as it has. I don't want to reproduce that system—it's socially unjust and environmentally irresponsible—but I know we can't just snap our fingers and have it happen overnight."
In September 2020, former Gov. Steve Bullock announced additional funding from the Coronavirus Relief Fund to be directed to the Montana Meat Processing Infrastructure Grant. In a press release, he wrote, "The impacts of the coronavirus pandemic have drawn attention to challenges faced by our nation's meat processing systems. And by addressing this complex issue here in Montana, we are building resilience to future supply chain interruptions in communities across the state … Ensuring the proper infrastructure exists to provide [producers] with reliable, value-added markets to sell their meat is essential to bolstering our food security, especially during these times."
The program received more interest than anticipated when it first started accepting applications. Bullock initially committed $2 million to the program and added funding to award $7.5 million in grants to sixty-two processors in August. In September, an additional $4.2 million was added to the fund. The Montana Department of Agriculture will review existing applications that have not yet been funded to determine additional program awards.
The Engles received funding through the Coronavirus Aid, Relief, and Economic Security Act. They're using those funds to increase their capacity for slaughtering and processing by adding three freezers and updating their equipment so they can package faster and process more animals.
"The biggest reward is knowing that what we're doing is helping feed people in Montana with a safe and wholesome product that is raised here. We find that to be incredibly rewarding," Brian says.
He doesn't see any reason why Montana shouldn't be able to support a fifty-head-a-day processing facility in the future, but he says the largest barrier is availability of a knowledgeable and qualified labor force. To help give real experience to students interested in meat processing, the Engles have agreed to take on interns from a newly developed certificate program in meat processing out of Miles Community College in Miles City. Pressured by strain on the current food system brought on by the pandemic, the college has recently teamed up with the Montana Farm Bureau Federation and the Montana Meat Processors Association to make the program a reality. Brian and Kary will be taking up to two students at a time for twelve-week internships.
"When the big meat packers like the one in Sioux Falls had to shut down because of COVID-19 outbreaks, I think it opened a lot of people's eyes to how brutal and unsustainable Big Ag is. I'm hoping the pandemic becomes a catalyst for more change, but the local food movement—and awareness of the many benefits of buying direct from farmers and ranchers—was already gaining momentum before all of this." —Matt Skoglund, North Bridger Bison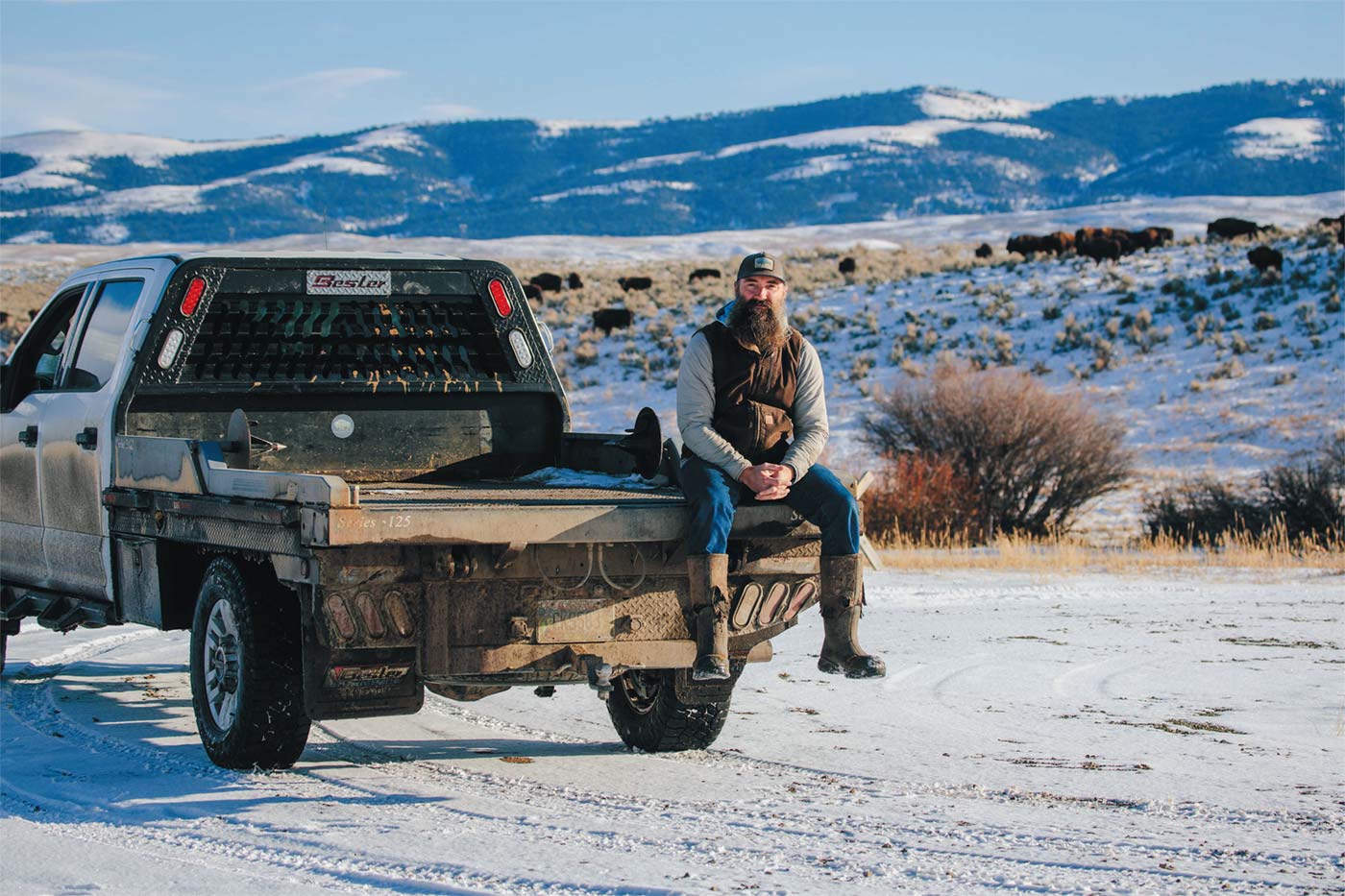 Momentum
With fewer places to slaughter and process livestock as plants shut down or reduce capacity because of COVID-19, more ranchers are turning to local processors. Small operations have become overwhelmed, forcing them to delay taking in new livestock and in some cases having to refuse wild game clients. The demand created by the pandemic has caused stress for ranchers, but has been overwhelmingly good for local meat processors.
"We hope things mellow out a little bit," says Gary Todd, an employee at Pioneer Meats, "but overall, we hope this kind of demand continues into the future, and we think it will."
The Skoglunds feel fortunate to already have built strong relationships with local meat processors, but out of necessity they are actively considering opening a tiny processor in conjunction with their mobile slaughter unit. "We've been working on this for a long time—since well before the pandemic started. And our new reality makes it more urgent than ever," Matt says.
"When the big meat packers like the one in Sioux Falls had to shut down because of COVID-19 outbreaks, I think it opened a lot of people's eyes to how brutal and unsustainable Big Ag is. I'm hoping the pandemic becomes a catalyst for more change, but the local food movement—and awareness of the many benefits of buying direct from farmers and ranchers—was already gaining momentum before all of this."
Matt is firm about his strong beliefs in regenerative agriculture, but he says one of the solutions to a more resilient food system, regardless of what type of ranching or farming practices are used, is more local processors.
"I'd like to see us build from the infrastructure that already exists and expand off of it. People have been talking about building a big facility in Montana for years, but I'm not holding my breath, and bigger is not always better. I think increasing the number of smaller processors around the state would make for a more resilient system and be a stronger fix moving forward."
While demand for more local processing options has exploded, it will take continued enthusiasm from the community to make expansion happen.
"Some people worry that if we build a bunch of new plants and then the pandemic enthusiasm for buying local dissipates, it will leave people in trouble," Weed says. "We need to move forward slowly—ranchers, consumers, everyone needs to build the momentum. To me, the ranchers can't do that all alone, it has to be in partnership with people who eat food and people who worry about food."