Jonathan Finkenauer and sisters Caroline Schweitzer and Lauren Heemstra.
Wild Crumb and Fink's Delicatessen
At the corner of Wallace and Peach, a community is flourishing in the Brown Warehouse building. In this funky Northeast Neighborhood, where history collides with progress, and the industrial with the residential, two businesses—Wild Crumb, which sells artisan breads and pastries, and Fink's Delicatessen—showcase how a neighborhood finds sustenance in classic and modern cooking practices.
This family story begins with twin sisters Lauren Heemstra and Caroline Schweitzer. At Wild Crumb Lauren bakes the pastries and Caroline the breads. While Lauren sources, purchases, and oversees inventory, Caroline does the books. Caroline is married to Jonathan Finkenauer, who opened Fink's Delicatessen located behind Wild Crumb. Lauren's sister-in-law, Rebecca Heemstra, is the front-of-house manager and cheesemonger at the deli.
With these interrelations, Fink's truthfully practices its claim of being "family owned."
On a rainy day, my husband and I felt the sentiments of family as soon as we stepped into Wild Crumb to secure loaves of organic bread: Sea Salt Herb Fougasse shaped like an ear of wheat, German Seeded, and Ciabatta. At Wild Crumb we can revisit the cravings of brunches and celebrations with almost too many mesmerizing amusements to choose from.
Lauren and Caroline grew up in Northern California, under the watchful eye of Mount Shasta. Lauren's love of baking and cooking started with an aunt on her mother's side. "She would bring over her pumpkin cake and it got me really excited," Lauren said. Then the Food Network inspired her to attend the California Culinary Academy in San Francisco.
As Lauren developed her culinary skills, Caroline honed her passion for photography at the Academy of Art University in San Francisco. After they finished their studies, they relocated to the Treasure State to join their sister Erica in Big Sky. Lauren worked in the kitchen as the pastry chef at the Rainbow Ranch Lodge while Caroline managed housekeeping. It was here, at the popular guest ranch, that they crossed paths with Sous Chef Finkenauer. Lauren said of her time, "There was an awesome crew in the kitchen." Unfortunately, their employment ended in 2008 when the nearly fifty-year-old lodge was devastated by fire.
The line extends almost to the door on a busy Friday morning.

The Lemon Meringue Tart is one of many delicate desserts Wild Crumb offers.
In the years that followed, Jonathan entered the kitchens of Judy Rodgers at Zuni Café, Traci Des Jardins' Jardinière, and Thomas Keller's French Laundry. In Bozeman, Caroline and Lauren worked at Sola Café and Market when it first opened. "It got busy very fast after it opened," Caroline said of the time she was enlisted as a dishwasher and Lauren as a baker. Caroline then added to her resumé baking classes at Santa Barbara City College in California.
In 2012, the sisters started selling their goods at the Gallatin Valley Farmers Market. For the first market, they "baked as many croissants and bread as we could in our little apartment. We baked thirty loaves of bread, twenty-four sticky buns, three dozen croissants," Caroline said. "People loved our stuff," Lauren added. Then the sisters had a realization: "We wanted to do something on our own," said Lauren. For a year, they shopped around for their own place.
Lauren said, "This space was bigger than we wanted," but she favored the location. Mezzo Matto Bakery had recently closed after four years when owners Stephanie and Ken Martinez returned home to Louisiana. With help from Prospera Business Network, building owner Putter Brown, friends Josh Gibson and Shannon Douglass of Blackbird Kitchen, and countless others, the sisters took on refashioning the 2,200-square-foot space to open in 2013.
They named the bakery Wild Crumb because, as Lauren said, "Wild Crumb means a couple of things. The 'wild' refers to the wild West. The 'crumb' refers to everything inside the crust. When you cut sourdough bread, there are wild crumbs."
Appearing wild and worn, the bakery is housed in a corrugated metal and brick building with an open feel and a well-thought- out floor plan. Architect Ben Lloyd of Comma-Q Architecture, who designed the building in 2002 and helped renovate the entryway to Wild Crumb, said, "Wild Crumb is a neighborhood focus. It is an amazing gathering place, helping to reinforce community and neighborhood."
Lauren told me, "People can come in every day to get a loaf of bread. While they are here, they see the same people." "We bring people together in this small community, setting the scene with fresh foods," Caroline added. As my husband and I stepped up to the thirty-foot-long counter, we were favorably overwhelmed. A glass front secured countless treats with handwritten descriptions.
Baguettes were propped into a black metal basket. A tray of "Portabello Sandwiches" were stacked two high. Croissant choices ranged from plain to almond to ham and gruyere. Three "Huckleberry Scones" rested on a plate as a single "Croissant Cinnamon Bun" waited to be purchased. An uncut Southern Coconut Cake reigned atop a pedestal.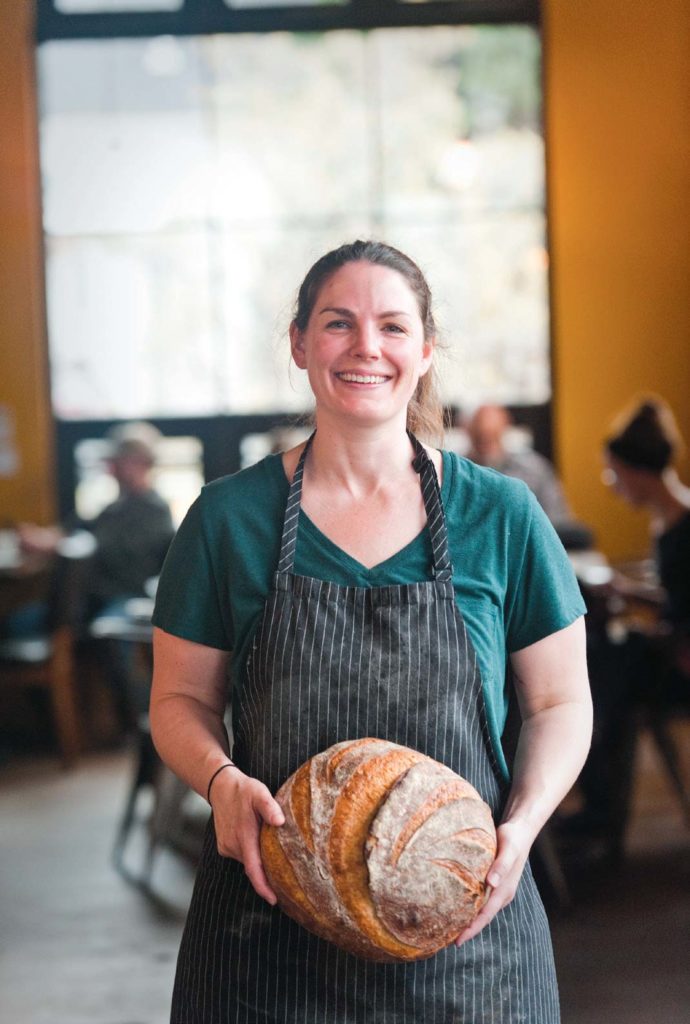 In the cold case, "Sea Buckthorn Tart with Strawberry Meringue" and "Vietnamese Coffee Mousse Cake" beckoned us. Above on the shelf, in a glass jar, we were taunted by "Chunky Almond Vanilla Bean Meringues."
We chose the "Double Chocolate Orange Croissant" to share. Sitting at a table for two by the west-facing windows, we soaked up the jazzy, toe-tapping soul music played above. As I bit into the flaky chocolate croissant, I ignored the flakes that fell on my lap. I was purring from the burst of orange flavor.
Food like this comes only from coddling and care. The twenty-two-quart sourdough starter must be continually fed to propel the three-day bread-making process. For the pastries to be presented and pretty at 7am, dough must be rolled and pressed, and batter mixed while Bozeman is asleep.
Lauren looks for individuals with at least two years of pastry experience for the tart, cake, croissant, and cookie side of the business. She said of the bread half, "The bread side of things is easier to train. So as long as you're a hard worker and willing to learn, we'll take the time to train since it's a little more methodical." About training bread bakers, she added, "You really have to teach them to read and feel the bread, because there are so many factors that go into a great loaf."
For the great loaves, Fink's Delicatessen provides the fillings and accoutrements. When entering down the hallway from the bakery, I stepped into a rectangular room. Two glass cases showcasing neatly arranged cheese cuts and cylinders of charcuterie invited me in. Blue paisley wallpaper covered one side of the room above bench seating; emerald green tile lined the opposite wall. The blackboards behind the counter spelled out the menu selections with simple categories: "Cold Sandwiches," "Hot Sandwiches," and "Soup."
I ordered Fink's most popular sandwich, the Cubano; my husband ordered the Roasted Eggplant. The pressed sandwich with paper-thin ham, Swiss, sliced dill pickles, and yellow mustard also held large hunks of shredded pork. My husband's sandwich oozed with melted provolone, mozzarella, garlic aioli, and tomato sauce interlaced with eggplant, artichokes, and spinach leaves.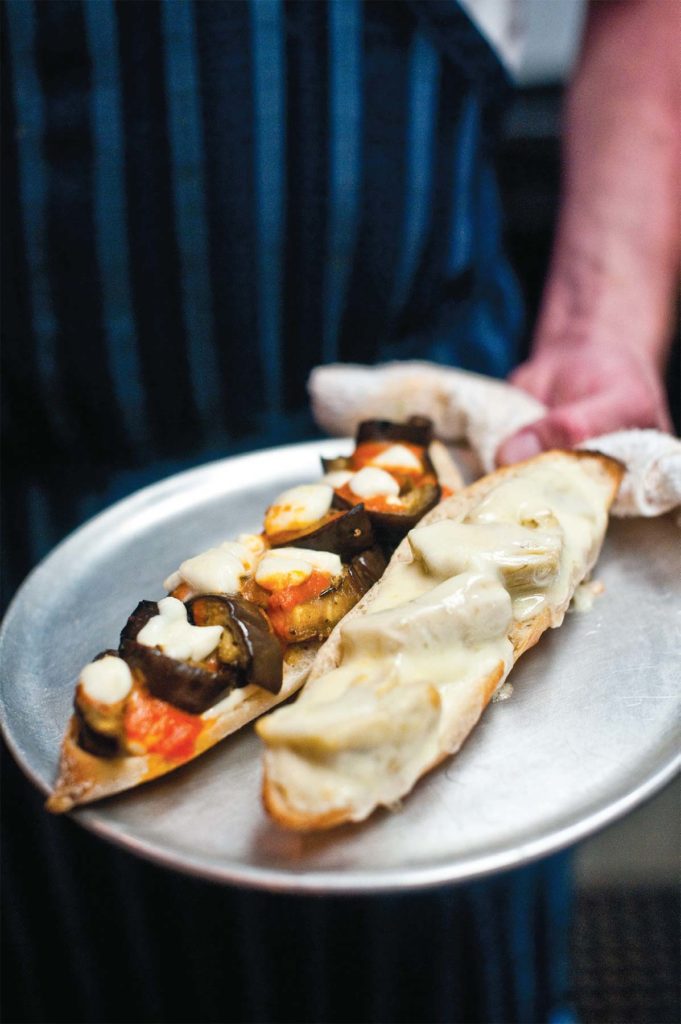 Jonathan admitted, "I am an addict for cheese" and for his selection, which supports small farmers and cheesemakers. "They are harnessed from California and Vermont to embrace the cheeses from both our homes," paying homage to places of origin for the family. The charcuterie is sourced from around the world. To slice Jonathan's favorite Italian sausage, mortadella, he proudly uses his red Berkel meat slicer with a flower-design flywheel.
The long kitchen features low burners for ease of handling soup pots, a long working sink, and an effi cient hood system. After a year in business, Jonathan hoped to have a restaurant where, he said, "We want all people to come in." His welcome extends to his employees. "I am striving to pay our cooks well, to help them out," he said. "Some of the smartest, most artistic people work in kitchens. I want to off er them well-paid jobs and be able to live well."
For now, in the Brown Warehouse, Wild Crumb and Fink's have allowed a neighborhood to live well.