I recently relocated to Bozeman. From Marin County, if you must know. That's the largely protected national recreational land north of Golden Gate Bridge. You know, redwood hot tubs, hippies, and marijuana in the air. We moved to be in the mountains, not to merely have proximity to them. What we've found here is a community that shares ideals, goals, and dreams.
As part of the discovery process, I attended a talk and reception hosted by Montana Land Reliance (MLR), a nonprofit organization fighting to conserve lands in Montana. There, a young rancher named Daniel Anderson pointed out that there is "intrinsic value" to the land and the landscape here in Montana. This intrinsic value is in the air we breathe, the sky, the winds, the geology, and the beasts that wander its soils—all of which got me thinking about concepts like hyper-local ingredients and what the French call terroir.
---
I was thinking about intrinsic value the day I entered Mountains Walking, a relatively new brewery tucked away on Plum Avenue just north of Main Street. I was greeted at the entryway by the stark contrast of black metal against beautifully finished natural wood, as well as a warm reception from the canine welcoming committee. The handiwork of interior finish, floods of natural light filling the room, and gorgeous view of the Bridger Mountains were a relief from the lugubrious interiors of many a tavern of yore.
Over several Mountains Walking beer flights fresh from the taps (including a wild gamut of flavors and textures, from sours to saisons to stouts), I struck up a conversation with owners Gustav Dose and Sarah MacDonald.
"We are a small, family-run business. Without passion, we would not have made it this far," said Gustav. "We strive for our beer—and the entire experience of our beer from grain to glass—to reflect our love and our desire to connect with people through our passion for beer."
The brewery itself lives up to its owners' objectives: to welcome Bozeman into their family establishment, and to be welcomed by Bozeman.
Over my tasting flight, we talked about Gustav's lifelong dream of opening a brewery. In order to realize his goals, Gustav studied at the Siebel Institute, an institute of higher learning founded in 1868 and dedicated to the art and science of brewing. He spent time at the Institute's Chicago and Montreal campuses, the latter offering Gustav an opportunity to contemplate the art of matching food to drink brought to Montreal by its European inhabitants. In my opinion, the moules-frites (mussels and fries) in Montreal challenge the real thing of Belgium! This served as quite the education.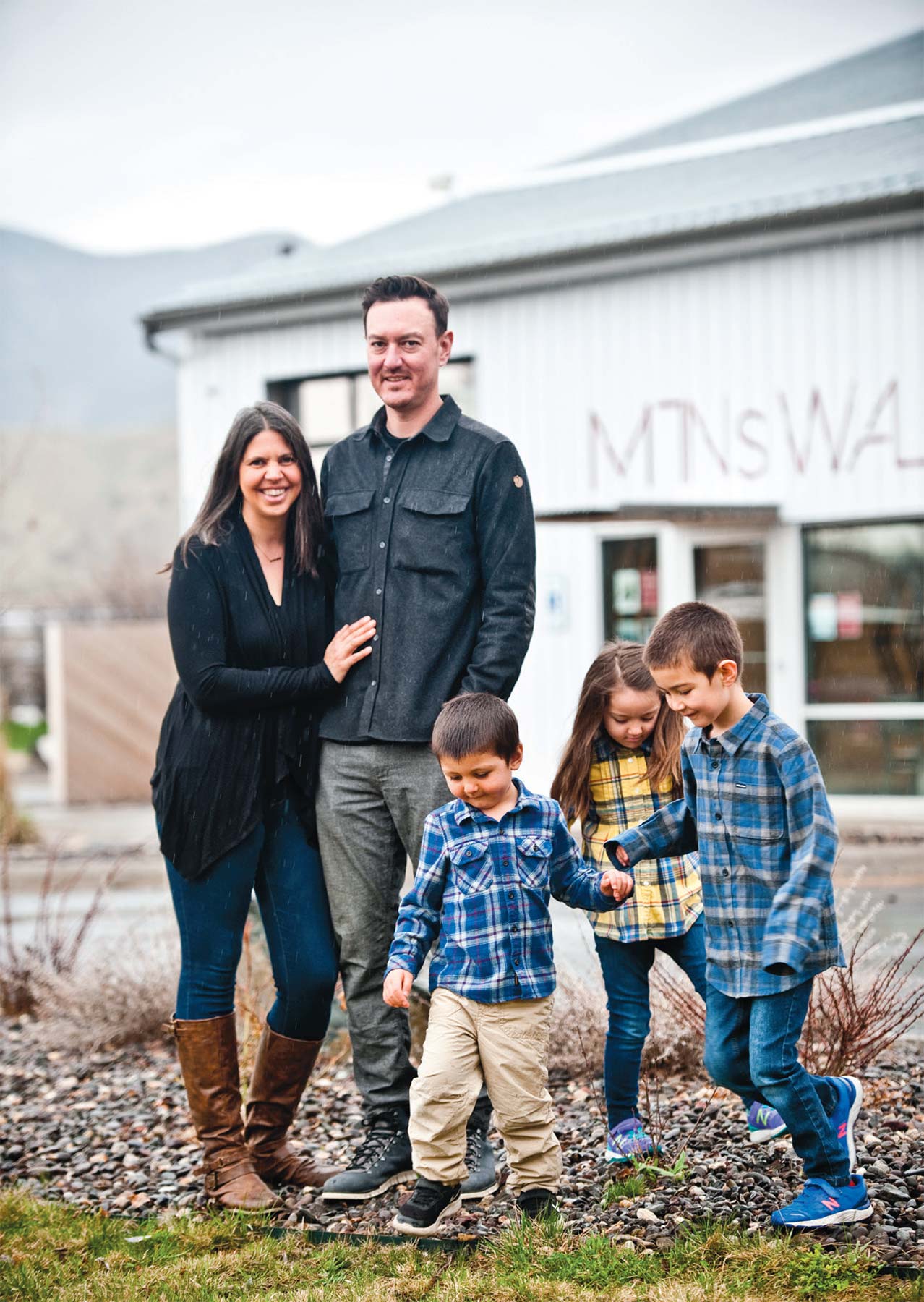 Gustav and Sarah then spent several years in Bellingham, Washington, a locale that seemed quite fortuitous to opening a brewery. But the siren's call of Bozeman called the young couple. They'd always had friends and family in Bozeman. And since Gustav grew up in the cramped urban spaces of Tokyo and Taipei, the ability to raise children in the open air, mountains, and streams of the Gallatin Valley called to Sarah and Gustav.
After mulling over Gustav's "from grain to glass" comment, I prodded him further on the topic.
"I love the mystery behind fermentation and try to embrace what each day brings," he said.
What Gustav was referring to is the art and science behind the fermentation process, and beer-making as a real artisan's craft. Unlike wines, which are often said to be made out in the vineyards, beer is handcrafted in and around the tanks. The Mountains Walking brewing facility has a unique brewing process separated physically in the brewing area by hot and cold sides, giving the brewing team the ability to manipulate fresh ingredients, a process which is closely monitored to reach the precise flavor profile of the desired beer style.
Mountains Walking also features a rather rare, Belgian-inspired Koelschip room: a copper brewing vat surrounded by cedar walls which are completely open and exposed to the Bozeman air. In many cases, exposure to outside elements can not only ruin the freshness of the brew, but can downright destroy the product. But in the truest sense of terroir, certain beers love natural fermentation by naturally occurring yeasts in the air. These beers take on, reflect, and refract the natural brewing environment, and in doing so express a flavor and consistency profile that is like nowhere else. It's in the air we breathe—literally.
---
The term terroir implies that there can be a tremendous differences in the growing environment depending on variations in soil, rocks, sunlight, wind, and precipitation. In France, for example, wines that can be produced from vines that are virtually next to one another but diff er slightly in their terroir—say, a few feet or so of elevation on the hillside here or there for example—can be called by different names, produced differently, and fetch different prices in the market.
The same can be said of some of Montana's most prized crops: We produce some of the best barley and hops in the world. And when barley and hops come together, you have beer. Not just any beer, but handcrafted, artisanal-quality beer that changes with the seasons, reflecting a certain, and invaluable, terroir. As you browse the local breweries, be thinking about the role of terroir, the bounty of our ingredients, and how the brewing process itself—the art and science—can uniquely impact your next pint. This land does have intrinsic value. We can taste it in our food, and in our drink.