Adventuring and Eating Well in the Time of Social Distancing
The first time I saw Montana was ten years ago in early summer. The natural beauty surrounding me proved to be too enticing and, like many others, I found myself unable to move out from under the Big Sky. The landscape is more than enough to hook anyone, but I quickly found so much more to enjoy. Not knowing much about the area, I became pleasantly surprised as I learned of the amazing eateries nestled between the mountains.
Talking to friends back in the Midwest, I told them our stereotypes of Montana were unfair. Dusty black-and-white visions of cowboys shooting whiskey and gnawing their way through giant steaks is classic Montana—but it doesn't do justice to everything the Gallatin Valley's food scene has to offer. Discovering what delicious options were available led to the birth of Always Hungry Montana, Montana's first foodie Instagram. My cofounder, Celine Saucier, and I have used the page to open eyes to the different cuisines to be experienced around the state. We use Always Hungry as an excuse to lace up our boots and slide on our Chacos, taking our experiences and demonstrating all that the "last best place" has to offer. We have learned to meld our favorite spots with new outdoor explorations, utilizing a platform that allows for the public to join in and share the experiences.
The call to get outside and find adventure is a cornerstone of our community and one that brings people from across the world to our state. This year we are thinking differently of our explorations as we introduce social distancing into summer activities. Integrating food into these adventures has evolved, too, as to-go options become the norm. We have learned to enjoy our favorite meals outside of restaurants— picking them up and heading out to our favorite spots. My summer travels around southwest Montana always include a trip up to Fairy Lake—to hike, kayak, and soak in the sun; a leisurely hike up Peets Hill with the kiddo and pup, stopping for a picnic and to take in the Bozeman skyline; and no summer would be complete without a full-day float down the Madison, away from phones, traffic, and troubles. As I set out to hit my favorite spots the first question I must ask myself is: "What will I bring to eat?"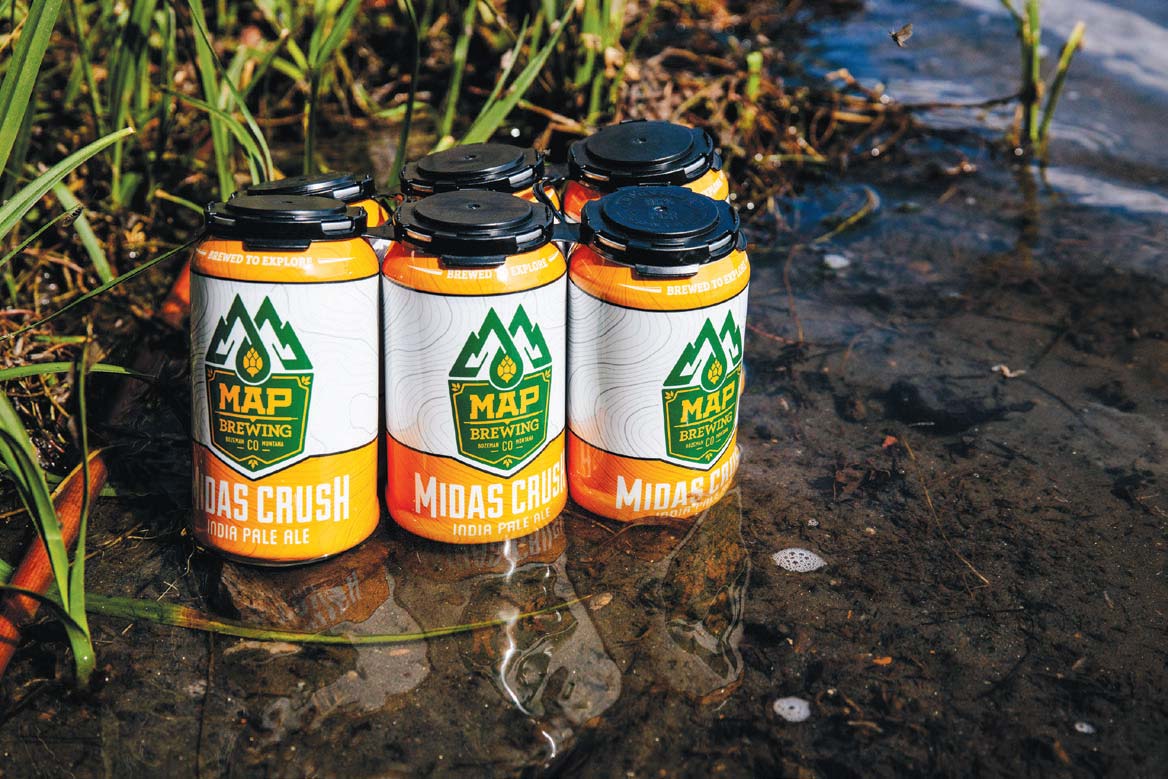 FAIRY + MAP
The clear blue water of Fairy Lake, our not-so-hidden gem, is framed by jutting peaks and sandy, secluded spots hidden around its edges—formed perfectly to settle into and enjoy the afternoon. As I cruise down Griffin on the way to Bridger Canyon Drive, I always find myself making a quick pit stop at MAP Brewing.
MAP's enthusiastic and knowledgeable staff creates a lasting impression no matter where I decide to enjoy their delicious brew. Snagging a pack of their ever-popular Midas Crush IPA and a charcuterie board makes for a perfect picnic between excursions on the paddleboard or kayak. Just imaging getting out of the lake and soaking in the sun while cracking open a cold can stirs up excitement.
Knowing that at some point I'll lace up for a quick hike around the lake, I have to grab a turkey-bacon-avocado sandwich. Pairing that tasty sammie with a crowler of Quiver Killer always makes the day feel just a little bit better (I promise it's not just the buzz). This awesome pairing gives me enough energy to finish my hike without feeling weighted down. No matter what you end up choosing to grab, MAP's award-winning beers and above-average bar food are sure to elevate any adventure.
IN TOWN + CO-OP
Downtown activities, such as farmers markets and art walks, are sure to look different this year. However, we are fortunate to have many amazing spots for outdoor meanderings located within a few minutes of the heart of Bozeman. As I get ready to hike up Peets Hill or lounge under the canopy of trees at Lindley Park, I don't have to think very hard about what I will bring along. The Co-op Downtown proves itself time and time again as a perfect spot, offering up something for everyone to love. The cozy, communitycentered business is easily one of my most frequented spots downtown for many reasons.
Any time I run into the co-op I know I will be able to grab a healthy, well-made lunch or tasty treat that could satiate any sweet tooth. The hot bar's dishes are influenced by cuisines from across the world and change daily. The salad bar overflows with healthy, filling toppings like their sesame tofu, dolmas, and a variety of other sides which allow for easy-topack cold options. Although I like to switch things up, I'm never surprised to find myself in front of the sandwich counter, ordering up my favorite sandwich, the Napa. The Napa has all the makings of a perfect summertime sammie, with the baguette bursting with the flavors of smoked ham, brie, apple, mango chutney, and spring greens. It is light and healthy while filling enough to take me through an afternoon running after my daughter or maxing and relaxing while reading in the sunshine.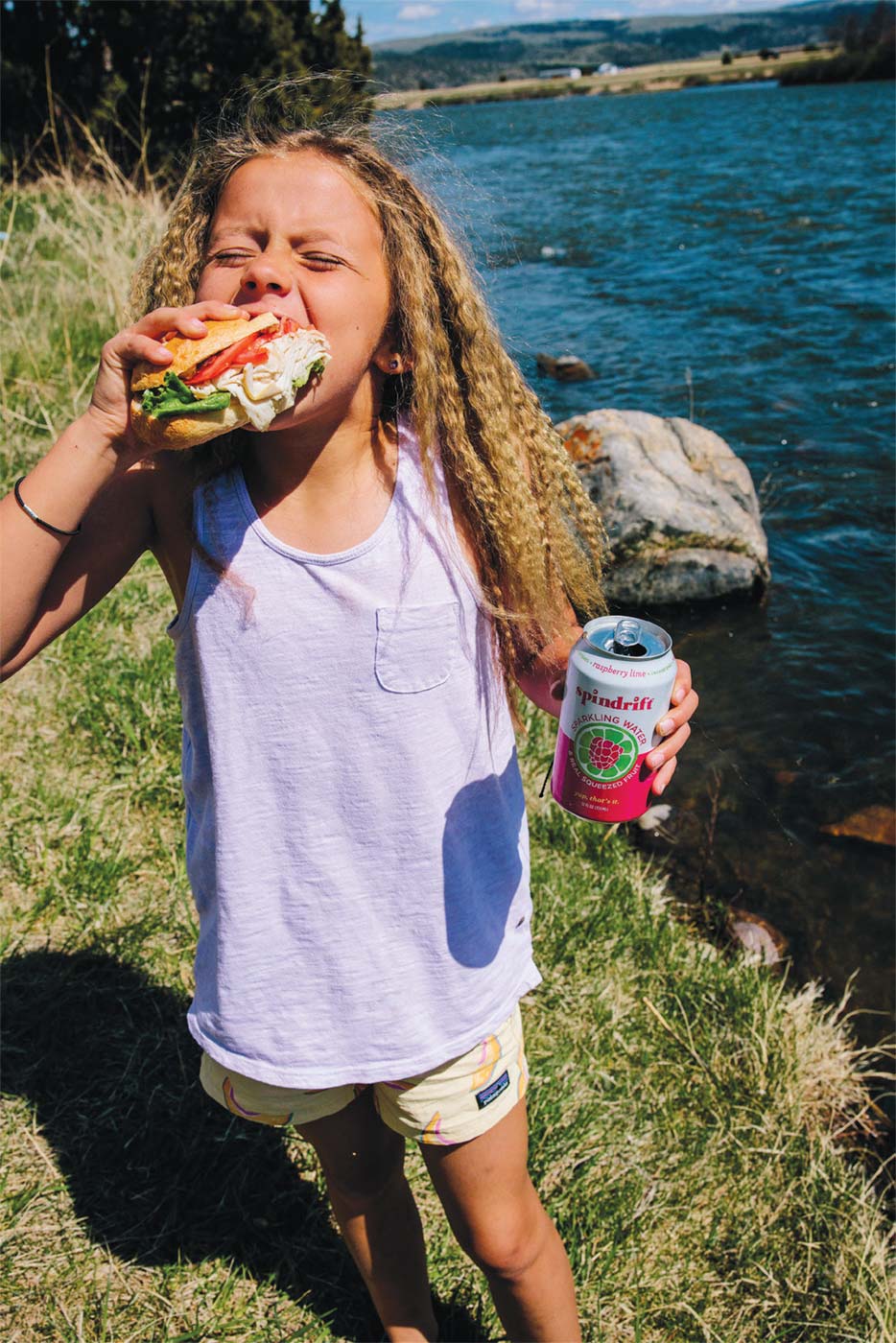 MADISON + MAVEN'S MARKET
I fell in love with Montana for the rivers. The water has always held a mystic, dreamy element, and during the summer I try to spend as much time as I can taking advantage of both the rapids and the slow-moving currents. While I love kayaking, paddle-boarding, and rafting, I never miss the chance to hit the Madison for a leisurely full-day float. Heading out of town, I know I have to make a stop at one of Bozeman's newer spots, Maven's Market on West Main Street. I go for either one of their awesome grab-and-go sandwiches— pairing it with goodies I find in their crafted selection of artisan chips, jerky, and candy treats—or meats and cheeses from their expansive selection.
Maven's staff appreciates your need for a delicious and one-of-a-kind picnic. They are consistently curating an amazing spread to take along on any adventure (I always make sure to add a jar of pepper jelly or spicy mustard). Before I head out, I find myself distracted looking back at their house-made gelatos. Sampling the ever-changing flavors, there is no way I can deny myself a couple scoops of the sweet treat. As I drive to the put-in I savor each creamy spoonful. And as I'm winding along the river, it's a toss-up as to what I enjoy more: the jagged view of the mountain line or the earthy, smooth, triple crème brie. As I get off the river, I always double and then triple check to make sure I have picked up everything I brought along—taking care of any wrappers, cans, and other waste. The Madison is a popular spot, and it's up to us to make sure that we keep track of our trash so that we can continue to enjoy the river for years to come.
No matter where or how you spend your time outside this summer, the Bozeman restaurant scene is sure to make it a delicious experience. Our community's local businesses are dedicated to creating easy, delicious, and healthy options that can be enjoyed by the whole family. While we see change everywhere, some things—like great food, friends, and summer in the mountains—are sure to remain consistent in the Valley. So get outside, have fun, and stay safe!