Feast on the local bounty
The summer months are bustling in Red Lodge, with many adventures and places to explore. But we arrive early in the season, caught between Montana's weather extremes. It's an unassumingly quiet time for the recreation-rich town where my wife and I will sojourn for three days. We roll into town after a scenic road trip along I-90 and Highway 78. We explore the trails along West Fork Road leading up to Grizzly Peak, home of the local ski hill, appropriately named Red Lodge Mountain. But they are still mostly snowed in, which means pleasant but short hikes. The trailheads and camping areas hold the promise of a summer full of hiking, biking, backpacking, and fly fishing.
All that driving, hiking, and post-holing through spring snow brought on a pretty good appetite so we meander into town. Here in Red Lodge, despite its small population and transient day trippers, there is a surprisingly wide choice of good foods grown and well-prepared by locals. Even when the trails are snowed in, Red Lodge offers plenty of adventures, just of a different kind.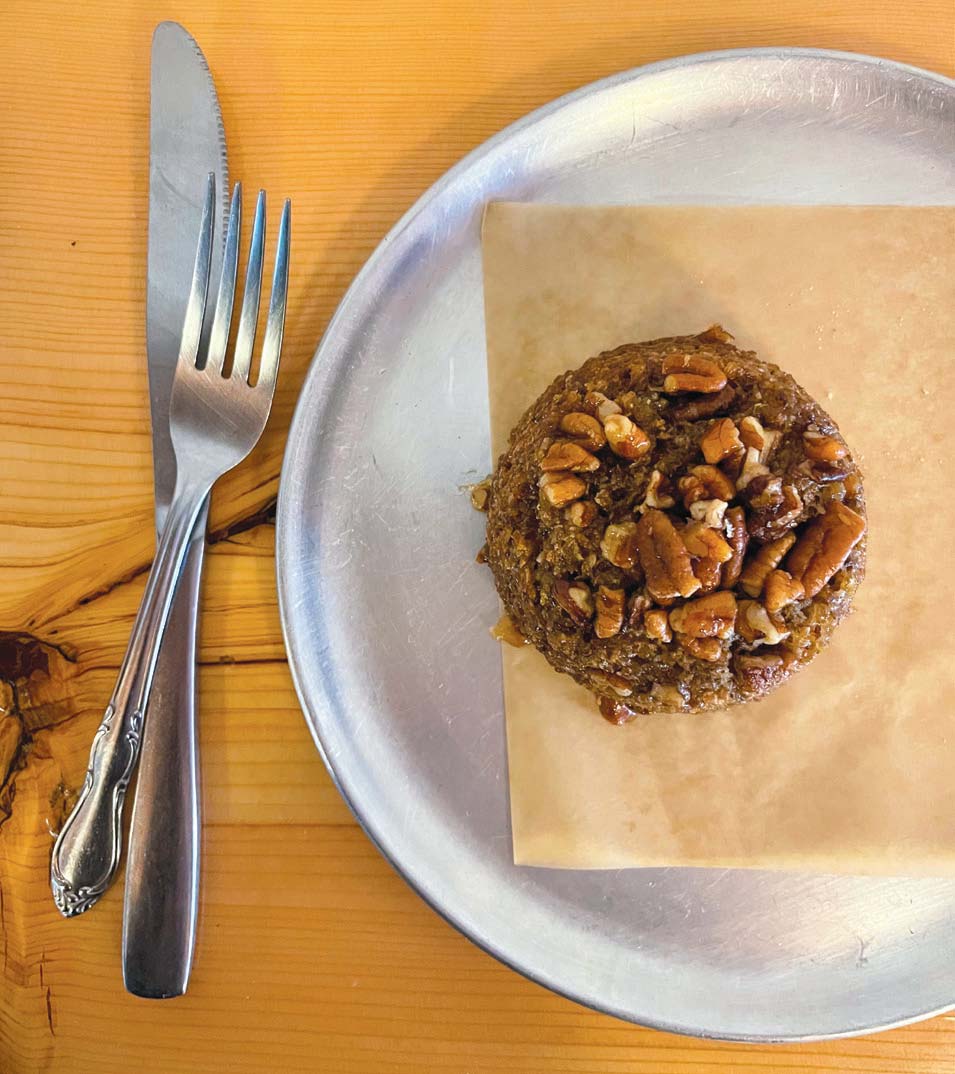 Lines can get long here at the Cattail Bakery as visitors await freshly baked goodies. But I promise any potential wait is worth it, and the lines move pretty quickly. We hide from a sudden snow squall, huddled over a steaming cappuccino, Italian biscotti cookie full of anise flavors, and a pecan sticky bun that was one of the best treats I've enjoyed in a long time.
209 Broadway Ave. S.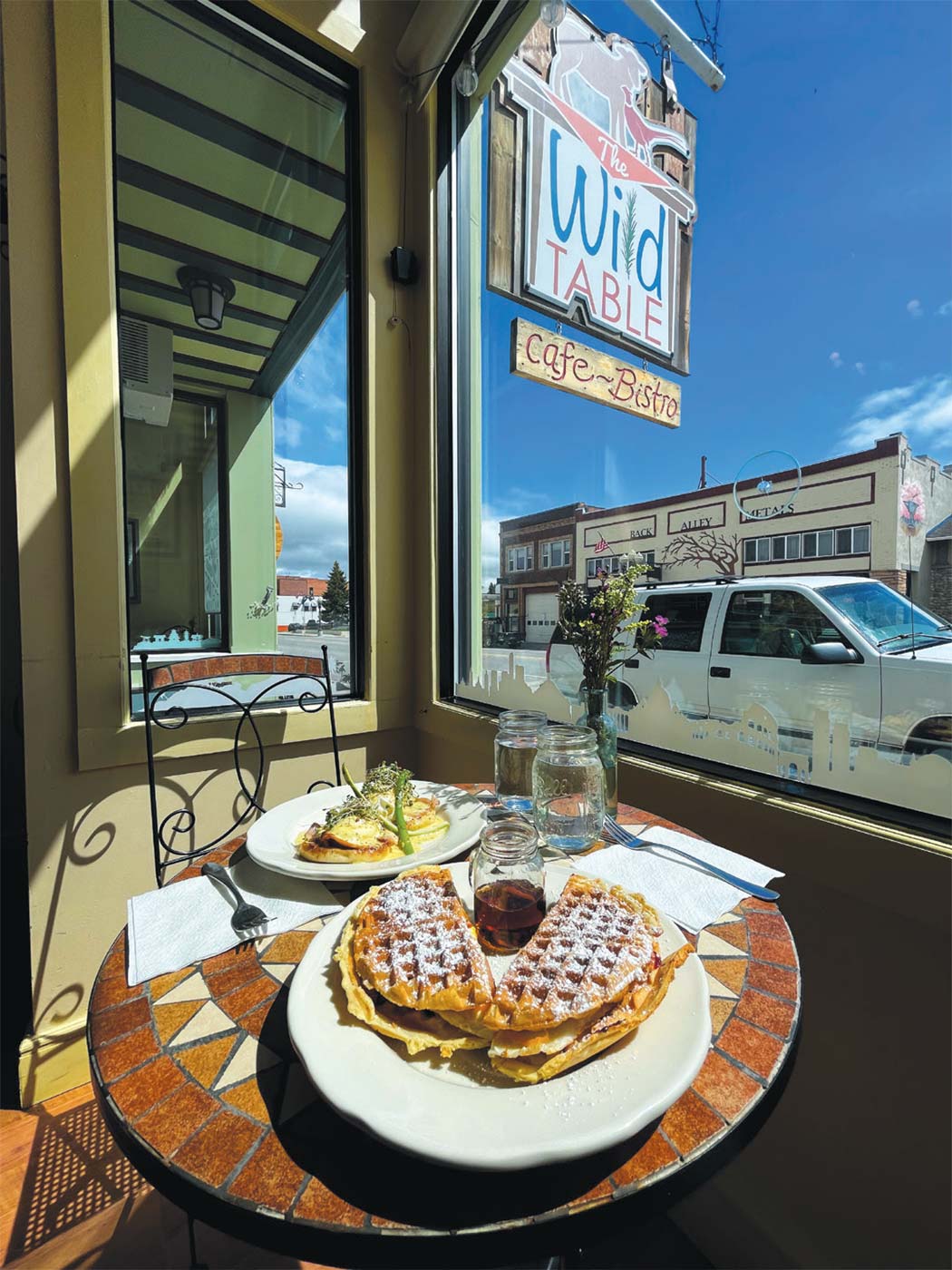 Friendly locals gather together at this cozy country nook for handmade breakfast and lunch. Sheena Ernst, owner of The Wild Table, proudly displays her cooking diplomas at the front door. And why not? Her food is house-made, fresh, and wonderfully executed. We dine on a devilishly rich and crispy-edged quiche and a sumptuous breakfast burrito doused in homemade salsa. Piquant, but not too spicy for breakfast. And alongside our breakfast come hot cups of rich coffee made from a customized medium-roast blend from Treeline Coffee in Bozeman. The Wild Table serves breakfast, brunch, and lunch menus, which change weekly. Ernst also provides private chef and catering services for weddings and other special occasions.
113 Broadway Ave. N.
thewildtable.com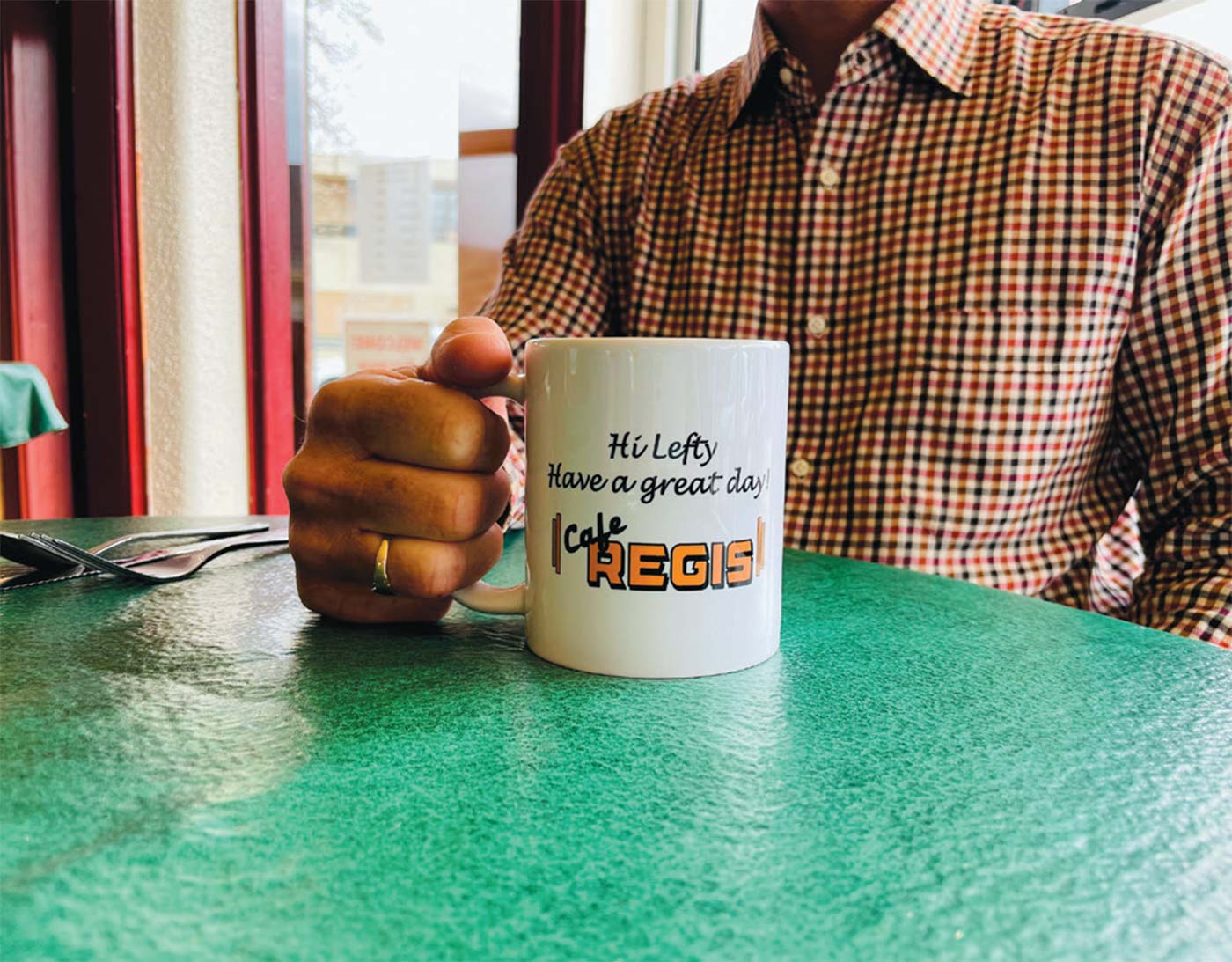 A few blocks to the west off the main drag of Broadway, nestled among small mining cabins, is the refuge of Café Regis ("Ree-gis" or "Reg-is" seem to both be acceptable). The old neighborhood grocery, which looks like an old pharmacy, is now a welcoming and relaxed family-owned restaurant that serves home-prepared foods that come right from the backyard gardens and greenhouse. The warmth of the room and the staff fill the space with sunshine on this otherwise gray and windy morning. The staff welcome every guest with a smile and an earnest, "Good morning!"
The menu follows a doctrine of sorts, which is printed right on the front cover and informs us in part that Café Regis was founded with a deep commitment to sustainable business practices. I can vouch that those practices include a deliciously prepared pork green chili omelet with white cheddar melted throughout. I jump at the chance to include fruit as part of my breakfast and when it arrives, I can see that the mandarin slices have been hand-pulled. I also select the fruit bread option over a variety of toasts— and man, did I hit the jackpot. Just the perfect foil to the slow burn of my green chili dish. The kitchen is efficient: Despite lines to get in, large groups seem to be fed only moments after ordering.
While at Café Regis we see members of the community wave to each other over cups of hot, strong, fair-trade coffee and homemade crumpets. As I finish off my coffee, I look out the back doors into the open gardens where little kids play among the fruits and vegetables that will make the fodder for the upcoming summer's menu.
501 Word Ave. S.
regiscafe.com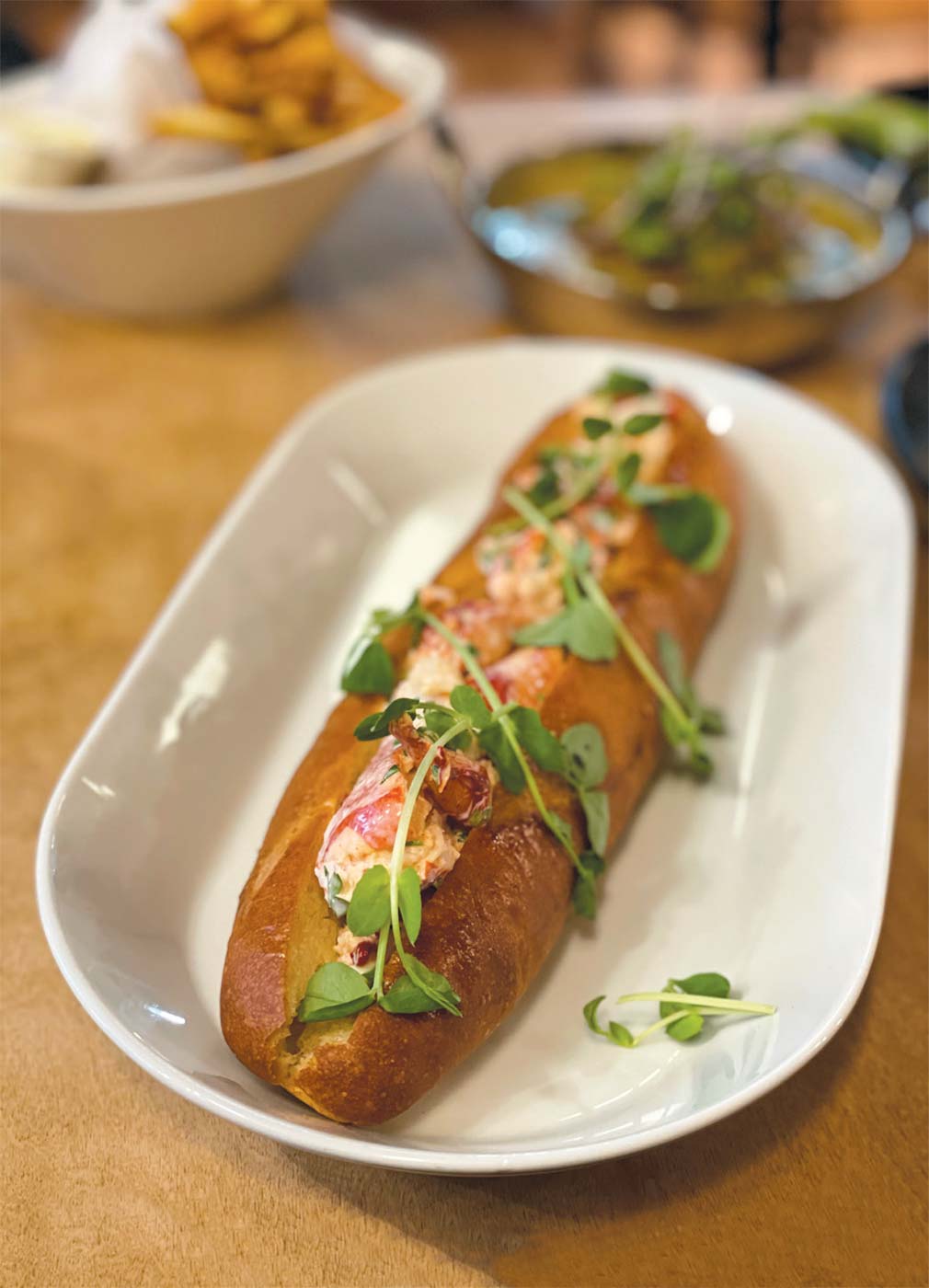 We'd heard about Prerogative Kitchen from friends thousands of miles away, so we were terribly excited to see the kitchen open back up to in-person dining. We'd grown so weary of reading about their mouthwatering dishes online. With great anticipation for a true farm-to-table experience—the restaurant does not take reservations—we snuggle into a private table in what once was an old bakery proofer. History is displayed in every corner, with exposed walls and baking equipment that tell the legacy of the Red Lodge City Bakery that called this building home in the 1940s.
The à la cart menu, handwritten on a chalkboard with a rotating list of globally inspired street food, makes it hard to choose just one option. So, we order a sampling of many dishes and share family style. The foot-long lobster roll and charred local asparagus on a bed of basil pesto proves to be the crowd favorites and pairs well with a crisp French Viognier. Make sure to round out the meal with owner and chef Danny Mowatt and Chris Lockhart's signature Sticky Toffee Pudding, a caramelized date cake dressed with homemade caramel sauce and fresh cream.
104 Broadway Ave. S.
prerogativekitchen.com
Babcock & Miles is a country farmhouse chock-full of the most interesting and inspiring specialty foods for the home chef. We spend an hour wandering the neatly organized shelves of dry goods, a great variety of wines, and coolers of fresh treats from near and far. We make it out with an armful of micro-production cheeses, cured meats, and difficult-to- find white wines.
105 W. 12th St.
babcockandmiles.com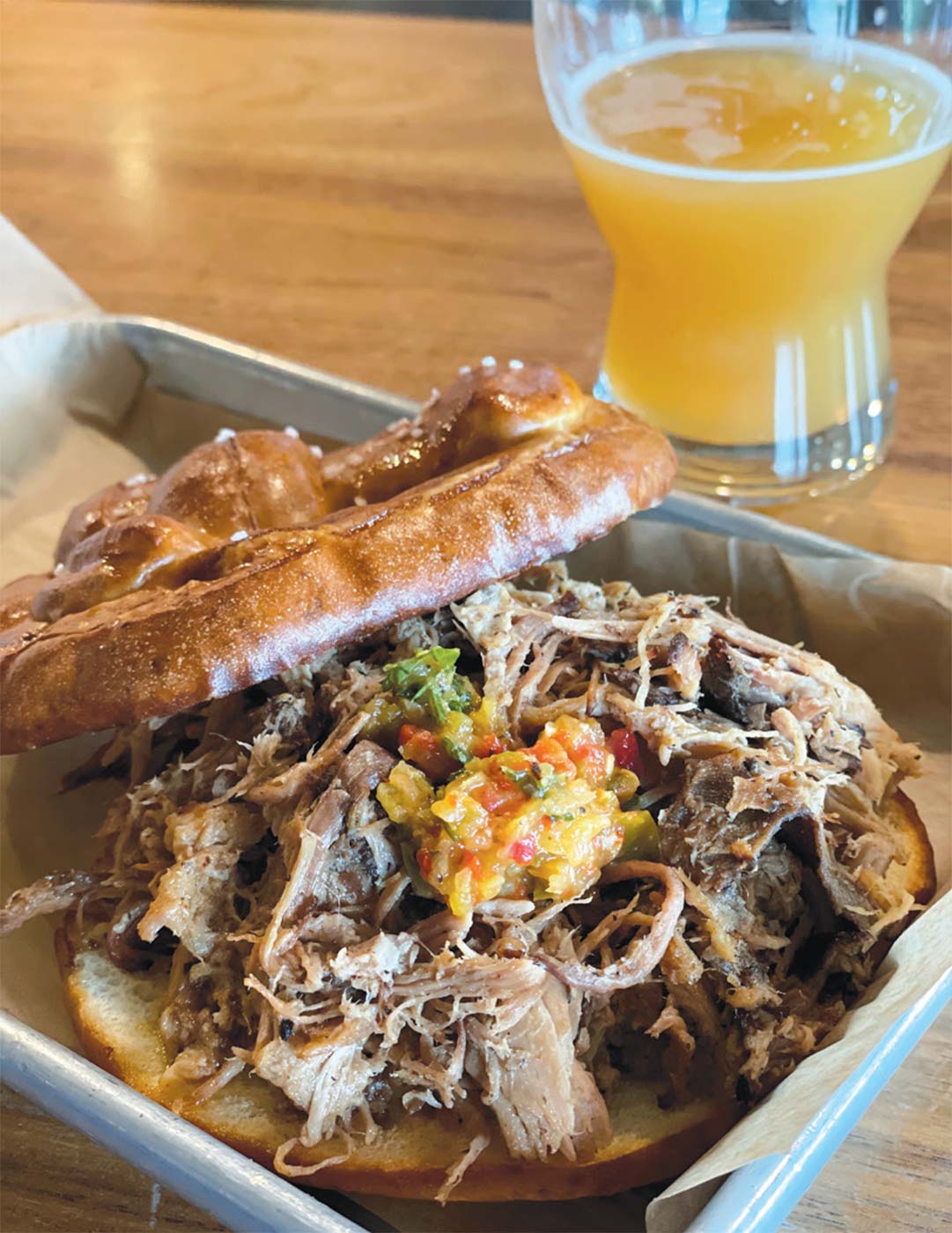 Go for the beer, stay for the sandwiches. Sam's Tap Room, the eatery at the well-known Red Lodge Ales brewery, is located on the far end of Broadway, just north of the rotary going in and out of downtown Red Lodge on Highway 212. From the parking lot you can smell the smoking meats wafting from the entrance of Sam's. The thought of a smoked meat sandwich rings in my head. We order the pulled-pork special, served on a pretzel roll with vinegar-based coleslaw, and I indulge in the four-pepper relish add-on. I wash this delicious savory smoked pork down with the crisp and balanced Beartooth Pale Ale. I also sample an Enjoy the Ride New England IPA. It's cloudier than most hazy-style ales that I've had, finishing with a bit of a nice acidic tanginess; a great beer choice paired with the menu at Sam's.
1445 Broadway Ave. N.
redlodgeales.com
Marli's is the newly renovated downstairs bar at the stately Pollard Hotel in the heart of downtown on Broadway Avenue and 11th Street East. After the drive and walkabout in town, we are relieved to belly up to the beautiful Art Deco bar serving great classic evening cocktails. We enjoy Martinis made with Dry Hills potato vodka from Bozeman, served dry with two olives. Marli's also offers craft cocktails, wine, and beer, as well as full breakfast and dinner menus.
2 Broadway Ave. N.
thepollardhotel.com/marlis
Our road trip ends at the Carbon County Steakhouse, an elegant mountain getaway that serves a variety of cuts, including those from Gallagher Ranch out of Clark, Wyoming, just south of the border with Montana. According to our server, the beef is grass-fed and corn-finished. This makes for a delicious filet mignon cooked just right at medium rare, with lots of flavor and lean texture. Roasted vegetables and a big, tasty baked potato with all the fixings are served alongside. We order a classic Napa Valley Cabernet Sauvignon from the extensive wine list handsomely displayed in the upstairs wine library. We indulge in a bird's-eye view of a table of four on the ground floor below us sharing a rather impressive tomahawk chop. Next time, we say, already planning our return trip.
121 Broadway Ave. S.
carboncountysteakhouse.com