—and finds new places to return to
Just over six years ago my wife and I landed at BZN and drove south to Ennis for the wedding of two of our close friends. We explored some of the nooks and crannies of the Madison River Valley between wedding events and thought, So much to explore, so little time. Little did we know we'd join many of the wedding participants in moving to Bozeman, rebooting life in the mountains.
As I planned our recent weekend excursion to Ennis, I couldn't help thinking, All those places I thought I'd never see again, and here we are! With all the rain in the Gallatin Valley of late, and the lack of a fly rod for casting on the beautiful Madison, I focused on finding other things to do in Ennis than fly fish. Out across Huffine Lane to Highways 84 and 287 we went.
The drive along Highway 84 hugs the wending Madison River; it was worth the excursion in and of itself. All along the route were the yellow pin-prick dots of people in bright helmets rafting along the swift Madison or anxiously waiting to put in. By the sight and sound of it, every one of those yellow dots was having a whale of a time.
With mountain ranges on both sides of the highway, the scenery seems closer than we're used to in the Gallatin Valley—more like the views along Paradise Valley, where snow-covered peaks seem within arm's reach.
Just south of the Sportsman's Lodge to the right (west) and the impressive Madison Valley Medical Center to the left (east) is the junction of 287 South and Main Street in Ennis. We headed to the left for the bulk of what Main Street Ennis has to offer. A person could easily manage a stroll up and down both sides of Main Street in an hour or so, but that was difficult to do.
At the time of our friends' wedding, Willie's Distillery in Ennis was still relatively new, and the copper still, custommade by Bavarian Holstein Stills (a family-owned business of still makers in Germany), was still shiny. We'd purchased the booze that would fit in our suitcases. And here we were—back at Willie's. The still was equally beautiful, with several more hand-made spirits under its belt. Not much had changed except for one important detail: customers. The place was packed. People sat at large informal shared wood tables sipping cocktails handmade to order by the bar staff. Or loaded up on bottles of their favorite spirits.
Since it had been several years, we opted for a flight of six spirits. We started with the clear Montana waters that make up the Snowcrest Vodka and made our way to the Tobacco Root Mountain Rye—available only on-premises at the distillery. Along the way we passed through our old favorites, including Montana Moonshine and Bighorn Bourbon.
The Wild Montana Chokecherry Liqueur, which had previously been sold out, was back in stock the day we arrived. The chokecherries that take center stage in this sweet and slightly tart sipper are handpicked locally. And it makes quite a unique cocktail when mixed with the Bighorn Bourbon over ice. Where is my tumbler?
A person could easily manage a stroll up and down both sides of Main Street in an hour or so, but that was difficult to do.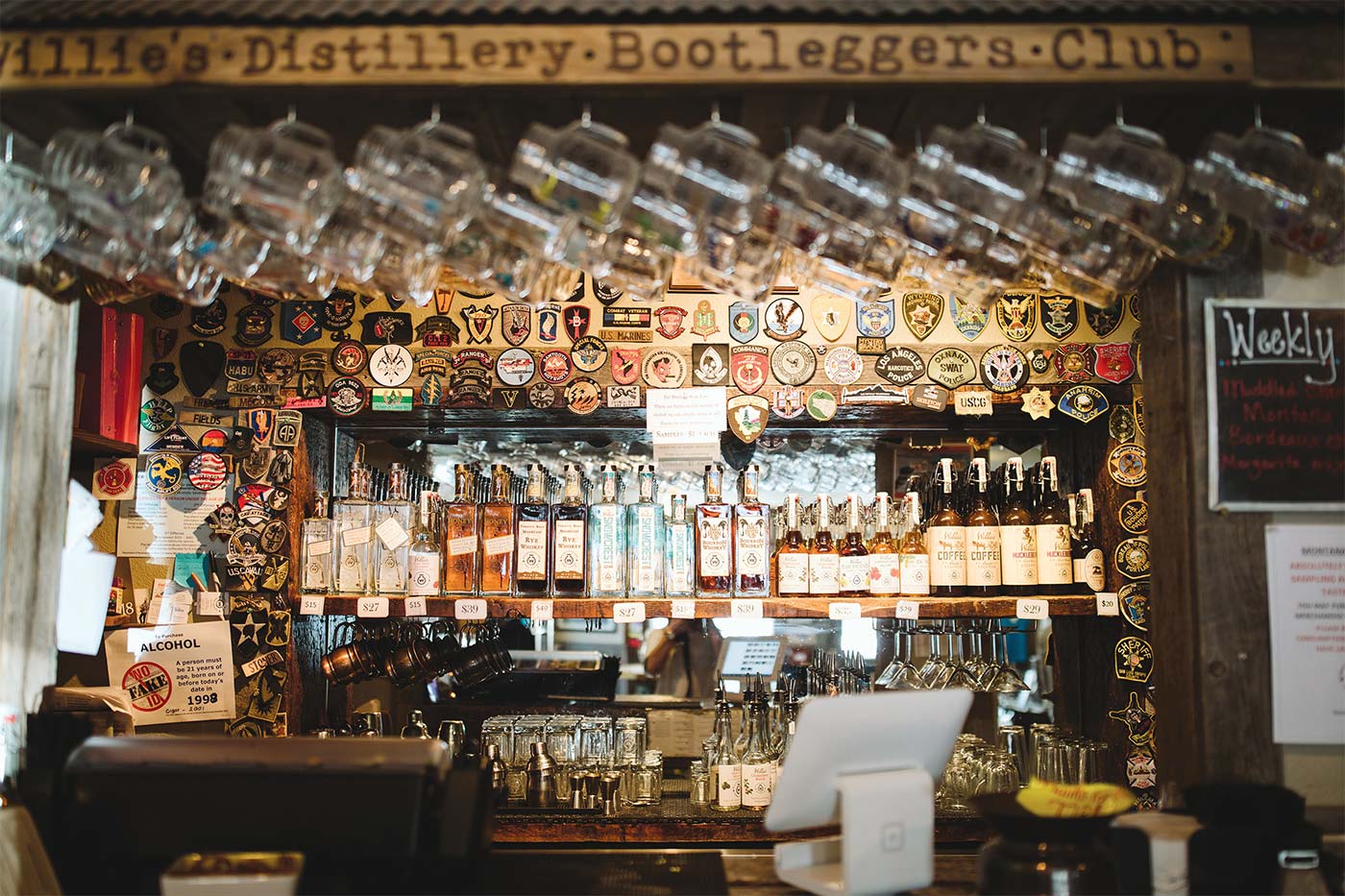 Having stocked up on our maximum take for the day and loaded the booty into our car instead of suitcases this go 'round, we made our way up Main Street for some window shopping. I wandered into a couple local fly-fishing shops to poke around while my wife strolled into Cabin Creek, an expansive boutique on Main Street that sells wonderful curios, country light fixtures, trophy mounts, indigenous tapestries, locally handmade chocolates, and more.
Having worked up a proper thirst, we made our way to Gravel Bar, which turned out to be a great spot to chat up some locals over a cold local craft beer on tap. Just my speed.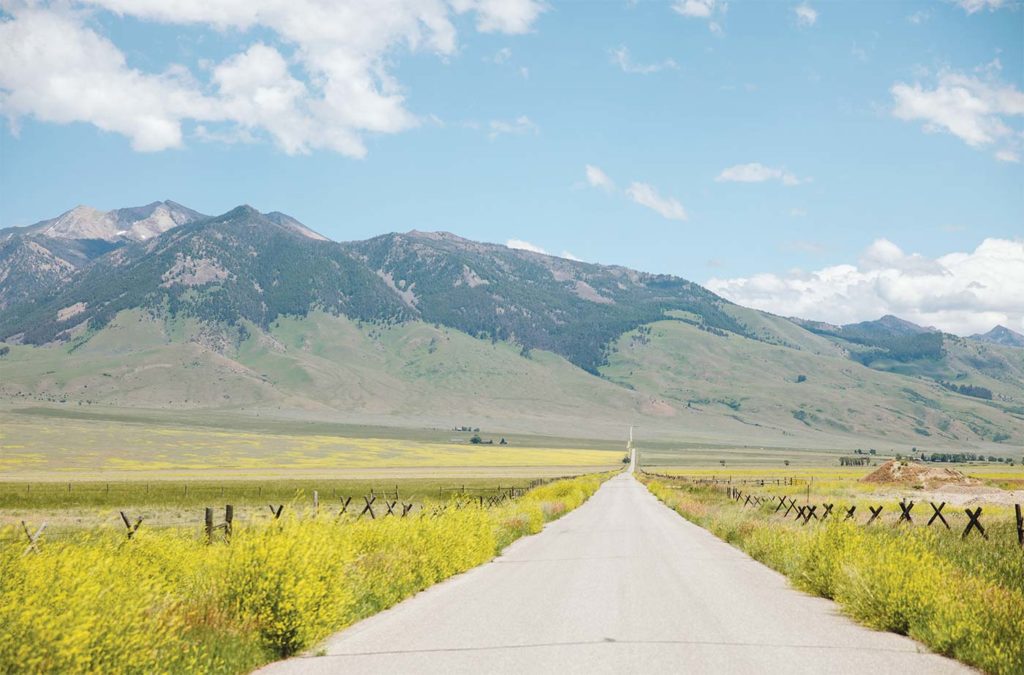 Here's a tip I got from a local real estate professional (let's call him Chris, since that is in fact his name): South of Ennis on 287, outside the hamlet of Cameron, is a trailhead next to Bear Creek Bunkhouse. The trail provides access to the Beaverhead National Forest and is a starting point for the day-long hike to Sphinx Mountain, which looms above the Lee Metcalf Wilderness. I had to check it out.
Before turning off 287 to head east to the dirt road leading to the trailhead, we spied the Blue Moon Saloon and Cameron Store. Blue Moon Saloon has a ghost town feel to it: I blinked my eyes a few times to make sure I was actually seeing this outcropping. It's so colorful and lively looking.
What makes the Blue Moon Saloon enticing is not just the views, but the location: It's so close to the trailhead, and there's an abundance of fishing and hunting within steps from the front door. In talking with Darcy, the owner, I learned that Blue Moon hosts special events and even live music in a large, comfy space behind the antique bar.
After completing our reconnaissance mission to the trailhead, we thought it would be good timing to start back home to Bozeman. But we had to go to Deemo's Meats first.
Deemo's Meats is a butcher shop located where Main Street in Ennis intersects with 287. Deemo's has an amazing assortment of fresh and dried goods for a picnic, including the house specialty: jerky. We piled up on elk "sticks" and bison jerky when we stopped in, but would have stocked up on some Italian dried goodies as well if we didn't already have lunch plans that involved steak.
Farther north on 287, en route to Norris, is the McAllister Inn, a steakhouse, bar, and lodging establishment of good repute. Our impression, when we arrived, was that the current population of Ennis had been dropped from the local streets into the restaurant like crumbs from a napkin.
Large party tables, small party tables, the dining area, the bar area—everything was full. According to our bartender, the restaurant remains busy most of the year, but when the winter cold hits and visiting fly fisherman return home to parts warm and sultry, the McAllister Inn goes to a skeletal staff.
So now I'm thinking: a late-summer backcountry trip up towards Sphinx Mountain outside of Ennis, followed by a cold beer at Blue Moon Saloon in Cameron, a bottle of Willie's Distillery Bighorn Bourbon, and a thick steak at the McAllister Inn? My kind of road trip. Next time I'll bring my fly rod.
ROAD TRIP FINDS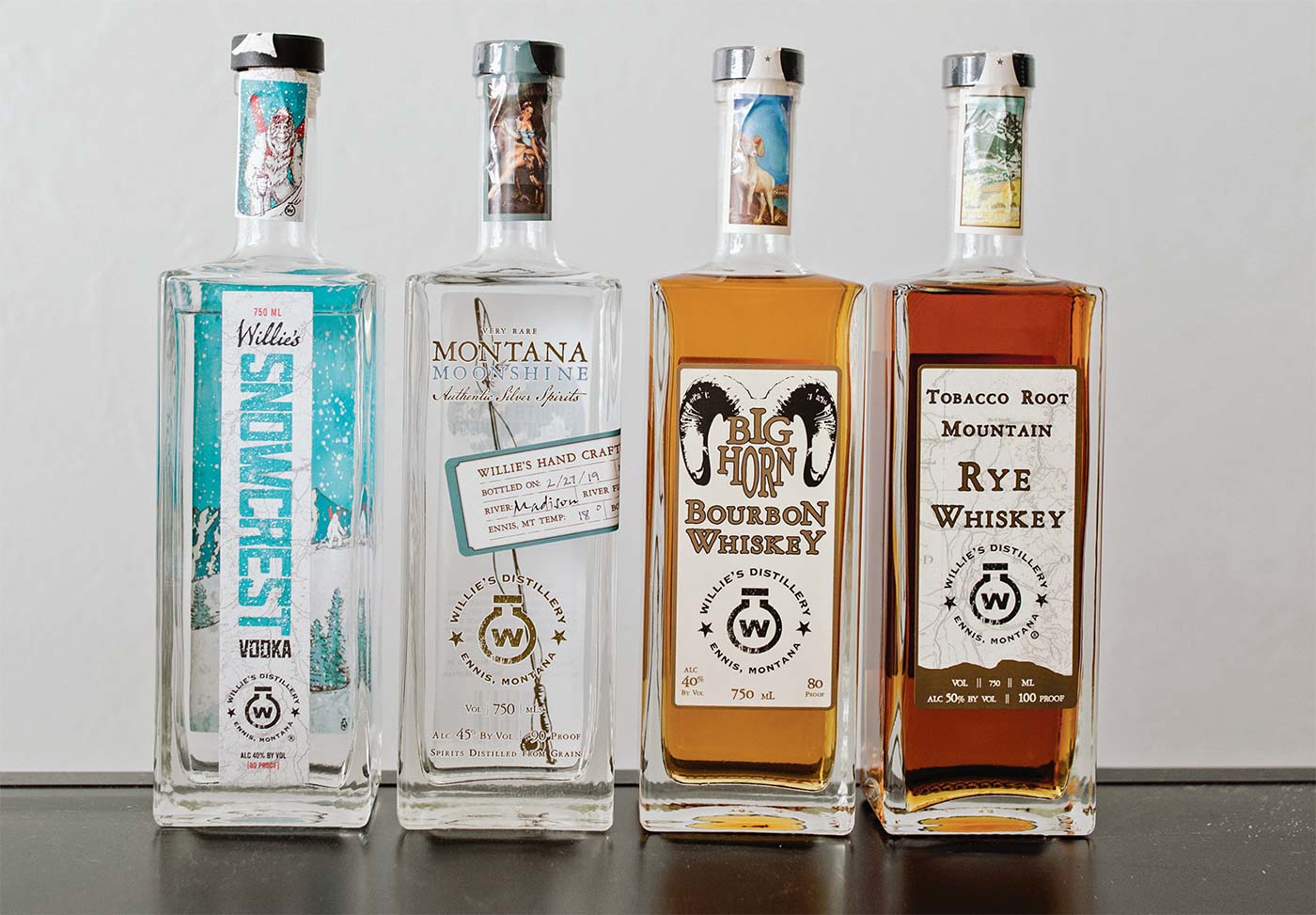 Snowcrest Vodka
$27 for 750 ml, $15 for 375 ml
An interesting vodka because it tastes and feels fuller-bodied, a departure from ultra-distilled vodkas. It has an almost fruity character. One of the suggested cocktails for this delightful vodka is the Snowcrested Mule. It would also make for a refreshing vodka tonic with more than a splash of Seedlip Garden 108, a leafy, herbal, nonalcoholic botanical from the UK.
Montana Moonshine
$27 for 750 ml, $15 for 375 ml
This clear brew is a young, unaged bourbon whiskey and comes across as cornand- barley sweet. And brash. It's a no-nonsense blast from the past, when a beverage like moonshine would be de rigueur at saloons all over the Old West. It can be mixed into cocktails as a replacement spirit, but I really like it as a digestif after a particularly extravagant dinner.
Bighorn Bourbon
$39 for 750 ml
Now to the meat of the matter: Bighorn Bourbon. Named for the local Madison Valley denizen, this smooth operator is best enjoyed simply—over rocks or neat. But there are solid cocktail creations that include a dynamite Old Fashioned and a Montana Manhattan—that is, a Manhattan made with Bighorn Bourbon and a splash of Willie's locally sourced Chokecherry Liqueur.
Tobacco Root Mountain Rye
$49 for 750 ml
This heady quaff is the coup de grace. It is available only at the Willie's tasting room in Ennis and is distilled from 100% American rye grain. It can easily substitute for the Bighorn Bourbon in any drink, especially the Montana Manhattan. Better yet, imagine a Montana Manhattan loaded with the burnt caramel notes of this amber ambrosia and a touch of Italian nocino walnut liqueur. Yum.