A weekend in Big Sky offers matches—of food, drink, lodging, and scenery—made in heaven
There's big news in Big Sky these days—tons of new construction activity, a $20 million community center, as well as the gorgeous resort properties of Yellowstone Club, Moonlight Basin, Spanish Peaks, and of course Big Sky Ski Resort. To begin a weekend of strolling and discovery close to Big Sky Town Center, we stayed at the Wilson Hotel, a Marriott offering and a welcome addition to the growing community around Town Center. In addition to comfortable amenities like a heated outdoor pool, the Wilson Hotel offers spectacular views of Lone Mountain. Another nearby option is Lone Mountain Ranch, one of National Geographic's Unique Lodges of the World. The retreat offers historic log cabins such as the one pictured on this page—authentically rustic, yet also a true luxury experience.
THE STANDARD is a bona fide cocktail lounge in the heart of Town Center. Upon entering the Standard, I felt transported to a stylized speakeasy reminiscent of Art Deco Los Angeles—it was something right out of a Coen brothers movie. And the cocktails were easily as stylized, made lovingly in the hands of owner and mixologist Keith Robins.
OLIVE B's was festively lit when we arrived. That night, the chef had partnered with a Bozeman wine distributor to present an evening menu paired carefully to unique wines from a well-known importer from Berkeley, California. I particularly enjoyed the roast pheasant breast and braised leeks paired with a 2015 Morgon Cote de Puy (bold, earthy version of Beaujolais Gamay). The tender char-broiled beef tenderloin paired with a Belles-Graves Bordeaux blend of merlot from the Pomerol area was hands-down the favorite dish of everyone at the shared dining table around us.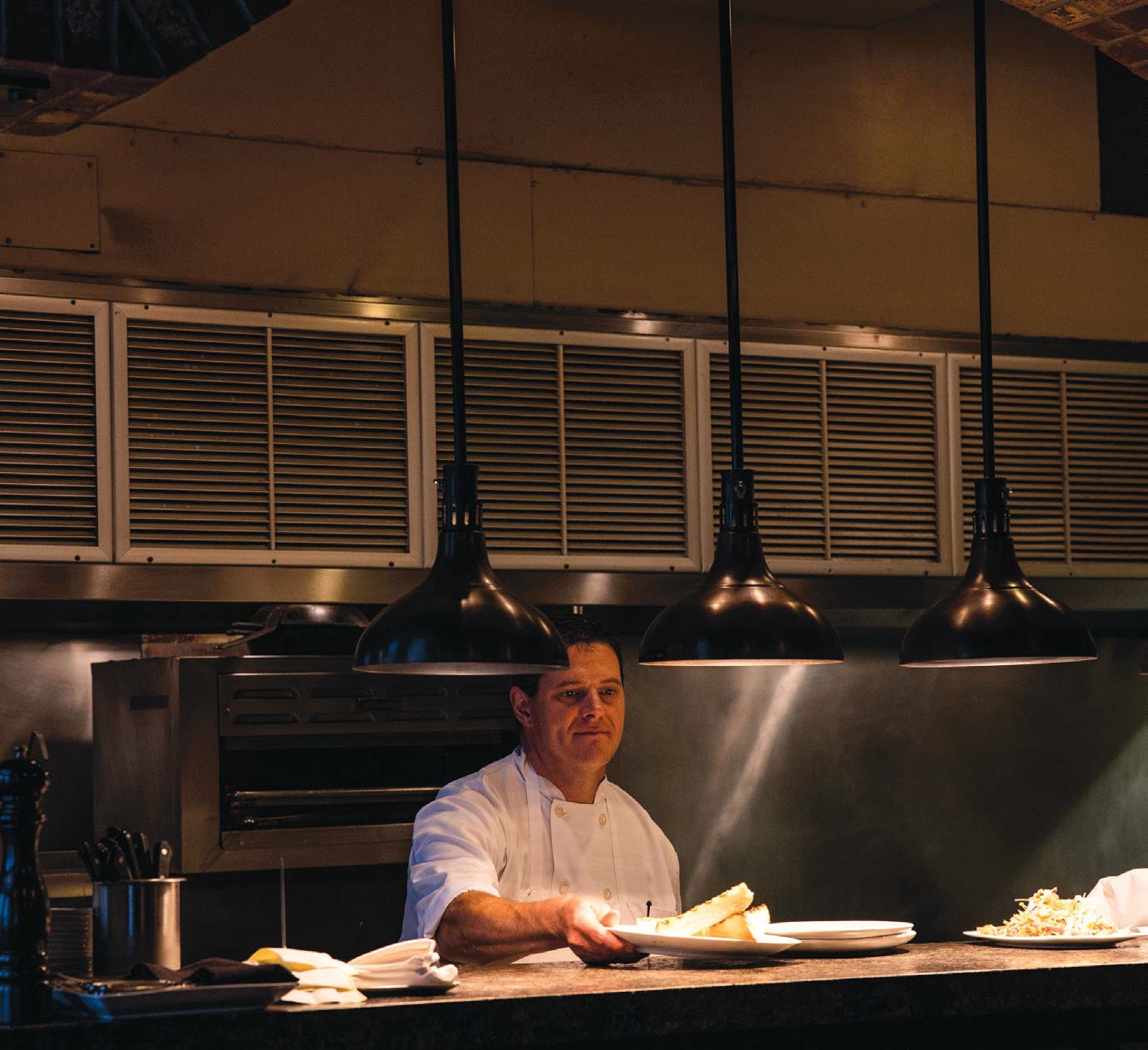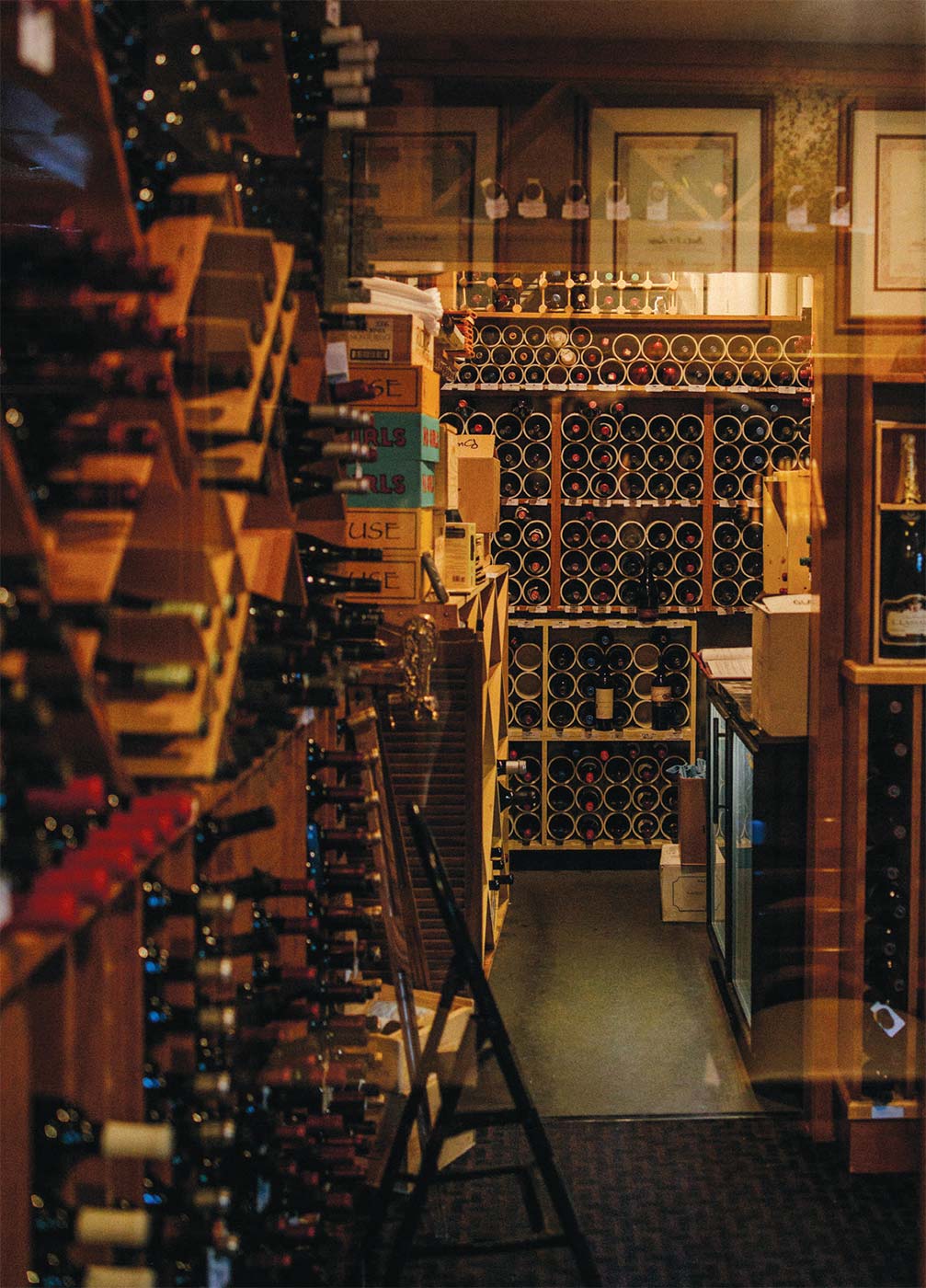 We'd heard great things about the cuisine and cooking skills at BUCK'S T-4 LODGE on the west side of Gallatin Road. We usually prefer to eat at the bar, where you get instant service and a deep knowledge of the menu. So we were a little surprised when the hostess took us to a bar packed shoulder-to- shoulder with diners. Despite some earnest scooching by other patrons to make room, we opted for the dining room instead. What a great call! The dining room at Buck's T-4 is warm, cozy, and inviting. Buck's T-4 has been a Wine Spectator Award of Excellence recipient since 1995, and their wine list, which was wonderful and deep, was obviously curated to pair with the menu. We chose the red deer dish, which came on risotto studded with duck bacon lardons, along with a Bordeaux from a highly lauded vintage, 2010, for under $60. Score! Wine-and-food pairing perfection.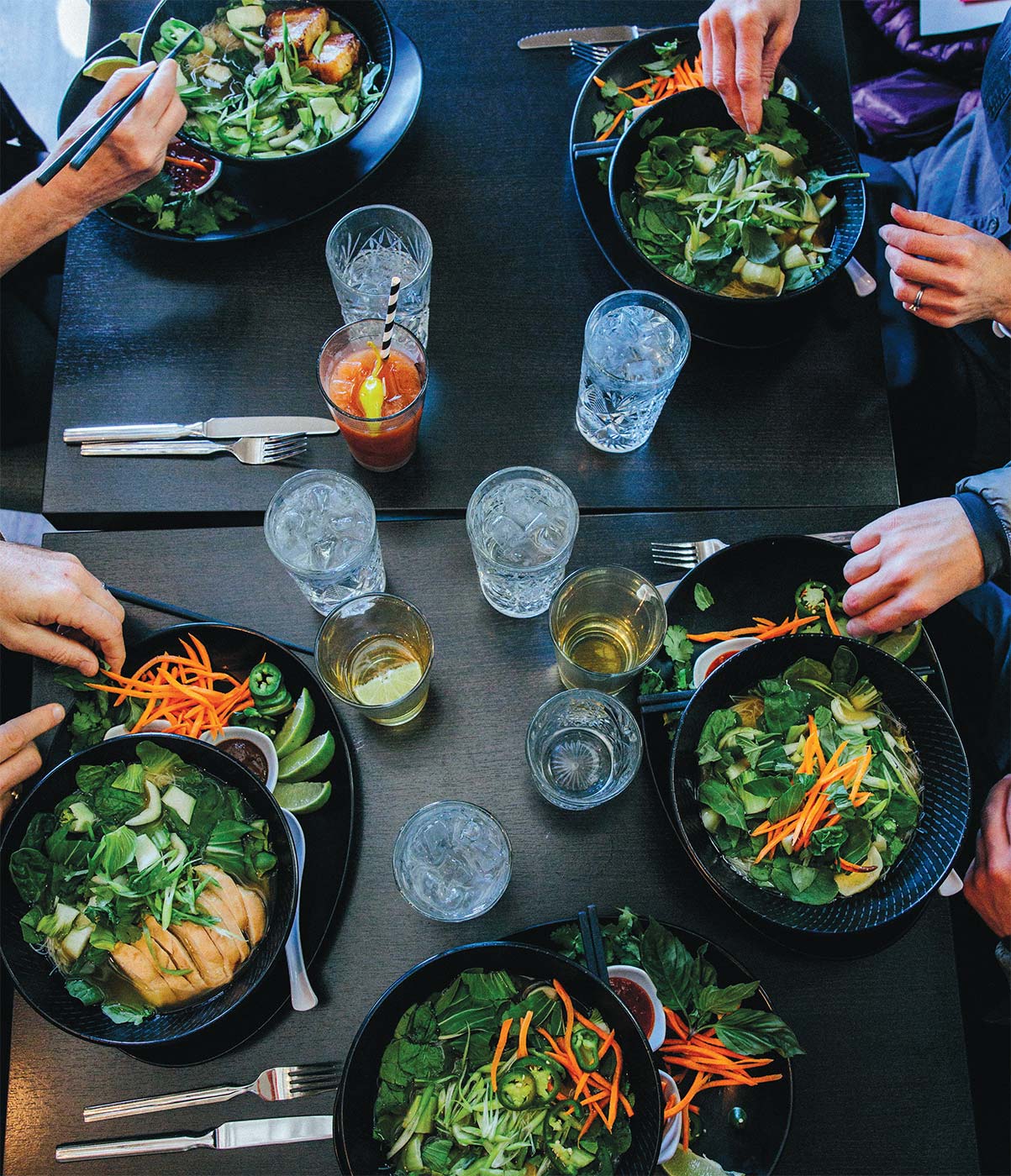 Behind the bar at THE ROCKS TASTING ROOM AND LIQUOR STORE are a wide range of Montana-made spirits and beers. The spirits form the backbone of several signature cocktails, like the bacon-infused vodka behind the house Bloody Mary. I suggest pairing any of their Montana-made draft beers with the pho—a hot, spicy, slurpy, and delicious Vietnamese broth of rice noodle, bok choy, jalapeno, carrot, cilantro, lime, Thai basil, housemade hoisin sauce, and sambal chili (I added pheasant breast as an extra). Husband-and-wife team Ben and Kara Blodgett put a tremendous amount of care into what they serve at the Rocks.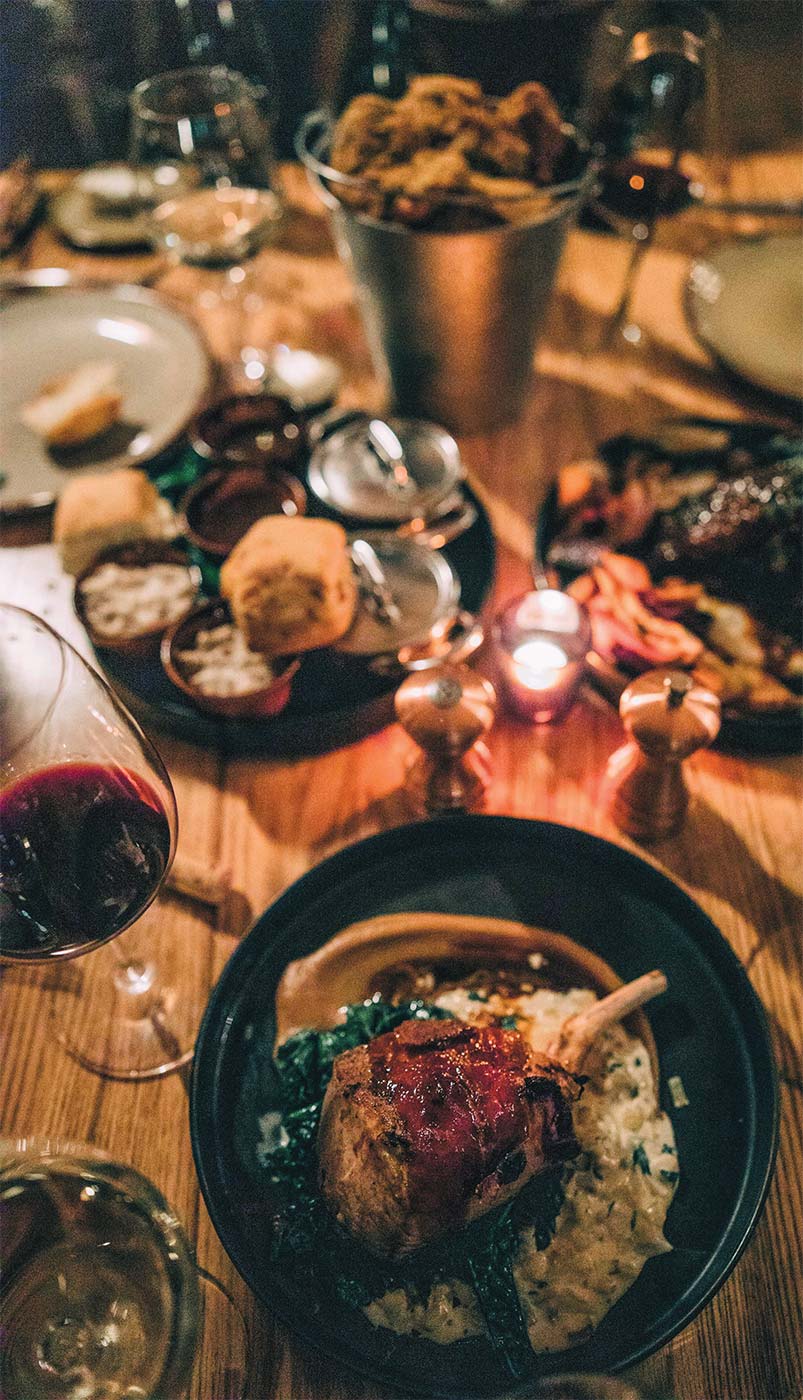 Executive chef Eric Gruber has brought a strict farm-and-ranchto- table ethos with him to Big Sky's HORN AND CANTLE at Lone Mountain Ranch. The dining room has massive vaulted ceilings of lodgepole and is warmed by a gigantic, glowing hearth. The menu offers choices from across Montana, including dishes highlighting trout, elk, beef, lamb, and, of course, bison. Our dinner of fried chicken (pickle-brined and then skinless) with warm cheddar biscuits, crème fraiche mashed potatoes, broccolini, and country gravy was delicious, especially paired with an old-world French Aligote (very close to a crisp Chardonnay and also a native of Burgundy). And the bison short rib with root vegetables paired with a Washington state red blend was out-of-this-world rich and robust on a cold, snowy night.
The GALLATIN RIVERHOUSE GRILL, or just the Riverhouse, is a few miles south of the Big Sky spur, toward Yellowstone on Gallatin Road. We entered with high expectations for delicious, Texas-style BBQ and were not disappointed. An order of tender baby back ribs came with slaw and fries, and the meat literally fell off the bone as I dug into a handful of smoky, saucy goodness. Perhaps at least as impressive as the BBQ were the views from the generous windows onto Levinski Ridge and, even further out, Eaglehead Mountain.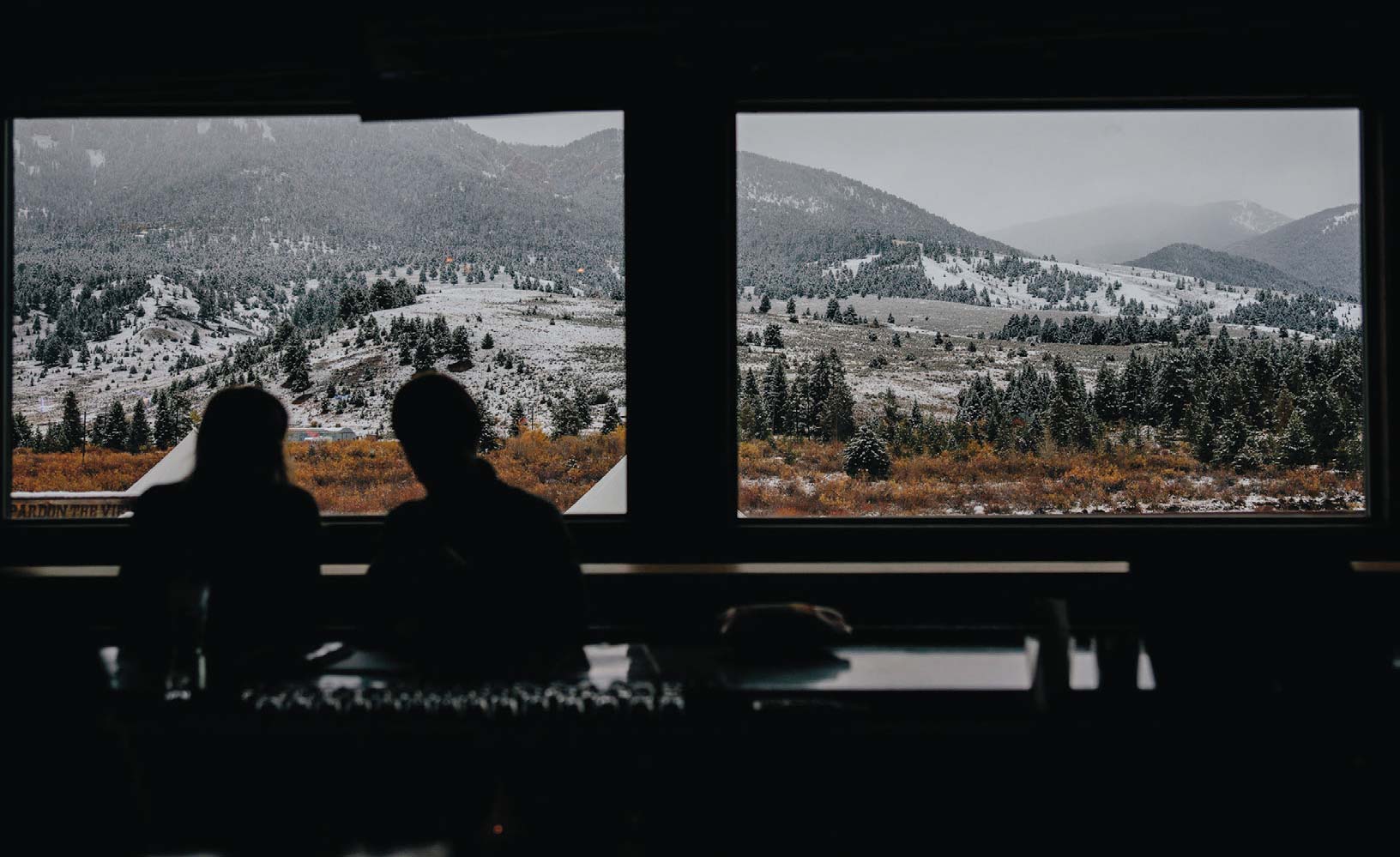 Down the mountain in Big Sky are a wide range of options for food and drink. Edible Bozeman offers this list to help you plan ahead—or dine out on a whim.
Alberto's
Mexican cuisine

Beehive Basin Brewery
Craft brewery

Blend
Wine and food pairings

Blue Buddha Sushi Lounge
Sushi, beer, wine, sake

Blue Moon
Bakery, pizzeria, café

Buck's T-4
Local ingredients, culinary techniques
By Word of Mouth
Globally influenced bistro fare

China Café
Chinese cuisine, eat-in or take-out

Choppers Pub & Grub
Pub food, beer, wine, full bar

Gallatin Riverhouse Grill
Informal BBQ, full bar
Horn & Cantle
Rustic American cuisine, whiskey bar

Hungry Moose
Deli & market, extensive wine selection

Lotus Pad
Thai cuisine

Michaelangelo's Big Sky
Ristorante Italiano

Olive B's
Locally sourced American fare

Ousel & Spur
Gourmet pizza and Italian pasta
Rainbow Ranch
Montana-inspired restaurant and bar

The Rocks
Restaurant, bar with local spirits, retail liquor store

The Standard
Cocktails, dessert, brunch

Steele Pressed Juice & Java
Coffee and juice

Toast
Boutique café for breakfast and lunch

Wrap Shack
Wraps, salads, tacos, housemade salsas