Building Community Through Locally Sourced Meals
Rolling farmland, rust-brown and white yaks, melt-in-your-mouth pork. Countless mountains, pines, and creatures. When you turn into Hardscrabble Ranch from Brackett Creek Road, you hear stray chuckles from the chickens trundling around their yellow coop. On your left, the newest ranch residents nap in a sunny paddock: yaks. Five of them. "They don't run—they leap. Their tails flap up, like this," Kris Stewart says. "They're the coolest creatures."
Kris and her husband, Peter Stewart, bought Hardscrabble Ranch in 2019, after living in Bozeman for fifteen years, and have continued to run it as an events center for gatherings of all stripes: reunions, retreats, weddings, public farm dinners. Prior to meeting in Washington, DC, Peter worked as a teacher in Colorado and Switzerland and Kris was a TV producer and cook. They have two sons—Peter, eleven, and Seamus, nine—who play lacrosse and ski at Bridger Bowl. The ranch, almost 80 acres, comprises two beautifully renovated lodges, which have full-size kitchens and sleep up to thirty-six people altogether. There are also fifteen glamping tents, mountain bike trails, gardens you can pluck herbs from for your sunset cocktails, and a large brand-new outdoor cooking area.
The wind carries away that tight feeling in your chest from a hectic week. You forget where you put your phone. Take a minute to trace the jagged outline of Ross Peak. Scratch the coarse skin of a 300-pound pig clamoring for a snack. Out here, it's easier to remember what matters: family, friends, the primordial feeling of connecting over a good meal, and slowing your roll enough to savor it all.
When asked how she'd describe her vision for the ranch, Kris says, "Laid-back, warm, family- oriented, great views, tasty. We love to cook." She scratches the neck of one of their three 130-pound Irish Wolfhounds. They are gentle as they are gigantic, and help deter any mountain lions that might be passing through. For Peter, it's slow living: "Whole hog on the outside kitchen. It can take eighteen hours, cooking but hanging out, drinking beer, people do things that don't happen in everyday life. People are connecting. This is what people like about this place." The Stewarts have recently formed a partnership with Bozeman-based chef Melissa Harrison and her catering business Seasonal Montana. Harrison will headquarter at Hardscrabble, where she'll create her custom, seasonal, unique meals.
Peter describes the first time he and Kris went to one of Harrison's dinners: "A beautiful, slow, hot summer day at a friend's ranch out by Pony. The sun is starting to go down, no cell phones. People are paying attention to each other, listening, talking. Delicious food. Perfect temperatures. A perfect casting for a Montana summer, and everybody just engages."
"Chef Mel is so thoughtful, so intentional—from what's on the plate to what's in the glass. Her events are beautiful, special, and memorable. Perfectly balanced and thoughtfully executed," Kris says. "She nails it every time." Peter adds that the best cut of meat he's ever had was with Harrison.
Laid-back, warm, family-oriented, great views, tasty. We love to cook. —Kris Stewart, Hardscrabble Ranch
Harrison coordinates with Hardscrabble head horticulturalist Jackie Pondolfino to showcase a fun mix of the best food grown in the area. She'll be hosting events at the ranch as well as cooking classes and dinners. She'll also continue catering private dinners and chefing in the Bozeman, Big Sky, and Livingston areas. After appearing on "Top Chef: New York" in 2008, Harrison moved to Montana and began working with local farmers and producers here as well as in Chile, Puerto Rico, Costa Rica, and Boulder, Colorado, often wintering in the southern climes.
As perfectly planned as Seasonal Montana's dinners seem, Harrison and Pondolfino enjoy the challenge that comes with preparing fresh, local, and seasonal food. The process starts with figuring out what will be ripe and ready to include in menus. "Eggs, chicken, and pork are easy," Pondolfino says. "Vegetables and edible flowers are a little less predictable." She raises Gloucester Old Spots, Red Wattles, Berkshire, and Idaho Pasture pigs, along with eleven breeds of egg-laying hens—Rhode Island Reds, Barred Rock, Araucana, and Top Hats with their signature pompadours, to name a few.
"I like to be creative and to think outside the box," Harrison says. "Food tastes its best in season. I want food to look and taste the way it is. The most important thing about seasonality is being able to deal with the changes." She explains that seasonality can refer to predictable changes that can occur over a period of time. But it can also refer to the unpredictable changes. The ones outside of your control. Especially in Montana, with our wild weather patterns.
"I go with the flow," she says. "I like accepting the patterns nature provides. That's what makes one-of-a-kind meals. It's an every-week thing. I'm constantly having to pivot." For instance, if you're going to put wild mushrooms on the menu, like chanterelles or morels, she says you have to be prepared to reimagine the meal or its sourcing if weather limits their availability—you could maybe use mushrooms from the greater Montana area, or another state that's as close as possible, or change the dish and focus on asparagus instead.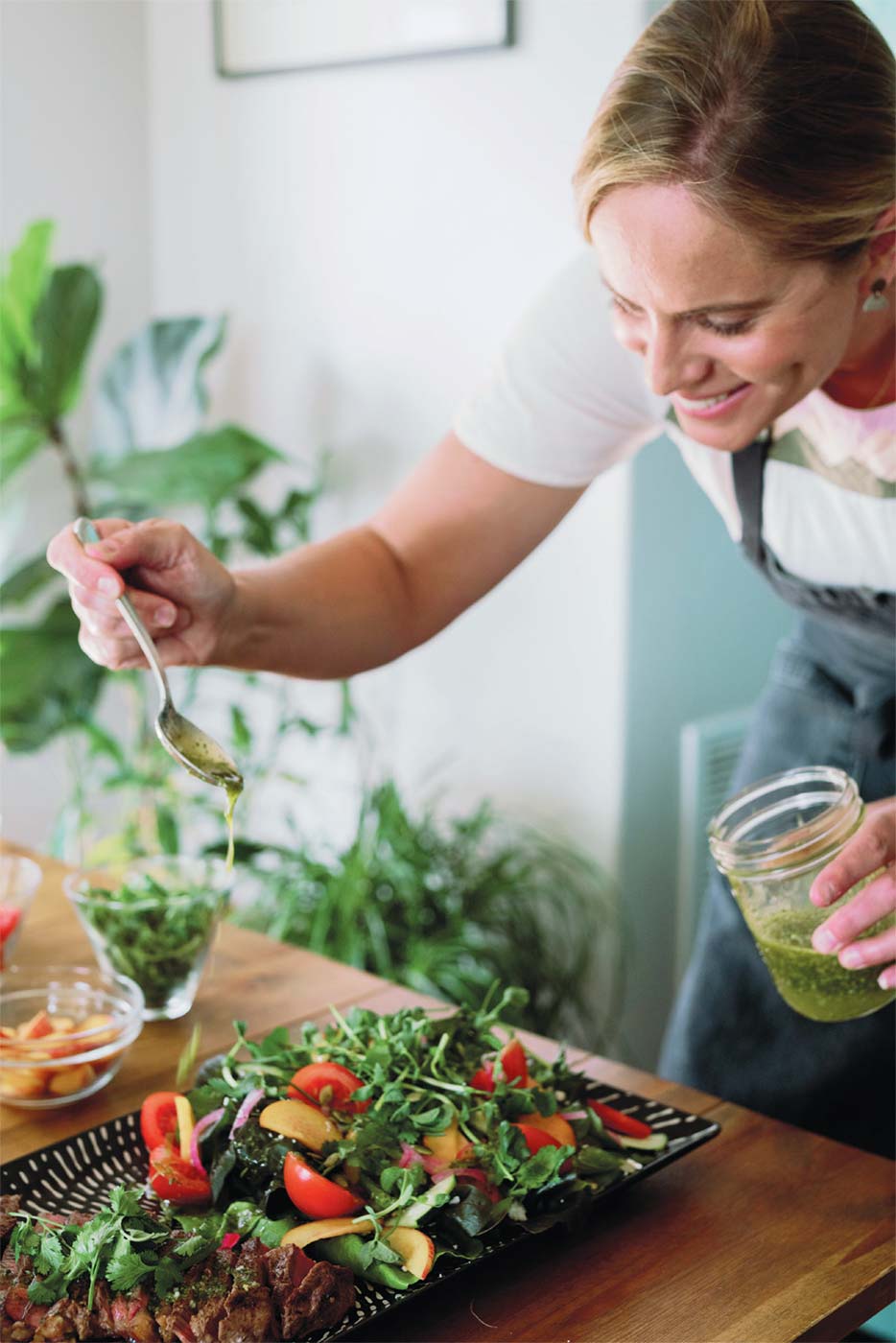 I like to be creative and to think outside the box. I like accepting the patterns nature provides. That's what makes one-of-a-kind meals. —Melissa Harrison, Seasonal Montana
"I love to come up on weekends while guests are here," Pondolfino says, "and to let people see me doing my job. It gets them excited about local food. Some people have never seen a fresh egg. I'll pick veggies for people and drop off eggs at the lodges. It makes people feel at home." After work, she likes to crack a beer and watch the chickens. "They're so entertaining," she says
Hardscrabble and Seasonal Montana will be hosting two new farm-to-table dinners this summer, on July 28 and August 25. These will highlight Hardscrabble as well as local farmers and purveyors, and showcase what everyone is doing, so they can taste each other's contributions.
"The purveyors will be sitting at the table enjoying the meal from the client's point of view," Harrison says. "The goal is to connect people with the folks who are doing the hard work. Enjoying a beverage and sharing someone's story."
Kris recalls memorable meals with Harrison in the past: lamb lollipops at Willow Spring Ranch in Belgrade, and Wagyu beef from the Montana Wagyu Cattle Company in the Gallatin Valley. "They're the best nights of the summer."
"We can't wait to have big long tables and family- style meals," Peter says. "The kids get to run off , and you don't have to watch them, because it's safe. Carnival games, dogs, cornhole. Th e point is to let people be. No agenda, no rush. That first time I told you about, when we first tried Chef Mel's food, it was the first time in a long time we sat and played Parcheesi. We haven't done that in thirty years." What better way to spend a summer evening than enveloped in the atmosphere of this thriving community, sharing a locally sourced meal that Kris and Peter, Harrison and Pondolfino, the land, farmers, purveyors—as well as the stubborn and enthralling Montana weather—have all conspired to create.