Keeping It in the Family
Pete and Meagan Lannan are fourth-generation ranchers with Barney Creek Livestock, a regenerative grazing operation in Paradise Valley. They partner with landowners to build soil and ecosystems while teaching how to give back to the land through holistically managed cattle. Pete and Meagan have wanted to set up an environment for their two kids—Maloi, fourteen, and Liam, twelve—to not only help with the family business, but to try businesses of their own. Though their parents raise cattle, both kids have chosen different lenses to try regenerative ranching.
Meagan says it is an opportunity to include her children in the business. "They have good ideas and we listen," she says. "We are building now what they will end up with, if they choose this life."
Maloi is not your average fourteen-year-old. What started as owning five sheep has now grown into twenty-four sheep, two rams, and two cows. She calls this a "flerd"—a mix between "flock" and "herd."
Starting a few years ago, she wanted to diversify her family's ranch after reading the book Dirt to Soil, so she approached her parents about purchasing some sheep. The endeavor quickly grew as Maloi took actions toward her bigger dreams: to educate people about regenerative agriculture and how sheep can benefit the soil.
"Regeneration is constantly improving and working with nature, without losing sight of your original goal but also adding new ones as you continue on," Maloi says. "It's always observing the land and then adapting what I do. My goals move with nature."
She just incorporated two calves into her flock. Not only will this diversity help with grazing patterns by the nature of their hooves and eating techniques, but the animals also have what's called a dead-end host parasite, which combats each animal species' specific parasites. This means the parasite will die at the end of its cycle. Right now, Maloi moves her flerd every day onto new pastures with an electric-fence perimeter.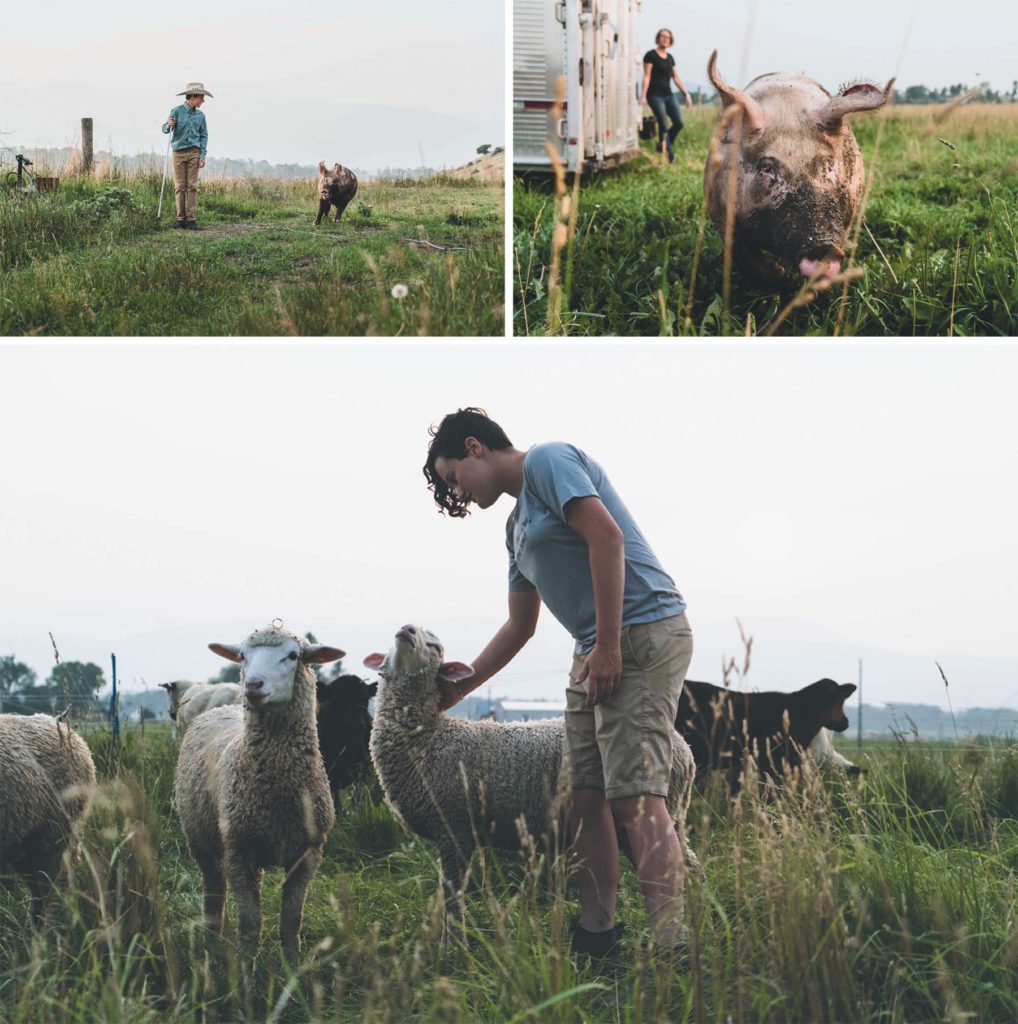 She's working on teaching her flerd about the electric fence so that she will eventually move it down to just one wire instead of four to be more efficient with her pasture rotations.
Liam is in the third year of business raising pigs. He raised eight this year and sold them to local restaurants and direct- to-consumer customers. Liam also does vermicomposting and sells his vermicompost to Woods Rose Market in Livingston. Sitting at the kitchen table, Liam tells me that raising pigs on pasture versus in a pen makes for happier pigs and better meat. When they are grazing, they can root around, dig, and their manure will compost back into the ground. A few years ago, the family used the grazing pigs to help spread grass seed around a pasture. That pasture came back lush and healthy, an indicator of the beneficial systems of regenerative ranching.
The family sits down together to run all the numbers on the kids' businesses. This way, if they choose to ranch as they get older, they have already had hands-on experience budgeting, making hard decisions, and weighing negotiations like lease agreements, time and cost of labor, available forage, and how many animals they would ideally like to take on.
Barney Creek Livestock has a goal to grow grass and graze animals to regenerate the land. Every move they make on the ranch is to give more back than they take, and contribute to the intersections of soil, plants, and livestock.