A farm-direct diner nourishes Montana's local food scene
Charley Graham and Lauren Reich share a seamless vision for Little Star Diner, a downtown Bozeman restaurant that's developed a loyal following for its dynamic menu comprised of fresh, organic, locally sourced ingredients. Reich grows much of Little Star's vegetables on a small, intensively cultivated farm just outside of Bozeman; Graham finds delicious and novel ways to prepare them. Although their areas of expertise differ, the husband-and-wife duo are very much in synch in terms of what they are trying to do with Little Star.
Sitting across from me at a handcrafted table made by Graham's father, they frequently finish each other's sentences while describing their vision for the diner and the values that inform it. They source as much food as possible directly from nearby farms, in part because the opportunity to establish relationships with local producers is something that inspired them when they first started entertaining the idea of opening a restaurant.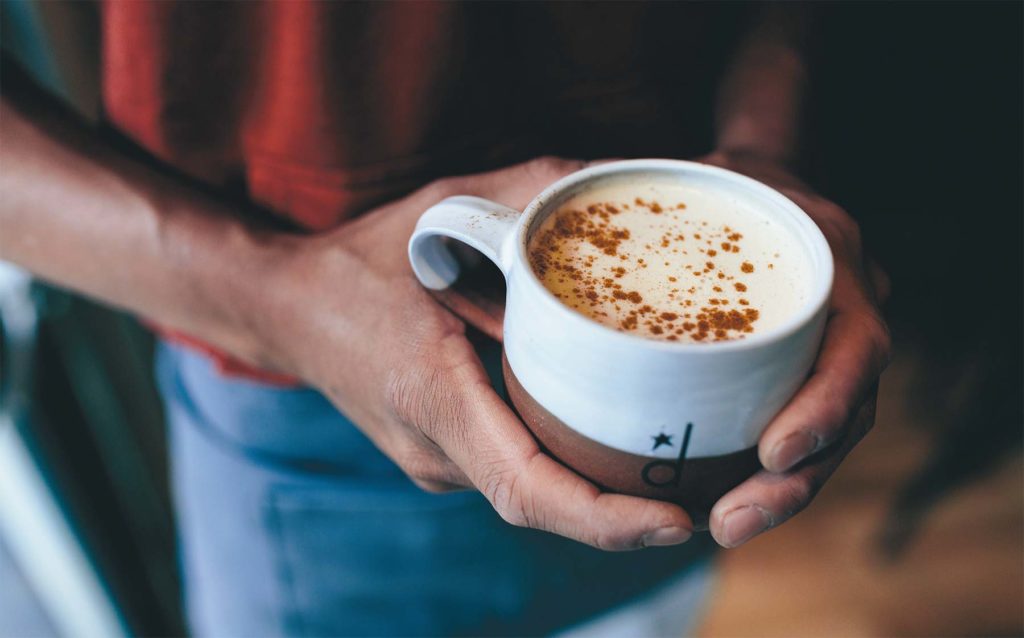 They take turns naming producers they've come to rely on during the year-and-a-half Little Star has been open: Thirteen Mile Farm in Springhill for lamb, Terra Greens produce for salad greens throughout the winter, Livingston's Black Dog Farm for meat and eggs from pasture-raised animals, Trout Culture in Paradise Valley for rainbow trout, Amaltheia Dairy Farm in the foothills of the Bridgers for goat dairy, Gallatin Valley Botanical for other vegetables—the list goes on.
Items that aren't readily available in the immediate area are sourced from farther afield. A Glendive farmer in his seventies supplies Little Star with dried beans, a forager in Missoula sends them morels and other mushrooms he picks in western Montana, and they source maple syrup from a small operation in Vermont.
They prioritize more obscure operations since contributing to the economic viability of smaller farms that are doing right by the land and the animals they raise is important to them. "We like this idea of farm-direct—the connection, and having the money go straight from us to them. [It] makes a big difference," Reich says.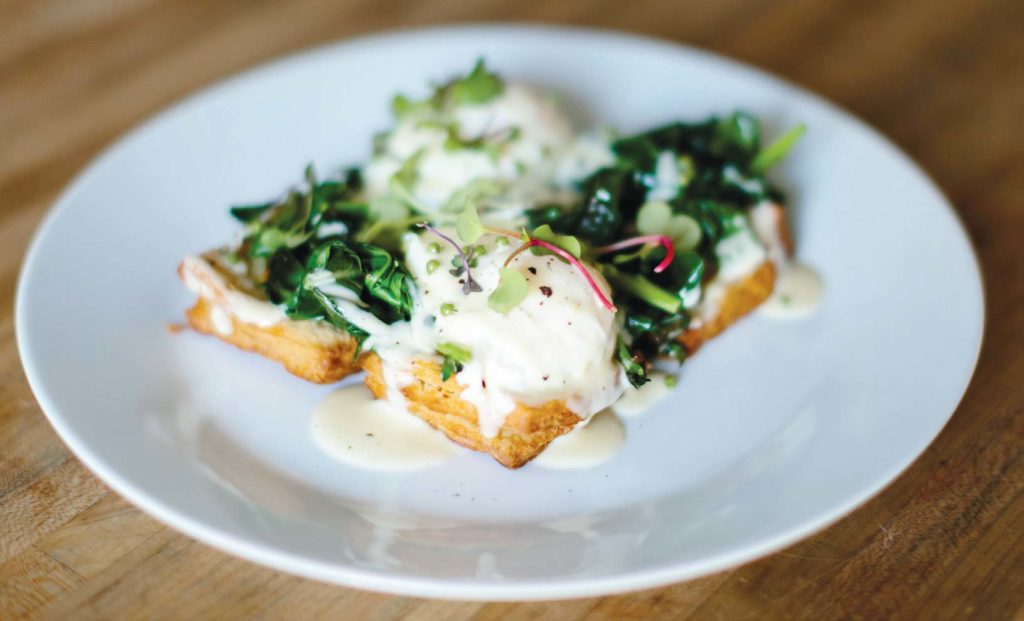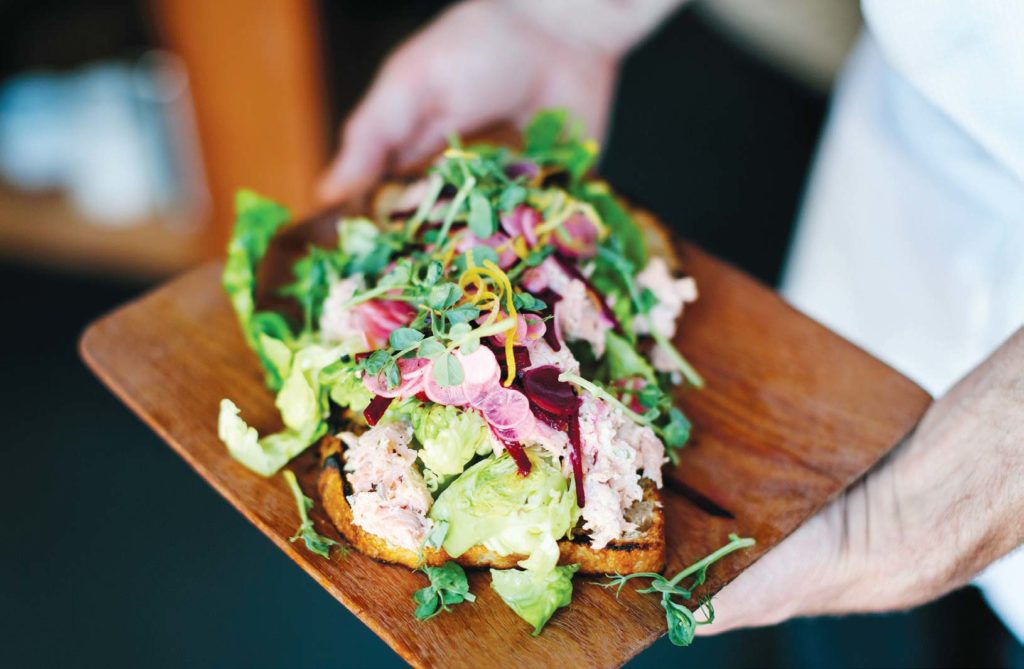 "all these little considerations we're making when we buy ingredients filter up through the menu food chain"
"And really it's a win-win, because typically a product that comes from one specific small farm or source tastes different and more interesting than a commodity product," adds Graham, who was the head chef at Blackbird Kitchen prior to opening Little Star.
As an example, he points to Square Deal Farm, which supplies Little Star with the organic maple syrup they serve with butter and blueberry jam on sourdough (or gluten-free buckwheat) pancakes. "It's more than just sweet … you can almost smell the woods in a special way," Graham says of the syrup, which comes from a family-run sugar bush in Walden, Vermont.
"In the end," he says, "all these little considerations we're making when we buy ingredients filter up through the menu food chain and overall the menu is tasty as a result."
As one of the diner's primary sources of greens, herbs, brassicas, tomatoes, cucumbers, peppers, and winter squash, Reich's Star Pudding Farm contributes to the fresh, flavorful taste that customers frequently comment on when they dine at Little Star.
Rather than developing a harvest schedule around a more conventional weekly model, Reich is able to maximize freshness by customizing how and when she harvests— typically every day or every other day.
"I grow a lot of greens, and I'm always thinking of harvesting them as close as possible to when they're going to be consumed," she says. "People are always [saying], 'Oh my gosh, why do these taste so good?' Most of the reason is that they haven't been sitting and losing their flavor."
Little Star's menu changes frequently, especially in the summer, to highlight what's in season. When Graham, Reich, or one of their employees gets excited about an ingredient or a potential menu item, they test out its preparation with staff and diners. Items that work for Little Star's customers, staff, and bottom line tend to earn a lasting spot in the rotation. Eggs Benedict is a fixture on the menu, for example. Graham adjusts how he prepares the Benedict and what he serves it with according to the season—grilled squash in the fall and braised greens in the spring, for example—but they don't plan on taking the dish off the menu anytime soon.
Although you can find either Graham or Reich at Little Star most days in the winter, Reich will be working at Star Pudding Farm through the summer.
After nearly a decade in business, she's expanding her operation. Becky Weed of 13 Mile Lamb & Wool has opened up part of her farm and infrastructure for Reich's use. This summer, Reich is bringing on her first employee to help her plant, water, harvest, and otherwise tend to Star Pudding's bounty.
Which should work out well, since Little Star is also expanding its offerings this summer.
Little Star will open for dinner service as soon as the city approves their license to sell beer and wine. Reich estimates that will happen by early June. To ensure success, they plan to start off slowly, opening for dinner Thursday through Sunday, and gradually increase their hours once they're confident they can maintain the quality they aspire to.
Breakfast and lunch service will stay the same: 8am to 2pm, seven days a week. Graham and Reich credit the success they've enjoyed so far with maintaining consistent hours (they estimate they were open 360 days this past year); hiring friendly, reliable staff who believe in what they're doing; and the snowball effect of favorable word-of-mouth. It also doesn't hurt that the restaurant itself, which is located on Babcock and Wallace in the space formerly occupied by Frank's Deli, is stunning.
From Little Star's architecture and furniture to its menu and presentation, its aesthetic is elegant without feeling contrived. Graham and Reich had an opportunity to collaborate with the architect and property owner on the design of the building. It's light-filled, modern, and topped with a rooftop dining area that's lined with herbs.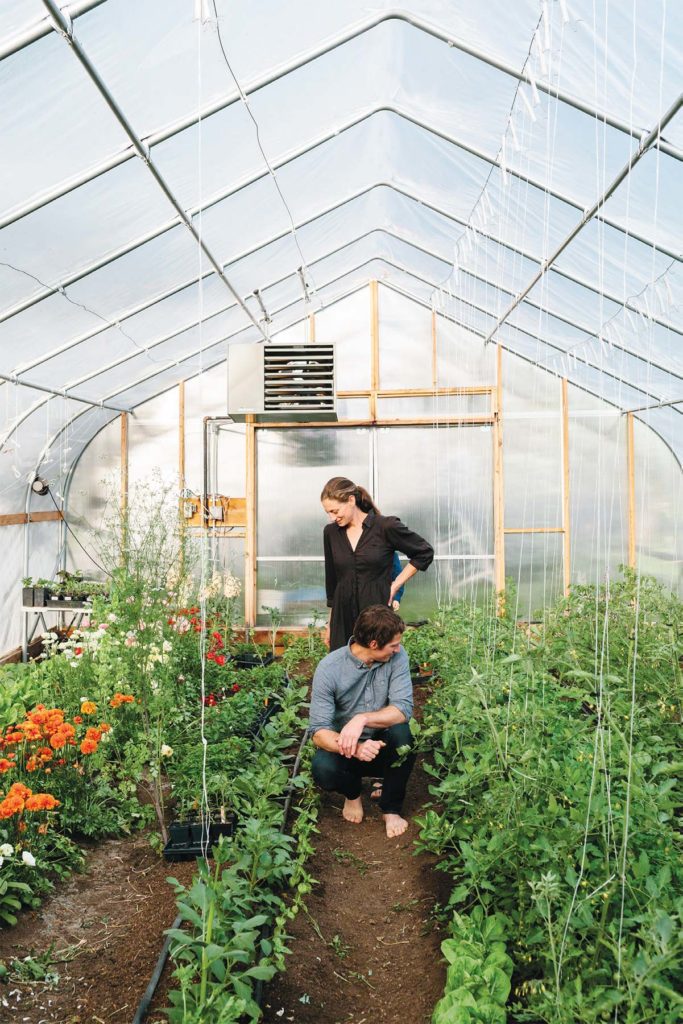 The restaurant's chairs and tables were crafted from white oak and black walnut by Graham's father, an award-winning furniture maker. The flowers that adorn the tables are grown by Reich at Star Pudding Farm. The overall effect is that of a place that's bright, clean, comfortable, and enlivened by personal touches.
Intention and execution of small details are important to Reich and Graham, who have collectively been in the restaurant and farming industries for two decades. They want to get it right, but not just to satisfy their bottom line. If a large profit margin was their primary focus, they'd buy cheaper, lower-quality ingredients, present dishes in a similar manner, and sell them at the same price point. "We make a living doing this, but it's more like a passion project [than] a great business model," Reich says. "If we were in it for making money, we would not be doing it this way … it's more [about doing] what we believe in."
The daytime menu is simultaneously creative and pared down. Its unique offerings fit on a single page. Customers can start with crème fraiche donuts with rhubarb sauce to share, and enjoy dishes like frittata with herbs, bacon, aged sheep cheese, and parsley/pepita pesto for their entree. Novel preparations of diner favorites like fried egg sandwiches, breakfast burritos, and cheeseburgers are also available. Graham says that come summer, he's looking forward to experimenting with dishes that might look out of place on a breakfast or lunch menu. The opportunity to slow down and be more deliberate with each dish also appeals to Graham. During the week, Little Star often gets a sizable lunch rush, but dinner service is different. Customers generally don't have such tight timelines; the reservation culture surrounding the evening meal allows for a slower pace. The whole experience can feel more relaxed.
"Right now we're testing different [menu items] that we're interested in," Reich says. "We're excited. It's going to be fun."