The Lifeline for Support
Family. It's a word Americans from many backgrounds might use to describe the people they are closest to in life.
Familia. For many Mexican Americans, it's an even stronger concept. Family is their lifeline.
I recently spoke to two Mexican Americans—both of whom own eateries in Bozeman and have very different connections with their own families. While their stories are unique, both demonstrate the power of family and community.
Smith Alejandro Montero Osorio is the co-owner of the father-son restaurant Los Jarochos, one of Bozeman's newer Mexican eateries, located at 1511 W. Babcock St. in Bozeman. At first glance, Alejandro Jr. hardly seems like a business owner. His young face doesn't show a single wrinkle; he's dressed in a black cap, T-shirt, and jeans.
As we chat, his father, Alejandro Sr., pops out to see how our interview is going.
"You don't want to join?" I ask.
"My English is not that good," he responds as he waves and vanishes into the kitchen. How I wish Abuelita would have taught me Spanish, I think to myself of my own grandmother.
As Alejandro Jr. and I continue to chat, it becomes clear that family is the whole reason Los Jarochos exists. "Our family is from Veracruz," he tells me, which explains the name of their restaurant, loosely meaning "people from the city of Veracruz, Mexico." He and his family have made several moves but have been in Montana for six years.
Veracruz is one of thirty-two states in Mexico. Its east side borders the Gulf of Mexico. The state's popular port city of the same name helped shape the area into a cultural mix of Indigenous, Spanish, Caribbean, and Asian influences. That history affected the region's food as well.
"Everybody expects the traditional salsa. But we don't have that [at Los Jarochos]," Alejandro Jr. says. Instead, he serves an orange chipotle mayo salsa, prepared true to the cuisine of his home region. "You don't ever see a traditional salsa where we're from."
Veracruz staples that feature prominently on the Los Jarochos menu include the Caldo de Camaron—or shrimp soup—and Alejandro Jr.'s personal favorite, the Garnachas, which are fried tortillas with salsa and steak.
Alejandro Jr. is proud of his family's recipes, but the highest form of approval he's heard comes from other local Mexican restaurant owners who frequently stop by his location. "The Mexican people tell us that we're the most authentic," he says. "That's a huge compliment."
Life as a bilingual young adult in a family of immigrants has come with its challenges. At twenty-two years of age, it's easy to forget that Alejandro Jr. was just a kid a few years ago. His family—eager to expand into a brick-and-mortar location after operating solely out of their red food truck—is renting the old Saffron Table building where their restaurant is located now. Alejandro Jr. was the main translator for his family in the negotiations and now helps with business operations.
He's humble, and despite all the responsibility he's taken on, Alejandro Jr. doesn't seem like he's complaining when he shares that "all I think about is work, work, work." Rather, in a very matter-of-fact way, he wants me to understand that if he didn't think about work, his family might struggle to pay bills or find staff. He's not your stereotypical member of Gen Z.
Back in the kitchen, his father and uncles are prepping food for the Taco Tuesday special tomorrow, when they'll sell upward of one thousand tacos in four hours. Alejandro Jr.'s mom and aunt also help in the kitchen and when the restaurant is open, his cousin and sister can be found serving guests.
"Family is important, especially here where we don't know anybody," he says. "We have to stick close to who we know."
Every conversation we have refocuses to his lifeline, his familia. But I have to ask him: "What's one thing you do for yourself? Outside of Los Jarochos?"
"I'd like to try skiing or snowboarding," he says, taking a pause and drawing in a deep breath. "Yeah, that seems pretty cool."
On the opposite side of town, on Baxter Lane, Alba Jeffries is at her lunch place hot spot La Tinga. It's a Monday, and La Tinga is closed, so I've caught her on the one day she doesn't have a line out the door. She couldn't be more different than Alejandro Jr., noticeable differences being her fifty-six years of age, her gender, and her experience in a kitchen. But there are more subtle variations between these two: Jeffries is very sure of herself, has a strong sense of community here in Bozeman, and she's also over 2,000 miles away from most of her family back in Mexico City.
La Tinga has been a staple in the Gallatin Valley since 2005, moving from downtown to its current location off Baxter Lane. Jeffries's Tinga tacos are among her most popular menu items. Tinga is a dish originally from Puebla, Mexico, a neighboring area to her hometown, and is prepared with shredded chicken, tomato sauce, and chili peppers.
Jeffries and her husband, Curt, do everything they can to make sure every hungry diner feels welcomed when they walk through the doors.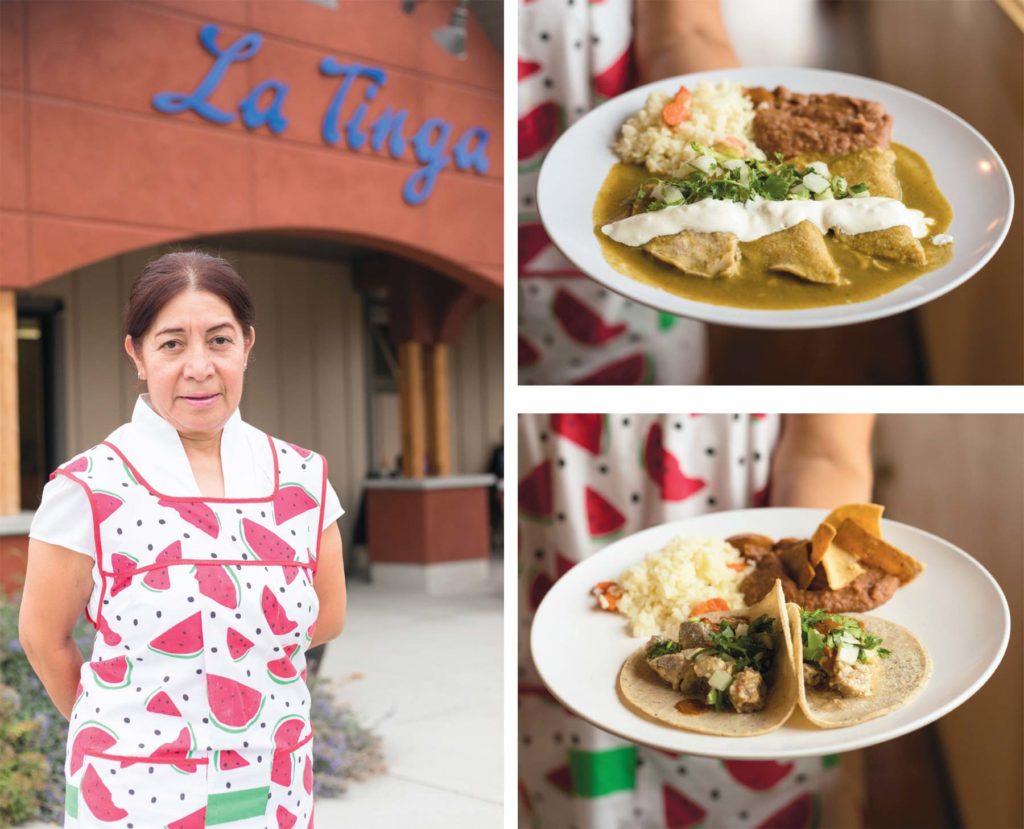 The shutdown during the onset of the pandemic last year was hard for them, but Jeffries says that's when her long-standing customers showed up for her. One woman, in particular, put a white envelope on the counter and left without saying a word. "There was a $100 bill in there and a note saying, 'God bless you,'" she says, holding back a tear. "Our clients, all of them, support us."
Jeffries has built a strong community for herself through her little eatery, but she's examining the future of La Tinga. Before COVID hit, she and Curt purchased a home in Mazatlán, Mexico, and are exploring their options for retirement.
The pair has discussed every option, from renting out their building and letting someone else continue to run La Tinga, to having Jeffries stay in Bozeman while Curt goes across the border, to selling the storefront and saying, "Goodbye," to the Gallatin Valley. It's clear from the pain on Jeffries's face that this is one of the hardest decisions she's ever had to make and uncertainty remains in the air. La Tinga has become her lifeline.
"This is what I love to do," she says. "I love the people. I love to create. I love to cook."
As Jeffries tells me this, there is a heaviness in the room. Curt comes over from the kitchen to join her. If anything is apparent in this moment, it's the love Curt has for his wife. "What's important is that Alba has never lost that drive to focus on the food," he says. "She'll leave behind a legacy of living up to the standards of La Tinga and never compromising. That's why she is here today."
Alba Jeffries is quick to credit her husband for his part in La Tinga's success. Without him, she says, she wouldn't have had the support she needed to start a business on her own. He always understood that this was calling her. For Jeffries, running La Tinga has been a dream, one where she's invested a great deal of time and energy—as well as love. While her immediate family remains in Mexico, she has created a lifeline within the Bozeman community.
Food and family often go hand-in-hand for Mexican Americans. For families like the Monteros and the Jeffrieses, food is one constant connection they have to the people waiting for them back in Mexico. It's one way to feel connected to home. It's an honor for guests to dine at their restaurants and be able to taste the flavors that have been passed down from generation to generation. Those recipes represent family. Those flavors represent all the people who have shown love, compassion, and unwavering understanding through countless generations.
Jeffries puts it best as she says, "The most important thing to me is my family."