Quality Foods Distributing, a Bozeman-based company specializing in distribution of local/regional foods, saw food service sales plunge while retail grocery grew. Sales leveled off once people had stocked their pantries. Staff worked with partners of Hopa Mountain to deliver basic foods to several rural communities in need.
Local Food Systems Respond to Coronavirus
Montana's first case of COVID-19 was reported March 11. Since then, nearly all of us have experienced profound pivots in daily life. Whether we're unemployed or redeployed, essential or working from home, facing economic free-fall or buffered from the worst of it, we feel it.
Our food systems do too. National headlines have declared dire predictions, called out the dark side of our centralized food system, and crossed their fingers that we might just shift our subsidized, lowest-price-please ways: "Spoiled Milk, Rotten Vegetables and a Very Broken Food System." "U.S. Food Supply Chain is Strained as Virus Spreads." "Coronavirus Could Usher in a New Era of Local, Sustainable Eating."
In southwest Montana, the initial impacts of pandemic were hard to miss: Grocery shelves were blown out, restaurants closed, food bank demand skyrocketed, and programs that feed students free or reduced-price meals were forced to turn on a dime. Local farmers, businesses, and nonprofits all pivoted as planting season grew intensely busy and uncertainty reigned. It's impossible to detail all the impacts and responses, and much is still unfolding, but even a sample suggests the magnitude of disruption.
"I cannot emphasize enough how important it is to come together in these moments. The role you play in feeding our neighbors is vital and I will work to connect you to our community in any way I can." —Amanda Garant, market manager, in a message to Bozeman Winter Farmers Market vendors
On March 15—as Bridger Bowl closed—Amanda Garant was about to hit send on an email. After days of monitoring, consulting, concern, and consideration, she had to inform vendors that the upcoming March 21 Bozeman Winter Farmers Market was canceled. Recognizing the important role that Winter Market plays in getting farmers' goods to customers, yet grappling with responsibility for the health and well-being of neighbors, she committed to making decisions on a market-by-market basis as the situation unfolded.
Meanwhile, behind the scenes, nonprofits that focus on local food and agriculture were talking. Some states recognized farmers markets as essential services. Other states—in the chaos of crisis—seemed to forget the purpose of farm stands and farmers markets: selling food. Our Montana community acted quickly. When Montana's stay-at-home directive came out on March 26, the governor's office confirmed that essential infrastructure included farm stands and farmers markets.
By April 17, Montana Farmers Market Network had produced a guide detailing best practices. By May 1, Montana Department of Public Health and Human Services released COVID-19-specific requirements, recommendations, and criteria for farmers markets.
For markets across Montana, these measures provide a framework to open during the coronavirus era. For Winter Market, with only three markets remaining, it didn't make sense. An online survey of market customers indicated that at that point in time, mid-March, only 11 percent were interested in a modified farmers market. The vast majority—80 percent—would prefer to pre-order online for home delivery or pickup at designated locations.
Farmers were quick to respond. Gallatin Valley Botanical at Rocky Creek Farm opened an online farm stand, with pickup or home-delivery options. Black Dog Farm initiated online ordering and home delivery, with products from other farms and businesses. Amaltheia Organic Dairy offered customizable farm boxes, with online ordering and two pickup dates per week. Garant created a Local Food Resource Guide to help vendors and customers connect.
Restaurants also acted swiftly. As of 8pm on March 20, only takeout and delivery were permitted. This required a serious pivot, with real obstacles: rethinking kitchen management, customer ordering processes, finding sufficient takeout containers, you name it. And it was stressful, as owners and managers tried to take care of their people. How many staff could they afford to keep on? How many customers would there even be, as people sheltered in place? How to navigate COVID-19 relief funds?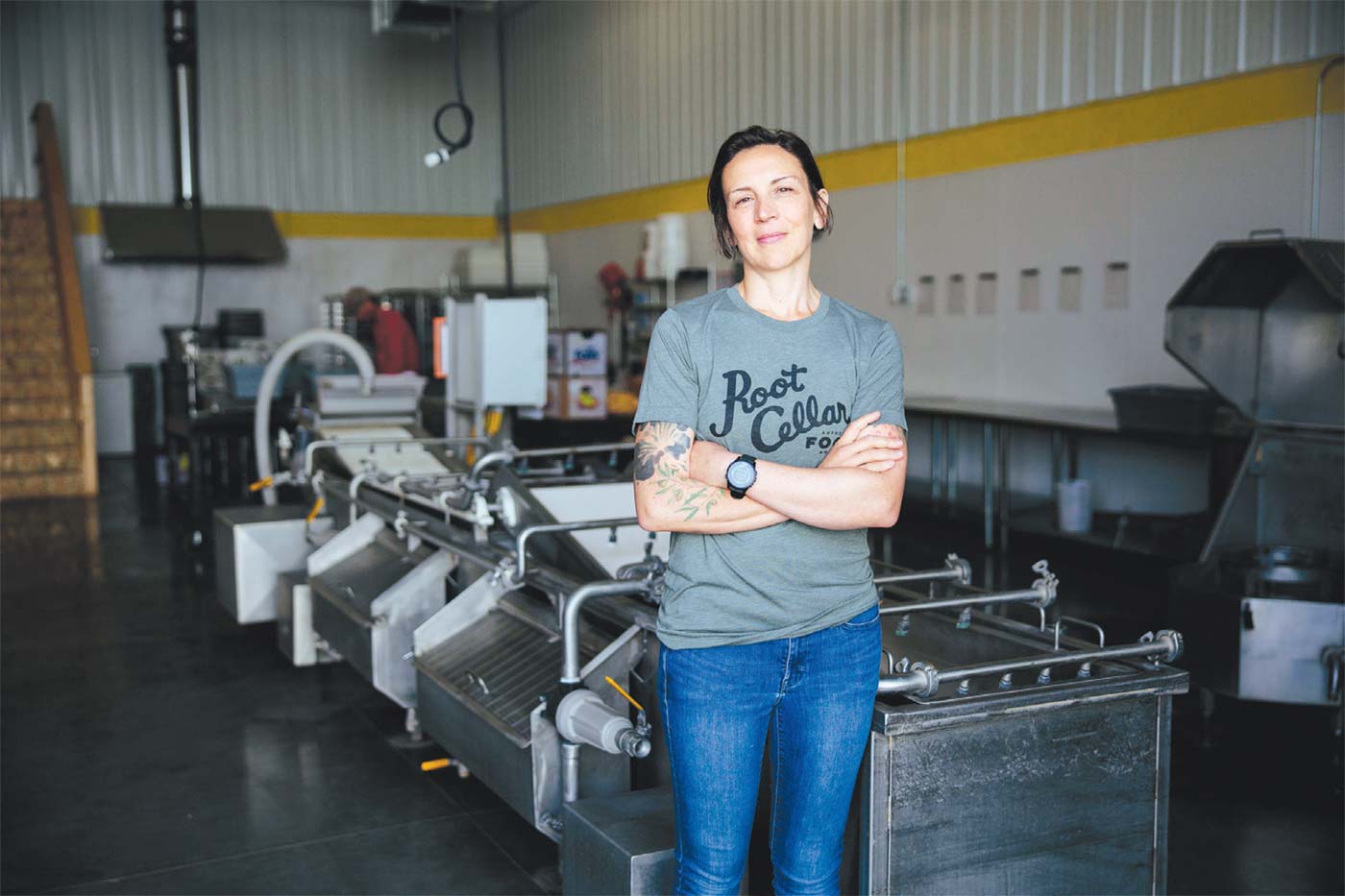 What made sense differed for different restaurants. Some started takeout service, others closed. A handful of restaurants helped Livingston schools prepare meals for hungry students. Urban Kitchen pivoted to takeout, then joined U Burgers in delivering meals to the hospital, then started Food 4 Families. With a slew of community donations, they report providing as many as 500 meals a day, seven days per week throughout April, to people in need. "It was truly family to family," said Meg Romano, chef and co-owner. "Our kids helped too, taking orders by phone." In late May, at 42 percent capacity during phase one of reopening, Urban Kitchen reported no trouble filling seats—to the contrary, "people seemed relieved, happy to be out." Yet how this plays out across the service industry remains to be seen.
These disruptions amplified, hitting local suppliers. Montana statistics are elusive, but nationally roughly half of American's food spending used go toward eating outside the home. When restaurants and cafeterias closed, a significant market disappeared overnight. As Christina Angell of Root Cellar Foods put it, "Sales pretty much fell off a cliff."
As of April 24, she reported a 75 percent drop in sales. Reliable customers like Montana Ale Works closed. Sales to the Community Food Co-op—where food service sales plummeted, and which ultimately was forced to close the hot bar and salad bar at both locations—fell precipitously. MSU cut purchases dramatically, and the order delivered May 1 looked as if it'd be the last until students return.
Meanwhile, business picked up for Bill Jones, manager of the Amsterdam Meat Shop. When slaughterhouse closures started hitting headlines, calls increased 150 percent. "Usually it's June or July when fall gets booked," said Jones. But by mid-May, he'd booked through January.
"It's not been easy; this increase happened pretty much overnight." Jones paused, recalling butcher shops that had closed over the years. "If people weren't so focused on price point . . . I don't mean to sound ungrateful, but people need to remember to support us in good times, as well as bad."
"An estimated 165,000 Montanans may face hunger in the coming year—a staggering 51 percent increase in food insecurity." —Lorianne Burhop, Montana Food Bank Network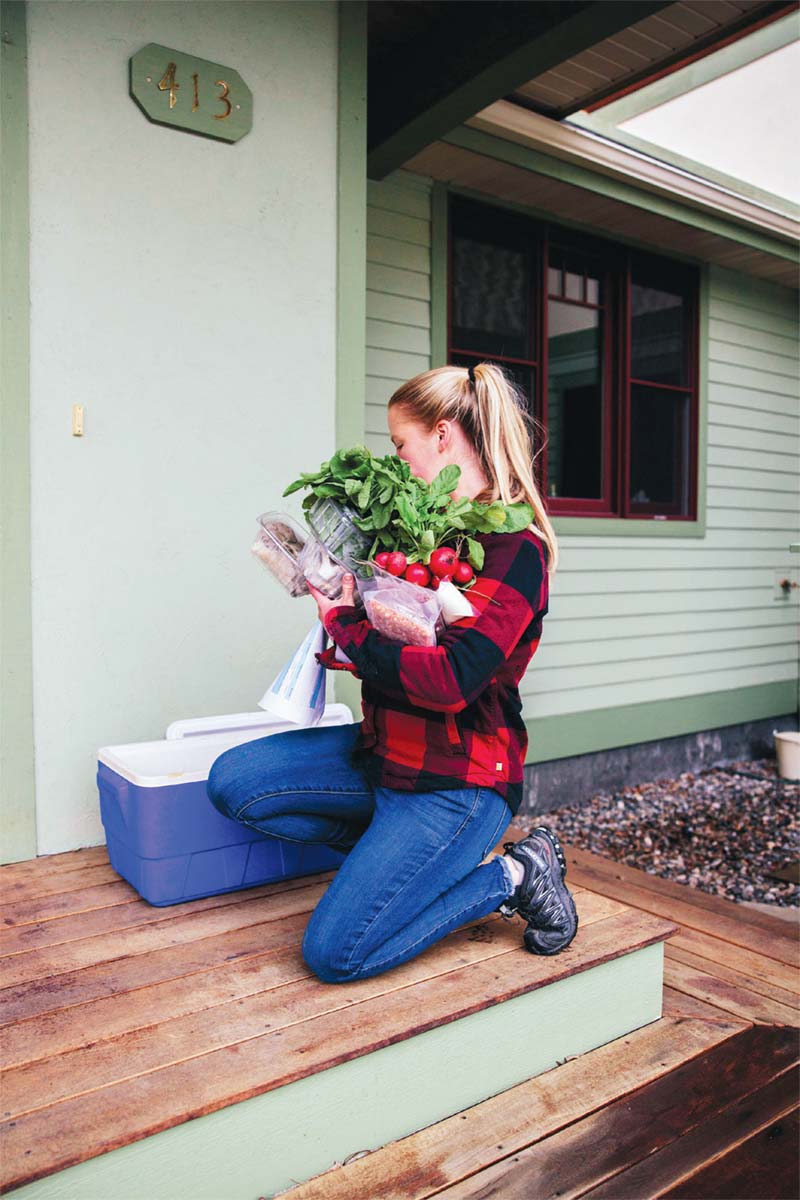 As coronavirus increased need across our state, communities that were already food insecure—rural places at the end of food supply chains—were the hardest hit. National supply chains were in upheaval, backed up and sporadic. So locals stepped up, creating new supply chains.
Hopa Mountain, a nonprofit that works with rural and Native leaders across Montana, connected rural partners to potato farmers, truckers, food hubs, and others for delivery of meat, potatoes, and other basics. Ranchers east of Livingston formed the Producers Partnership, had animals processed locally, and began donating ground beef to Big Timber Food Bank, Livingston Food Resource Center, Loaves & Fishes, and Meals on Wheels.
AERO and Montana Organic Association started the Montana Food Providers Project to get more Montana-grown foods to communities in need. They explain, "many farmers are donating food on their own (and have been for years), but they cannot shoulder this alone." And when the Big Sky Food Bank ran low on cereal, Roxy's Market partnered with Gluten- Free Prairie to donate 500 bags of "Barebones Granola," a simplified version of their signature granola. Co-founder Deb Wheaton noted, "It's easier to pivot when you're small. Margins are small for food businesses, but we want to help."
Looking at responses to this pandemic, several truths become crystal clear. First and foremost, no one knows how this will unfold, and uncertainty presents ongoing stress and challenge. Second, the efficiency of our nation's commercial food systems comes with serious costs, including a nowobvious vulnerability to disruption. Third, the ability of local food systems to pivot—to adapt in crisis and support their communities—is invaluable. Local farms, businesses, and nonprofits have relationships that transcend sectors and silos. They are grounded in community, invested in community, and operate at a scale that allows them to respond to emergencies in ways national and international food systems just can't.
Coronavirus has shed light on fragile supply chains and consolidated meat-processing systems, and people increasingly understand that resilience requires investment in local and regional food systems. It requires diversification. It requires grappling with complexity and all the realities of "price point." Local farms and food businesses do this on a daily basis, as they already tend to focus on a triple bottom line: people and land, as well as financial viability.