A Gonzo Journey into the Wilderness
It all started when my old pal Laszlo, part bon vivant and part Merry Prankster, crashed a dinner party I was hosting with my friends from the Wild Chef Co., Kyle and Steph. I went right to the cellar and uncorked a few good bottles to give the wines a chance to breathe.
Dinner was righteous, and the party continued deep into the night. We were sitting around my kiva passing mescal, sucking limes, trading tall tales, and laughing riotously when Laszlo asked if we'd ever gone wine tasting and wildlife viewing.
After a few hours' sleep, we flew into action. Kyle and Steph packed the lunch while I pulled the wines and Laszlo loaded the van. We made a couple last-minute stops in Livingston, picked up our friend Lynn, and set out for Lamar Valley to find the great bison herd. As the sun broke over Emigrant Peak and lighted up Paradise Valley our hopes were high for an epic day.
We stopped near Mammoth, the thermometer reading sixty-two degrees. I pulled several Oregon Rhône varietals from the coolers to give them time to come up to temp, and we continued toward Soda Butte. Somewhere safely off the road in a swale along a high ridge we found a perfect spot to view a group of mama bison tending to their new calves. I opened the wines while Laszlo set up the optics and Kyle and Steph set the table. Lynn captured the whole incredible scene with her lens. I turned to Laszlo. He winked at me and slathered homemade herbed butter on the baguettes.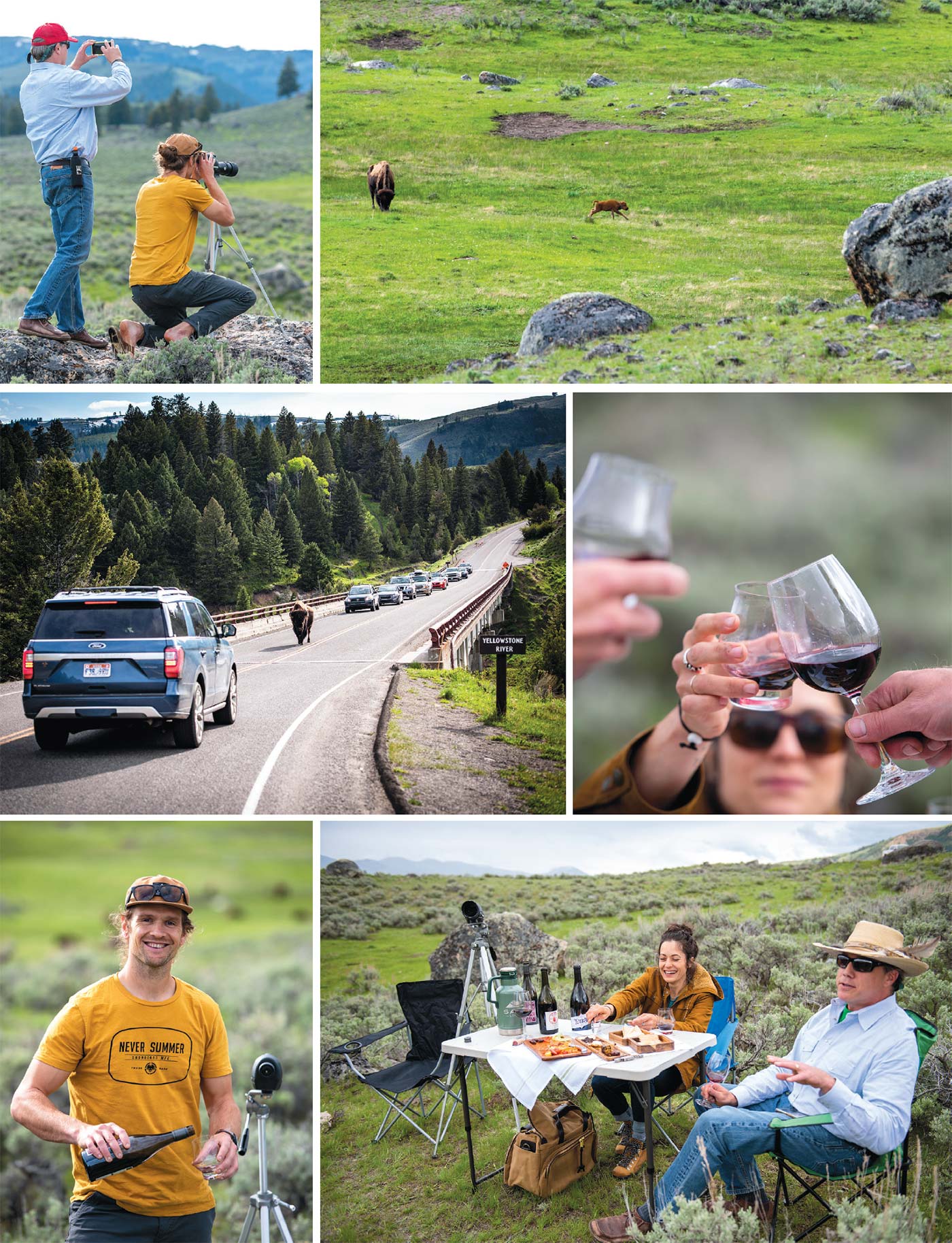 Immersion in the wilderness heightened our appreciation for the food and wine and elevated our sense of wonder for the natural world around us. This combination of pleasures continued to lift our spirits until we found ourselves fully awed to be in such a wonderful reality. When the raven glided overhead for the third time, we were all into our cups, and our experience soared beyond the outer limits. Then the raven landed on a nearby boulder and gave us a long look.
Kyle and Steph called me over to the scope and showed me a baby bison taking draws from its mother's teat. Laszlo told Lynn he thought he was experiencing a new kind of endorphin. From the slopes of Druid Peak we thought we heard a wolf howl on the edge of the wind.
As the day came to a gratifying close, we headed north back up the valley. Alpenglow set the tips of the Absaroka- Beartooths afire with an ethereal blast of pink and vermillion. Laszlo was riding shotgun, waving his hands in every direction and going on about the local trails. Suddenly he asked, "Have you ever hunted for morels and cooked them up with fresh trout right on the stream?" One look and I could tell the crew was down for another wild ride. I turned the van toward Pine Creek and the beat went on.
Safety note: Stay at least 25 yards away from bison and other large mammals at all times. For bears and wolves, increase distance to at least 100 yards.