How Gallatin Valley Farm to School is making school lunch cool
Sharing a nutritious meal elbow-to-elbow with your companions: This is a basic principle of Gallatin Valley Farm to School.
In the word companion, "panis" comes from the Latin word for bread or food. This is where companionship originates: a companion is a messmate, or someone with whom you break bread.
Gallatin Valley Farm to School, or GVF2S, sees potential messmates wherever they go, and asks community members and schools to help them set a healthier table for the next generation. GVF2S is a nonprofit offering experiential health and nutrition education for children by integrating local food into their programs. They also support local agriculture by connecting farmers to school cafeterias.
For kids attending GVF2S summer camps, sharing a meal is a conduit for companionship, since the meal is a culmination of planting, watering, harvesting, and preparing their food together. Companionship is also evident after lunch, when the children help each other chop cucumber and grate carrots to make pickles.
Campers also unite in their shared love of BOB, the Bozone Ozone Bus. On the outside, Gallatin Valley's very own Magic School Bus is big and blue, but inside it's brimming with green; herbs, vines, flowers, and veggies crowd the windows and entice the campers with edible adventure. Madi Mathiasen, the BOB coordinator, fields comments and questions from the excited campers: "I found a ladybug baby!" "Which part of this is the seeds?" "I found a ripe tomato that fell off the plant!"
When Madi offers a tour around the bus, she points out herbs like cilantro and chives, edible nasturtium and borage flowers, and an extensive salad bar. Laminated placards stuck in the pots of beets, carrots, and tomatoes invite children (and adults) to think more deeply about food: "Did you know approximately 20% of all food in the U.S. is thrown in the garbage? … that 24% of the garbage in a landfill could be turned into nutrient rich compost? … that the average tomato travels 2,481 miles from farm to plate?"
This mobile greenhouse was created through the Bozeman Youth Initiative as a way to bring experiences to local schools that do not have a greenhouse of their own, or cannot afford to build and maintain one.
Using BOB in their programming exhibits another of GVF2S's principles: the importance of equitable access to fresh, healthy food.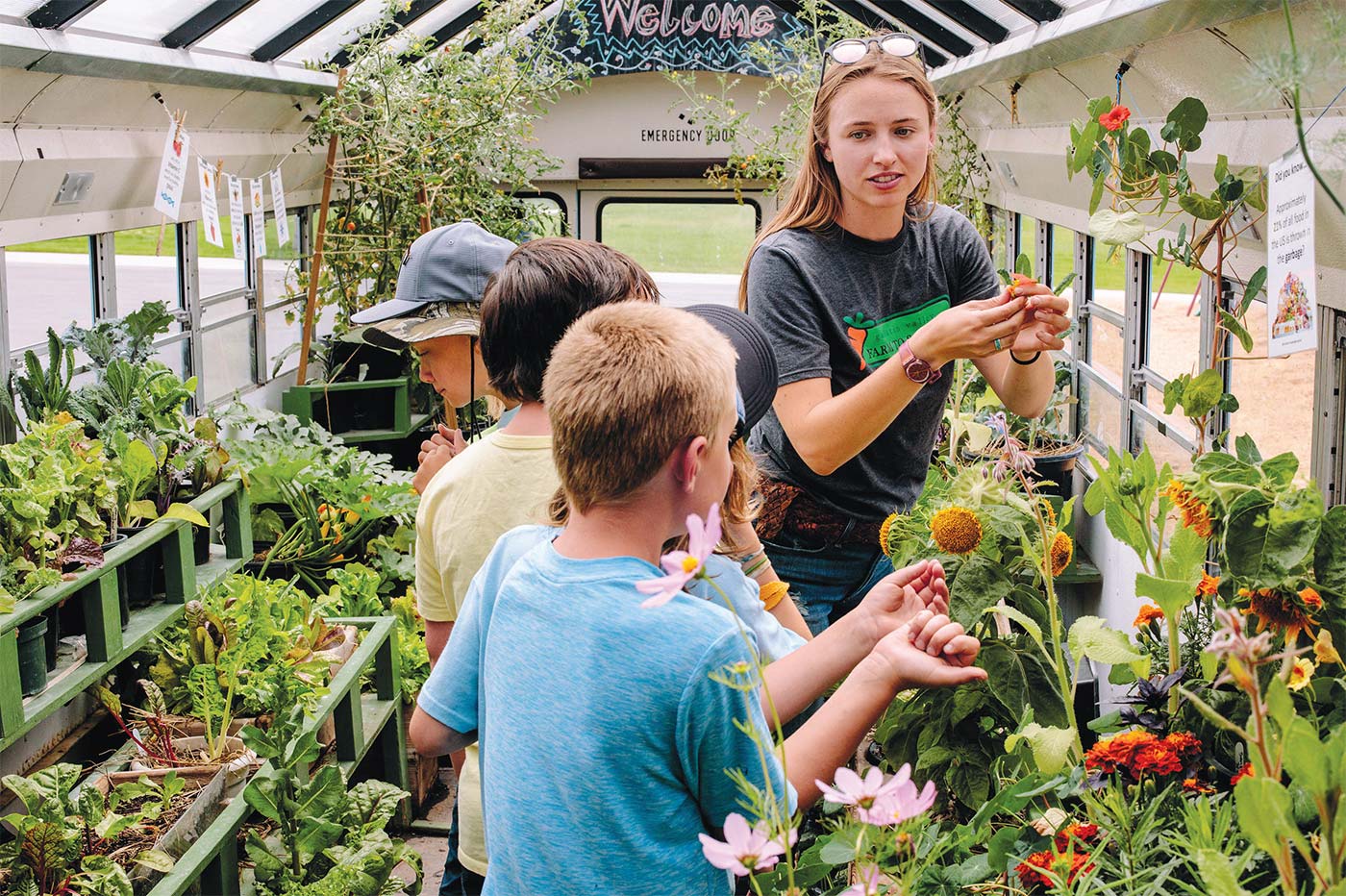 TO PACK OR TO BUY?
Jenn Adams, associate director of GVF2S, argues that equitable access means that eating healthy meals can and should be everyday occurrences, not just special occasions. "A meal doesn't have to be incredibly complex or unbelievably beautiful," Adams says. "It can be very simple and still be delicious and meaningful."
Adams's family has a garden, goes to farmers markets, and tries to eat adventurously at home.
"Which is great," she says. "And even still, we have to move beyond our individualized homes and realize that this is a part of a greater community. So when we engage in the food and nutrition education at school … that's really impactful."
"You can't really teach kids about how to be healthy and then have the meals that they eat at school be incongruent with what you're trying to teach," says Sam Blomquist, executive director of GVF2S.
Some students eat one, two, or all three of their meals a day at school, so the school cafeteria is a perfect place to begin normalizing healthy eating habits. School is where children first begin developing their own community and making decisions outside of the home. "Students have their own friends, they have their own relationships, their own teachers," Adams says. "So for them to engage with food, nutrition, and agriculture within their community outside the home is really influential."
Farm to School's goals include giving children the tools and experiences they need to make healthy decisions now, so they have a better chance of keeping themselves healthy in the future.
"Fast forward twenty or thirty years: When you're trying to retrain someone how to eat, it's so hard," Blomquist says. "If you have the capacity to teach a child how to make important decisions about their health, their community, and the environment's well-being, it is so much easier to start there than to backtrack."
As many people know, returning to a state of health later in life can be challenging.
"As a dietitian, you spend so much time telling people 'No, no, no, don't eat that,'" Blomquist says.
Rather than telling children what not to eat, Blomquist and Adams suggest that it is much more effective to teach kids where their food comes from, how it grows, and the amazing things it can do for their bodies.
"They can get top scores in school but if they start dealing with heart disease at 40, it doesn't really matter," Blomquist says. She means that schools should implement meaningful nutrition education and teach kids how to be conscientious consumers.
Normalizing healthy eating in school is also one way to have a bigger impact on our nation's food system. "Our district serves thousands of meals a day, for nine months a year," Blomquist says.
The National School Lunch Program reports that nationwide, nearly 100,000 schools that participate in its program serve lunches to, on average, 29.8 million students every day; 68% of these meals are free or offered at a reduced price. Add 14.71 million breakfasts, and these schools serve 7.32 billion meals a year. As Blomquist puts it, changing the school meals system "is one of the most impactful population level interventions we can have." But while envisioning a healthier course for the food system can be energizing, implementing the work locally is daunting.
"We find ways to overcome each district's barriers by connecting farmers and schools, gathering scaled recipes, integrating local products into already established meal patterns, even helping the kids be willing to eat the local food."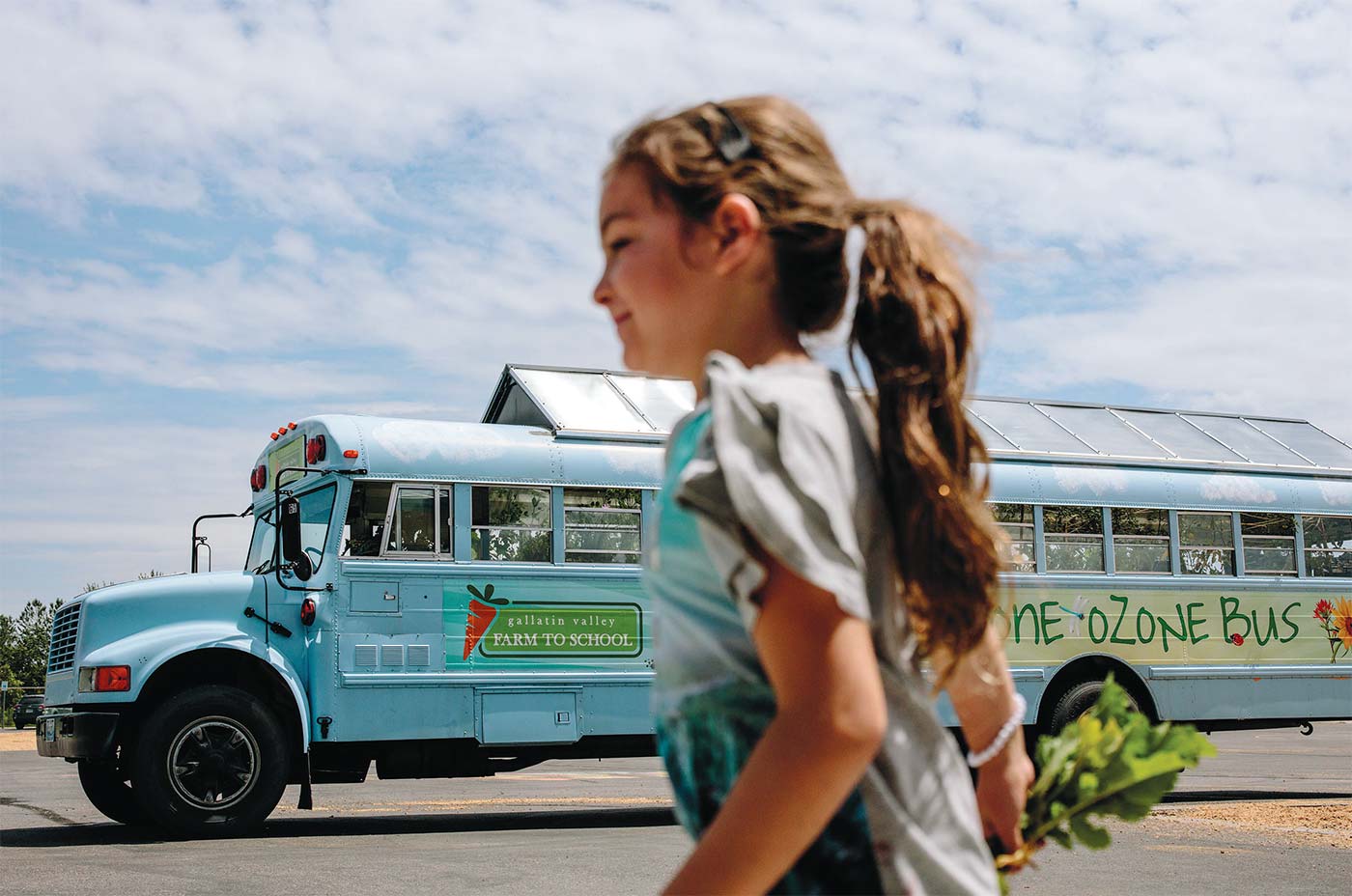 WHO HAS EXTRA ZUCCHINI?
Although Bozeman is one of the wealthiest parts of the state, there's no such thing as a free lunch for GVF2S. "The districts around here have really tried to increase their healthy scratch-cooked meals, incorporate local products when possible, and engage students in these programs," says Blomquist. "But it's a real challenge to provide a quality meal for a low price."
The federal government determines the reimbursement rate for lunches, and state legislature and school district budgets determine what wages the districts can pay their employees. It's downright difficult to have a school meal that is healthy, that the student will eat, and that costs about $1 (which is what the School Nutrition Program has after paying for labor and facility expenses) to buy, prepare, and serve. Add in the extra time it takes to call farmers, figure out what food is available for purchase, and cook a meal from scratch, and the balance ticks up.
Blomquist points out that the low unemployment rate makes it nearly impossible to find employees to fill cafeteria positions. Additionally, Bozeman's rising cost of living is leaving families financially pinched, and likely with other priorities about where their money should go.
Another obstacle is marketing. Food marketing to kids is sophisticated and effective. "They are just bombarded with junk, all of the time," Blomquist says. "And it's shiny and it's pretty, and it's made to taste really good," Adams adds.
When kids are used to consuming foods that are sugary, processed, or high in empty calories, they might not want to start eating salads or lentil burgers at school. The stereotypical image of a "gross school lunch" means that garnering support for new programs, and buy-in from kids and parents, can be challenging.
"There is a really difficult communication hurdle for schools to overcome when they are making some really intentional changes," Adams says. Schools don't have enough time to communicate their efforts and need for support to the community.
Looking at all of this, a school director might feel overwhelmed about where to even begin changing their meal program. This is where GVF2S can get to work.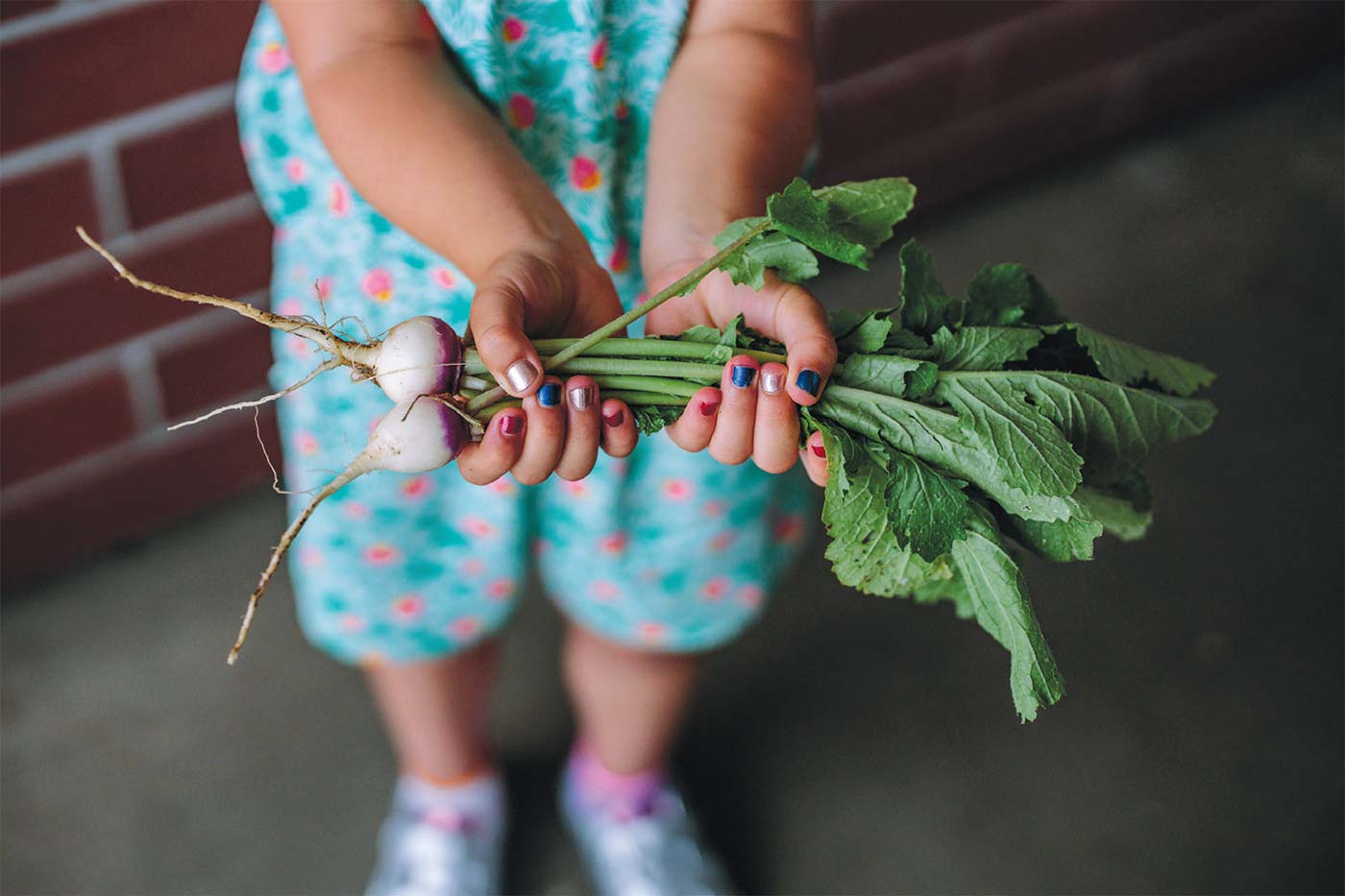 OODLES OF ZOODLES
They usually suggest starting with the Harvest of the Month program. This program offers pre-designed lessons and activities that teachers can implement easily. Each month, a locally grown item is highlighted, and the item is served in at least one meal or snack that month. The item can also be taste-tested by students beforehand to encourage students to try new or unfamiliar foods. Blomquist calls this program "the gateway for local food."
GVF2S also gathers information about any extra produce farmers have, and will give that information to the schools. This eliminates extra time and logistics for the workers at school and increases the capacity for schools to purchase and serve farmfresh food.
"Cooking at home is a lot different than cooking for thousands of children," Blomquist says. "So we find ways to overcome each district's barriers by connecting farmers and schools, gathering scaled recipes, integrating local products into already established meal patterns, even helping the kids be willing to eat the local food."
Another program, the Family Feast Cooking Series, teaches families how to prepare nutritious meals and encourages cooking with kids, even if it may be messy and imperfect. Zoey Mahoney is a camp counselor and one of two culinary instructors for this series, and, as her festive avocado earrings show, she loves food.
Each night in the cooking series has a different focus: using fresh and local produce, cooking with legumes, or cooking on a budget. Many classes incorporate Harvest of the Month products. Zoey appreciates how community-oriented GVF2S is, and how important it is to waste as little as possible. She also says that children love gardening.
"Every single time we go out into the garden it's like a whole new world. We do all kinds of bug hunts and soil tests, and the kids just love all of that," she says. And it's no wonder. Who wouldn't delight in the opportunity to make collages out of lentils, or eat pesto with zoodles (zucchini noodles, that is)!
Laminated placards stuck in the pots of beets, carrots, and tomatoes invite children (and adults) to think more deeply about food: "Did you know approximately 20% of all food in the U.S. is thrown in the garbage? … that 24% of the garbage in a landfill could be turned into nutrient rich compost? … that the average tomato travels 2,481 miles from farm to plate?"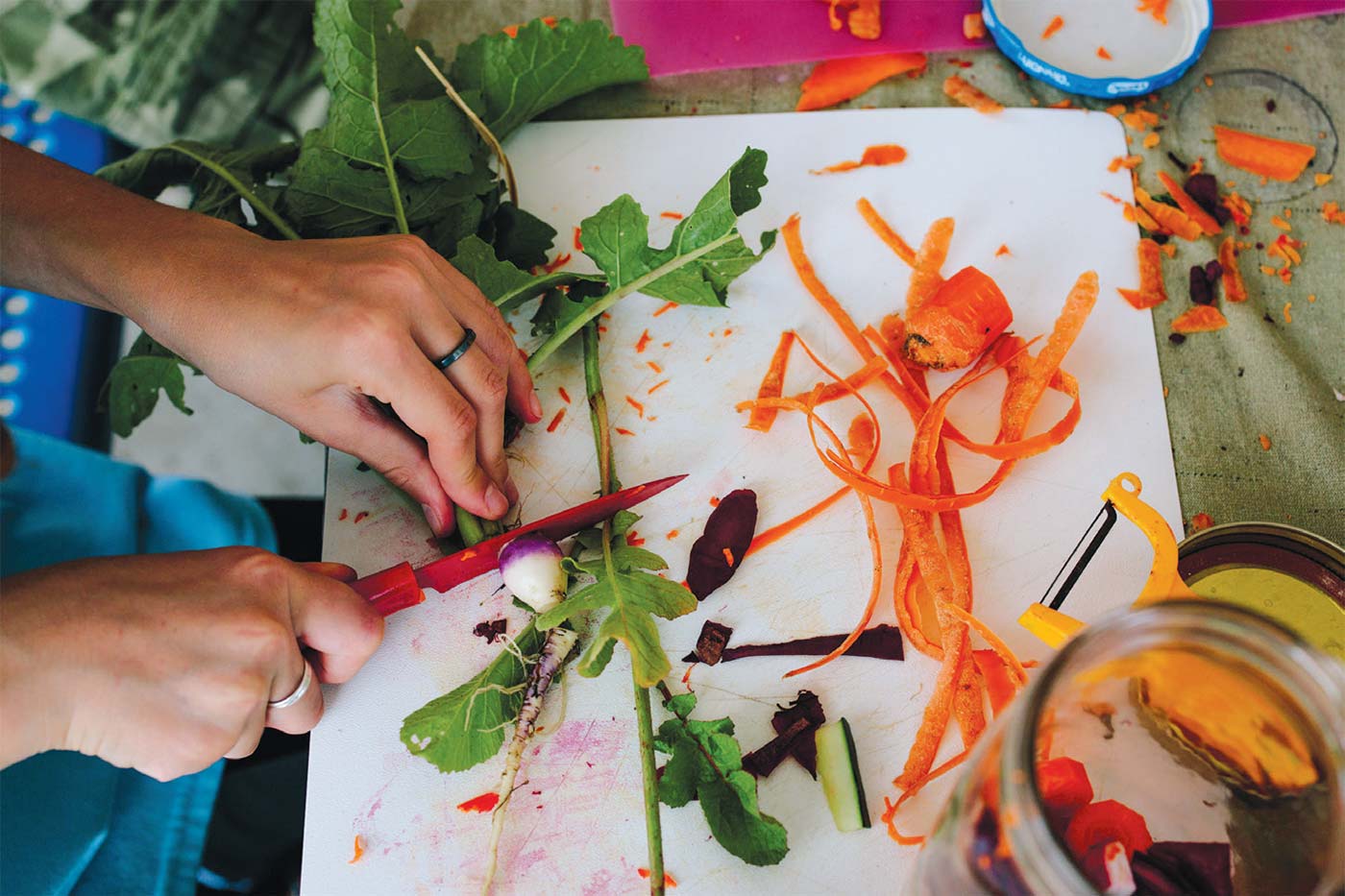 HOP ON THE BUS, GUS
Food is important: It connects us all. How and what kids learn to eat has great consequence, especially as we learn more about the connections between diet and physical and behavioral health. Adams and Blomquist understand the gravity of their work. They understand that community intersects in school.
"School is a true cross section of your community," Adams says. "The kids coming in and out of those school doors every day represent who we are currently, and who we will be in the future." With GVF2S's efforts, there is hope that this future community will make conscientious choices that will support the quality of life that everyone values in this valley. However, this hope cannot stand alone. For GVF2S to make these visions a reality, they need funding and support.
"We would be nowhere without the support of our parents and our schools," Adams says. Anyone who is interested in supporting the mission of GVF2S can offer donations or volunteer their time. Parents can enroll their children in summer camps, or cook with their children at the Family Feast series. Most importantly, parents of students can choose to buy school lunches. This is a way to ensure that schools will continue to get support for making their meals healthier. More buyin from the community could mean that it will be easier to picture lemon-roasted carrots, sweet potato black bean stew, or fluffy whole-wheat biscuits on children's trays. And anyway, opting into school lunch will be more enticing than ever this year with "Homemade Mondays," when the Bozeman School District will offer homemade entrees that highlight new menu items and include locally sourced food when possible.
"We can do this," Adams says. "We can all share a meal together, and share time together, and have it be something that reflects who we are as a community." So take a seat at the table, or hop on the big blue bus to bring this lesson to life. As Blomquist puts it, "It comes down one kid, and one family, and one school, and one lunch tray."