Above: The warm and friendly atmosphere at Fork & Spoon is designed to welcome all members of the community.
Delicious dinners and a pay-what-you-can concept
By six o'clock on a crisp fall evening, Fork & Spoon restaurant buzzes with families eating dinner, groups of friends chatting by sun-filled windows, and servers whisking fragrant plates of Moroccan braised chicken through the open space. Bright-colored paintings of mountains, wildflowers, and animals hang on the walls. Trendy blue and orange metal chairs invite guests to sit and relax at wooden tables. Every detail in Fork & Spoon aims to ensure guests feel welcome and respected as they enjoy their meals. But many restaurants can claim as much. What sets Fork & Spoon apart is that it is Montana's only pay-what-you-can restaurant, which means guests may choose anything they desire from the menu, from drinks to entrées to dessert, and pay what they are able to that day. Some pay nothing, some pay triple.
The pay-what-you-can model differs from a soup kitchen, where guests are not asked to pay at all. Kate Wiggins, the fundraising and marketing coordinator, says, "Some people can't pay anything one night, but they'll come back and pay extra the next time." Run by the nonprofit HRDC (Human Resource Development Council), Fork & Spoon moved away from the phrase "community kitchen" in 2017 because it felt limiting and exclusive only to those in serious need. By creating a restaurant, instead of the familiar "soup kitchen," it has been able to serve more people in the community—around one hundred adults, teens, and children Sunday through Friday evenings—in a two-hour window. Many are regulars, returning every night; for some, it's their only meal of the day.
Leon is a weekly regular, a senior who has been eating at Fork & Spoon for the last several years. He visits a few nights a week, chooses an entrée from the menu, pays what he can that evening, and eats by himself. Staff know him by name and come over to visit. "The price is right," he says, "and the food keeps getting better all the time." Recently, his favorite meals are the Hungarian chicken and the bacon-wrapped meatloaf. "It's always different than what I would normally eat."
Leon has lived in Bozeman for thirty years. He studied early childhood education and moved between jobs in construction and at ski resorts before finding metalworking later in life. Leon lives alone; his only child lives across the country. Another son, who lived in Bozeman, passed away suddenly two years ago. Eating at Fork & Spoon a few nights a week is Leon's primary social activity, even if he eats alone. He says he's starting to know some of the other regulars after so many years. "I know a few people, but my niece says I'm, what's the word, introverted," he says with a laugh.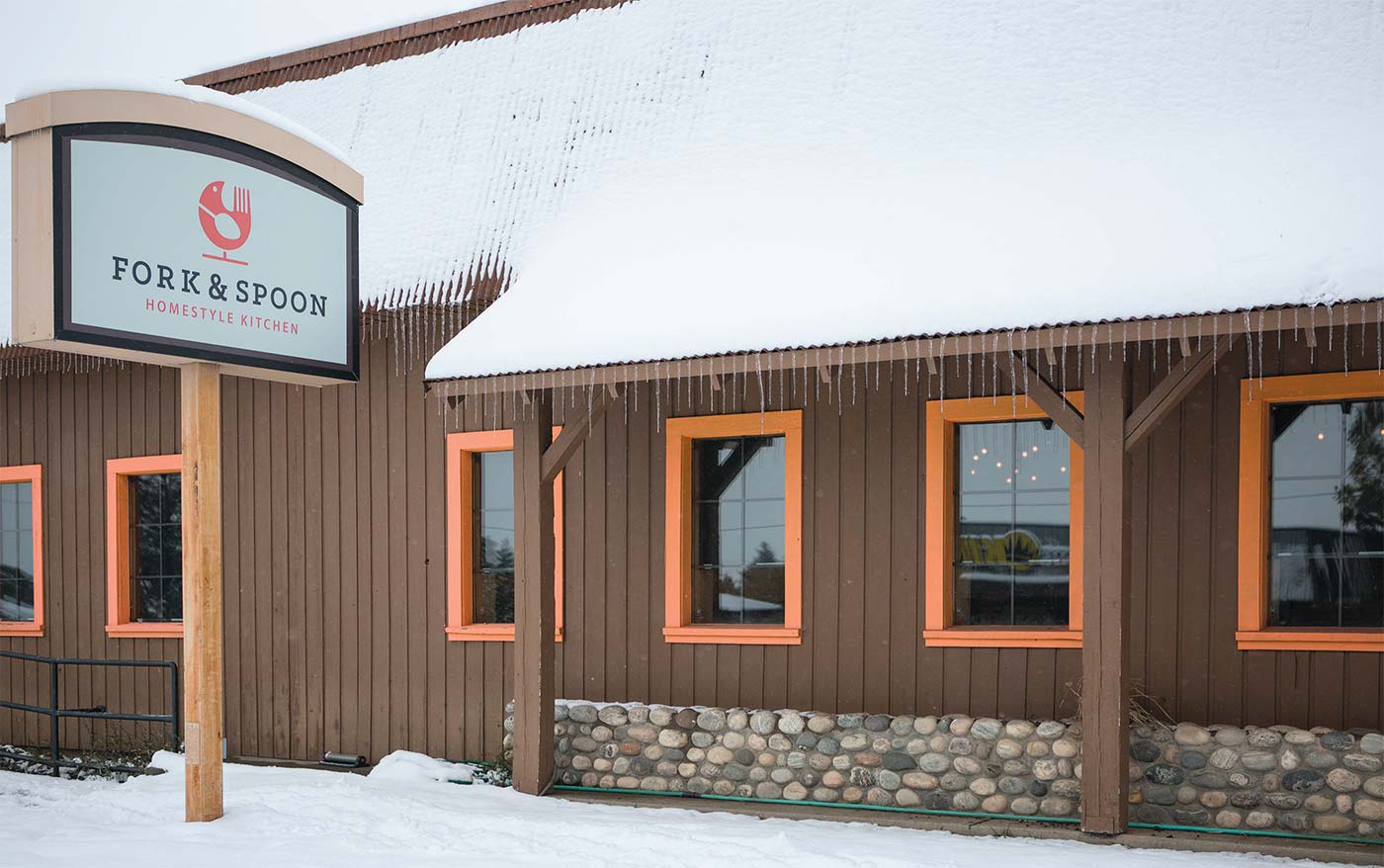 There is no such thing as a "typical" diner at Fork & Spoon.
Leon doesn't seem to fit the persona of what many people consider the typical patron of a pay-what-you-can restaurant. While Fork & Spoon certainly responds to food insecurities in Gallatin Valley, it has undergone a rebranding transformation in the last few years to send the message that there is no such thing as a "typical" diner. Wiggins says that Fork & Spoon is a "restaurant for everyone." A guest's experience while ordering at the counter, she explains, "is the only part of the experience that looks different from any other restaurant." People order their food and the cashier gives them a "suggested price." Guests then pay, or do not, take a number, and enjoy their meal like everyone else.
The supportive and friendly atmosphere is carefully planned and designed. Wiggins says every staff member and volunteer is trained on what to say, and how to say it, so every guest is treated with dignity. Longtime volunteers Sue Kaul and her daughter Heather Reeves have filled nearly every role at the restaurant, from dishing food and serving it to washing dishes and working as cashiers. They continue to come back week after week to serve the community. Kaul says, "I feel the most important thing we do is treat everyone with respect and do what we can to make the dining experience at Fork and Spoon enjoyable for our patrons."
Fork & Spoon understands that food is oftentimes more than just food. Beyond the nourishment, the "all are welcome" establishment offers a restaurant experience. Lynne Greenlee, the evening shift lead, says that her favorite part about working at Fork & Spoon is giving everyone equal access not only to delicious, nutritious meals but also the chance to be served. "Eating out is a luxury," she says, "and I want to make sure everyone gets that opportunity."
Leah Smutko, head chef at Fork & Spoon, agrees. Smutko has worked in restaurants for much of her life and attended culinary school in Boulder, Colorado, before working under several talented chefs. It wasn't until she started volunteering at Fork & Spoon that she saw the value of the Fork & Spoon model. "We're serving an individual person instead of the idea or image of a restaurant," says Smutko.
While financial needs may keep people coming back to Fork & Spoon, it's the outstanding food that lingers with people long after they leave. After culinary school, Smutko studied sustainable food and bioenergy systems at Montana State University. It was during that time she began to develop close relationships with ranchers and farmers in the region. Today she leverages those relationships to obtain as much local food as she can for the restaurant, calling or texting to say: "Do you have anything left over from the farmers market?" or "What's not selling this week? We'll take it."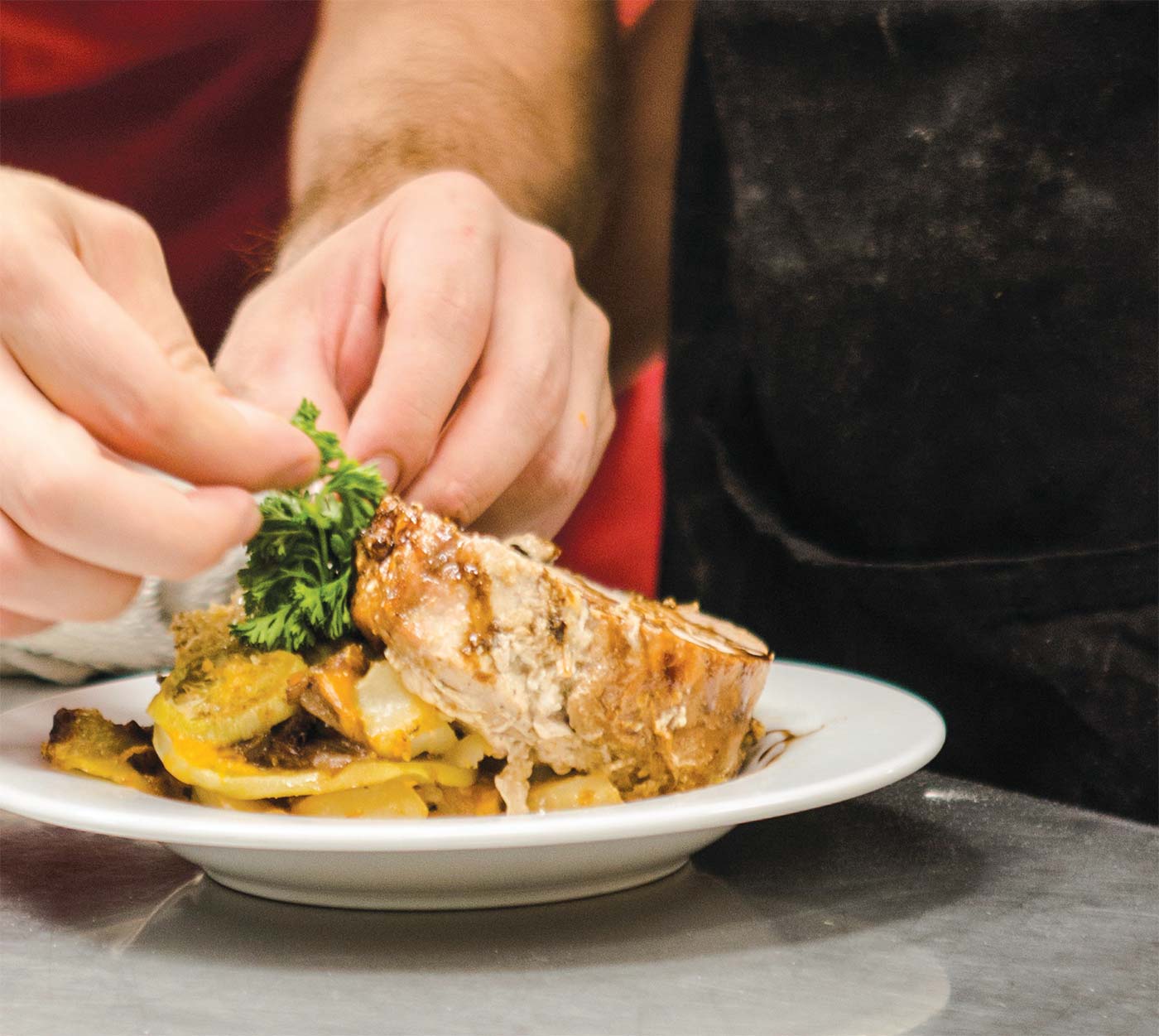 "Mondays I have no idea what I'm going to get," says Smutko, who creates a new menu every week. "It stretches my brain a lot." Sometimes she'll get an excess of apples or butternut squash, or another week it might be carrots or kale, and she will have to harness her ingenuity to craft meals that are resourceful and appetizing. She continues to rise to the challenge with creations like butternut squash ravioli, leek and potato soup, roasted Brussels sprouts and balsamic pizza, and caramel custard with peanut butter crumble.
While Smutko continues to create unique menus every week, Wiggins and her volunteers are working hard to encourage more community members to come enjoy the delicious food and vibrant atmosphere. They have started hosting Guest Chef Nights, where a prominent local chef is invited to design and cook the menu that evening. They also host live music and rent out the beautiful space for private events. Businesses in the community can help Fork & Spoon by sponsoring a night at the restaurant with the Pick Up the Tab program. These generous sponsorships make up over a quarter of the restaurant's revenue.
In addition to the special events, the restaurant's fastest-growing alternative revenue source is the new catering service run by Jacqui Colt. Colt's menu is locally sourced as much as possible and customized for every palette and budget. She loves the freedom she has to "be inspired by the products" and create world-class dishes from the nearby farms and ranches, such as when she built a menu around a sixty-pound elk donation for a women's retreat. Colt's service is the only catering company in the area where 100 percent of proceeds go back to a nonprofit. "You can cook good food anywhere, and it'll make people happy," says Colt, "but being able to do it for a bigger cause is really rewarding."
There are many ways for community members to support Fork & Spoon, but the most important way to support the restaurant, says Smutko, is to "eat here! Bring in your friends, make a party out of it." The more people who visit the restaurant, regardless of income or ability to pay, the more it validates the restaurant's presence in the community. Smutko says a common misconception is that "if people eat here they're taking a meal from someone else. That is not true."
As Leon finishes up the last few bites of his chicken and rice and boxes up his spice cake to take home, he says he felt nervous to eat at the restaurant at first, believing he wasn't allowed, since he owned a home. Not anymore. He says it's a place where the staff "genuinely welcome people of all walks of life." No one is judged, regardless of ability to pay. In Leon's words: "At least give it a try."