A group of students harvests celeriac, one of an assortment of vegetables grown on the farm.
MSU students help feed their community as they learn at Towne's Harvest Garden
Towne's Harvest Garden lies nestled at the west end of MSU, just a potato's throw from a busy supermarket and main thoroughfare but cut off from the hustle and bustle. Here one only hears the occasional rumble of a tractor, the crunch of the grass underfoot, and the rustle of wind through trees and grapevines. I am alone at the moment, wandering among the grapevines, peeking into greenhouses, and dreaming about what could be cooked in the on-site brick pizza oven. The garden is filled with an expectant hush and an active silence: There is much work underway. Students have been planting seeds; hoop-houses are bursting with kale, kohlrabi, and radishes; and the ground is being prepared for the bounty that will arrive with the summer season.
While the Gallatin Valley boasts many remarkable local farms and opportunities for community- supported agriculture (CSA) harvest subscription programs, Towne's Harvest is unique in that it is completely student run. In fact, it was students who initiated this organic 3-acre vegetable and educational research farm in 2007 with help from the College of Agriculture and local organizations like the Gallatin Valley Food Bank.
The land itself has a long tradition of agricultural use. The farm is named after the Towne family who were original homesteaders in the Gallatin Valley. In 1909, E. Broox and Ella Martin deeded this piece of farmland to MSU. Broox, a prominent Bozeman merchant, had turned his focus to farming and ranching in 1894 and grew oats and hay on the land. His ranch was described as "a model of neatness, taste, and intelligent cultivation," in Progressive Men of the State of Montana, circa 1903.
This legacy is evident at Towne's Harvest, where the theory of the classroom meets the reality of earth and soil. As the faculty director of Towne's Harvest Garden, Mac Burgess helps to make it happen by recruiting students to leadership positions, helping to identify their strengths, calling meetings, and assisting with manual labor. Here, everyone pitches in. His philosophy is "I do, you do, we do."
Associate Professor of Plant Science and Pathology Burgess, along with a whole array of other faculty, provides excellent guidance for the students who take the class for credit. The MSU College of Agriculture and the MSU College of Education, Health, and Human Development sponsor the garden, yet students' majors range from plant sciences and land rehabilitation to hospitality or culinary arts.
"Their textbook is the seed catalog," Burgess says. "We grow literally everything we can and some things we can't. Some aren't even profitable, but it is a great experience." At the beginning of the season, students get to choose any seed that interests them from the seed catalog— including artichokes, cylindrical beets, rainbow carrots, or culinary herbs that typically grow in other countries.
Burgess describes this season's pick of vegetables like a dazzling list of dishes from a Michelin Star menu. It includes the usual broccoli, carrots, and potatoes, as well as a whole host of specialty items. There are large, sweet onions called Ailsa Craig, named after an island off of Scotland. There's purple Italian radicchio, rutabaga, pole beans, purple bok choy, and numerous varieties of lettuce, each with its own unique flavor profile. He describes a white Japanese salad turnip, Hakurei, which can be eaten raw or simply fried in butter, the taste reminiscent of vanilla ice cream. Th ere will be an abundance of celeriac, a relative of the celery. This knobby root vegetable may look like a mandrake from Harry Potter's herbology class, but it has an intense celery essence and can be cut into cubes and roasted, grated into a crunchy slaw, or puréed into a creamy, buttery mash.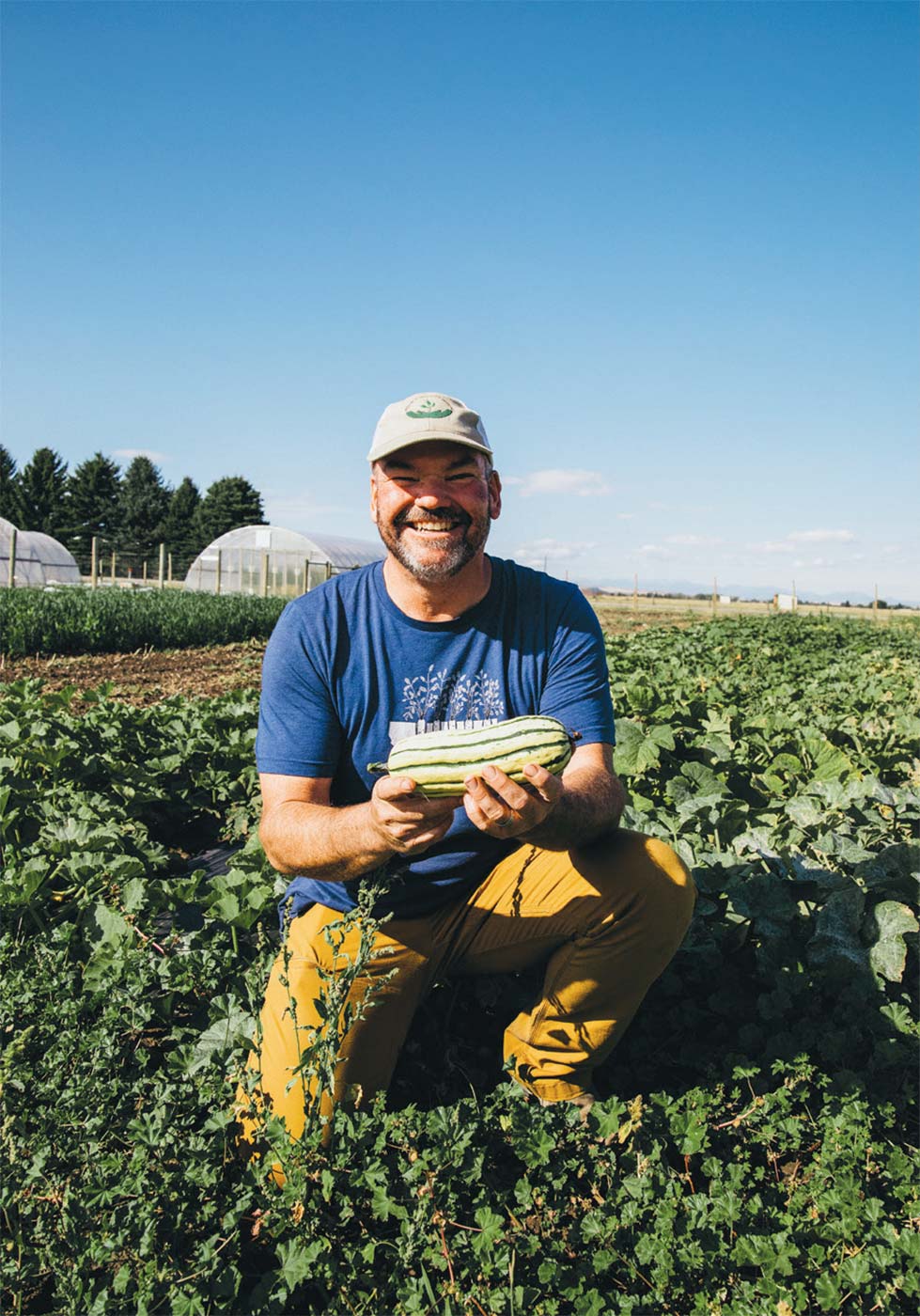 According to Burgess, it is the squash that are not to be missed. Winter squash that are selected and stored properly, even into the winter months, have a rich, deep flavor. With all these varieties one can imagine the joyful bounty of the harvest. Last year, students picked 287 different crops with a total harvest weight of 17,437 pounds. Passion and care—and not a small amount of hard labor—are cultivated into every vegetable. Students are involved in the planting and the harvesting and also in manual weeding, watering, and care-taking.
MSU Hospitality and Culinary students all complete their respective summer practicum at Towne's Harvest. The knowledge acquired in the classroom about restaurant management, farm-to-table sourcing, and healthful cuisine culminates with a practical application of understanding where the food comes from and an appreciation for integrative, sustainable farming practices.
The farm's unofficial motto could be "grow food and get it in the hands of the people." Once produce is ready, it is distributed in multiple ways: a CSA program, several farm stands, and donations to the local area. Through each form of distribution, students get to interact with many members of the community and develop important customer relations. The CSA program is available in the spring, summer, and fall. Early purchase of these shares helps to pay for the farm expenses that have already begun in January (buying thousands of dollars of seeds and paying the wages of student employees).
A farm stand also operates Thursdays at Towne's Harvest from 4–6pm starting in early July. This small farmers market showcases the vegetables as they become available week by week and are sold at market prices. There is also a pick-your-own-herbs option where buyers can collect culinary varieties like chives, oregano, or Japanese shiso leaves.
Much of the produce from Towne's is donated through local partnerships as well. The Legion Villa Farm Stand is a partnership with Towne's Harvest and the Gallatin Valley Food Bank serving low-income elderly members of the community and is located at the Legion Villa housing complex. "The residents are so excited about the fresh vegetables," Burgess says. All produce is offered at a discounted price and vouchers are accepted.
Thousands of pounds of vegetable donations are made to the food bank and Fork and Spoon, Montana's first pay-what-you-can restaurant. Fork and Spoon focuses on scratch-made cooking from locally sourced ingredients, and they are able to utilize Towne's produce in creative ways.
At the end of the season the pizza oven I coveted is loaded and fired, the coals brought to a searing red before they are brushed aside to ready the baking surface for flatbread and other dishes. A feast is being prepared. Students in Assistant Teaching Professor Marcy Gaston's Culinary Marketing Farm to Table class gather what the garden has to offer and curate a gourmet farm-to-table meal that will serve fifty people, including honored guest MSU President Waded Cruzado. The farm is enjoying the fruits of an abundant labor.