The Biggest Little Farm film is the rollercoaster ride resulting from the documentarian John Chester's decision to let the cameras roll, warts and all, as he and his wife, Molly, move—rather naively, one might argue—out of their apartment in Santa Monica to purchase Apricot Lane Farms, a fallow farm on the very outskirts of Los Angeles. They have no idea what they're in for. And neither does the viewer.
I'm not giving anything away by telling you that taking over a fallow farm decimated by years of conventional farming practices (spraying, pesticides, monoculture, etc.) is a rather dismal experience for the fresh-faced couple. Which makes the transformation of the land right before our eyes such a rewarding and fulfilling experience. We laugh. We cry. We celebrate their victories.
The Chesters practice regenerative agricultural, a system of agriculture that moves well beyond "sustainability" to actual improvement: better soil health, solutions borne within nature, water conservation, a healthy environment, as well as, yes, profit. The results for Apricot Lane Farms are nothing less than remarkable.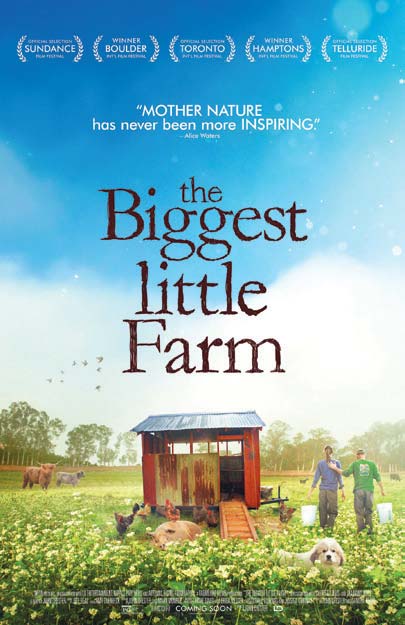 The topic of regenerative agriculture should be near and dear to all of us in the Gallatin Valley. We are home to a rich agricultural history as well as Montana State University, with its resources to help launch these practices, promote new farming initiatives, and support start-up ag-tech businesses. And we all want to survive, thrive, and pass on a healthy planet to future generations.
There are a growing number of resources for learning more about regenerative agriculture. Our own Edible Institute, an educational events arm of Edible Communities, recently brought together 350+ thought leaders for a day of workshops, conversations, and sharing. The event's special guests included Bob Quinn of Big Sandy, coauthor with Liz Carlisle of Grain by Grain. There are more opportunities like this. Perhaps we bring this home through cooperation between local agricultural organizations, farmers, ranchers, the university, for-profit and nonprofit groups. However we do it, The Biggest Little Farm is a great primer.